Welcome to Saturday Snippets #3!
Around twice a month on Saturdays I am quickly showing you several projects that I have tried. Other people have already given the instructions, so I will link you over to theirs.
*First, notice that today I show you the "Pin" where I found my inspiration. If you haven't tried Pinterest yet–give it a try! It is a virtual cork board/ memo board, where you can virtually pin, and then find again, those neat things you saw on some website! And it is completely free to sign up!
My goal for Saturday Snippets is to share links to recipes and Pinterest ideas that I have tried, and then to let you know how it worked out for me when I tried it. It might be a success, or it might be a flop. Perhaps you would like to know if I have tried something in particular? Let me know! If I haven't tried it yet, maybe I will, and then I can let you know how it went.
And so, in no particular order…. (links to original posts in titles)
I don't have very much washi tape. I recently realized that I should collect it all into one place in the house to be more organized. All I could think of was to put a long pencil in my green basket and put the tape on the pencil.
Before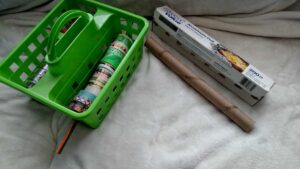 (*This post may contain affiliate links. By purchasing anything from these links, I may receive a small commission at no cost to you. More information is available on my Disclosure page.)
Then I came across a Pinterest post on several different ways to store washi tape.
https://www.pinterest.com/pin/94153448444771124/
The idea that I liked the best was to put the washi tape in a box that had formerly been for aluminum foil. I already had a box that I had saved. I faced all of the tape the same direction. It is neat to be able to use the foil cutter to cut the tape!
AFTER!!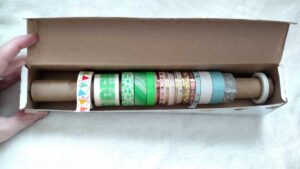 The post suggested covering the reused box in washi tape. I decide to use some colored duct tape that I had. The colored duct tape does not seem to stick well to other things that I've used it on, but for this it worked just fine.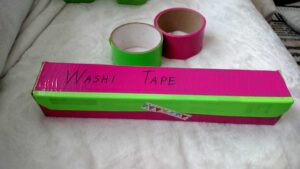 Organization is fun when it can be pretty, too!
I saw this pin for Bathroom Cabinet organization:
https://www.pinterest.com/pin/94153448444904184/
What I noticed about the picture was not the labeled containers that the writer pointed out. I noticed the extra shelf in it, that wraps around the drainpipe. My upstairs bathroom vanity did not have that extra shelf. I had an extra piece of particle board (fake wood board) that I had salvaged. I cut it to fit my cabinet, using a jigsaw* to cut out the place for the drainpipe.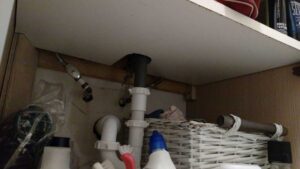 You might think that because of the sink, there would not be much room to put things, but that shelf is the perfect spot to put a hair dryer, hair straightener, and other odds and ends.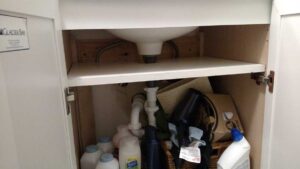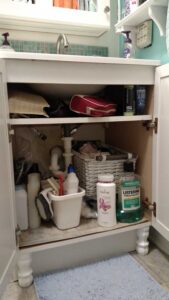 I am so happy with the extra storage that it gave me! Extra storage also means better organization in the entire cabinet. To see my other storage ideas for the bathroom, click here and here.
This tortilla wrap is a good way to use up a leftover banana. You can use a regular plain white soft tortilla, or a whole wheat tortilla. It tastes good either way, but I think that I prefer the whole wheat.
Here it is:
https://www.pinterest.com/pin/94153448439845787/
While I enjoy this treat– my kids do not care for it. That is not surprising, since my kids (especially one of them) are picky eaters. I'm working on it….
I hope that you have enjoyed this edition of Saturday Snippets! I will have another edition ready for you in two weeks.
SaveSave