Four Creative Ways to Use Orbeez
Today I am showing you four creative ways to use Orbeez that you may never have thought of before. Have you heard of them? My kids are crazy about them…. they've seen all sorts of You Tube videos about them– people who fill their bathtub or their swimming pool with them. By the way, DO NOT do that!
Orbeez are tiny little plastic balls that swell when soaked in water. So you can imagine how that might clog your drains! So, I have seen these in the "kid world," but I hadn't seen them used in the "craft world." I hope you like my ideas!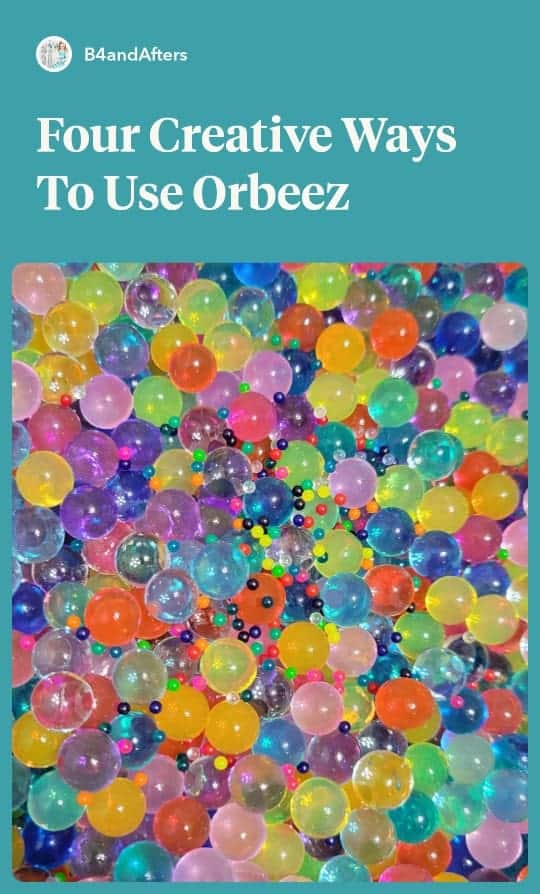 (*This post may contain affiliate links. By purchasing anything from these links, I may receive a small commission at no extra cost to you. More information is available on my Disclosure page.)
Go ahead and watch the video below, where my son explains his concerns about my project. (Click on the sound icon in the top right corner of the video so that you can hear it.) You can tap on the video to speed through the sections if you wish. I will include a summary of my ideas afterwards.
Four Creative Ways To Use Orbeez by B4andAfters on Jumprope.
So, to recap, here are my ideas:
Refrigerate them in a large container. Then use the Orbeez like a cooler to keep drinks cold.
Use them as a serving bar for meat and cheese appetizers.
Refrigerate them and use them as an ice pack. (You can freeze them, too, but they will disintegrate.)
Put them in a clear vase for a pretty vase filler, that also holds your flower stems in place. Add extra water.