Kitchen Sink Comfort Anti-Fatigue Mat
Years ago when I was expecting our first child, I realized that I was avoiding doing the dishes because standing in one place made my feet hurt. That was when I finally purchased a foam mat for at the kitchen sink – you know, one of those cushiony ones that claim to be anti-fatigue and comfortable and all of that. I chose this camel colored one because of the choices available I thought it matched my condo kitchen the best.
Anti-Fatigue Mat Before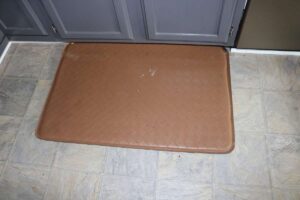 (*This post may contain affiliate links. By purchasing anything from these links, I may receive a small commission at no extra cost to you. More information is available on my Disclosure page.)
Yes, indeed, it was comfortable to stand on, and it made washing dishes while pregnant bearable. Years passed, we moved, and my comfort mat looked awful in my new kitchen. So I threw another rug over it. That made it more cushion-y, but it didn't look exactly right. Nevertheless, this is exactly how my mats looked for 4 and a half years.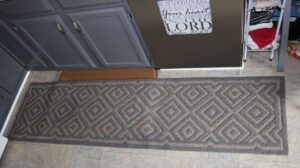 I was shopping the other day– and do you know what I accidentally found?? A gorgeous anti-fatigue comfort mat!! I hesitated only slightly, knowing that if I passed it up that I would never find another one. I purchased it and saved myself a bunch of time in the future looking for it again!! (Has that ever happened to you– where you don't buy something, and then later you search and search and can't ever find it again?!)
Here it is! What do you think? Do you like it? Did you know that B4 and Afters isn't always about a Project– sometimes it is about a Purchase??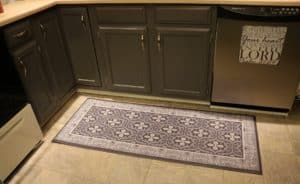 Amazon has a good variety of kitchen anti-fatigue mats that look thicker than mine– these are 10 inches longer than mine (mine is 24″ x 59″).
That giant sticker on my dishwasher– it is a removable wall sticker purchased from

years ago (in their poster section). I've used it on my wall, but I think I like it here best. It removed easily, and still has the same good stickiness to it. Since magnets do not stick to my stainless steel dishwasher, this is a nice alternative.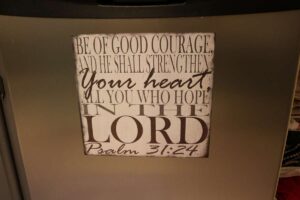 I have wondered how my new kitchen sink mat will hold up to foot traffic. So far it is doing fine (several weeks). I'm using two of those "as seen on TV" rubber grippers to hold it in place.
Kitchen Sink Mat, AFTER!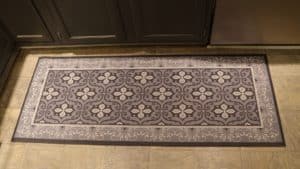 Doesn't the mat look so much better with my kitchen cabinets? Do you have a foot mat at your sink?