Ways to Use up Every Bit of that Pumpkin
This post contains links to affiliate websites, such as Amazon, and we receive an affiliate commission for any purchases made by you using these links. We appreciate your support!
Have you ever wondered "What can you do with leftover pumpkin?" Well, I have a few ideas for you!
(Yes, I know that August isn't over yet and that it is still hot and humid out in lots of places. But one of the reasons that I am excited to share this Pumpkin-y fall post with you is because I have just discovered something called Playlists on YouTube! And over there I have 5 more Fall videos all ready for you! Okay, back to using up leftover pumpkin….)
Of course, to have leftover pumpkin, you must first start with some kind of pumpkin. You can use canned or fresh. If it is fresh, you need to roast it first in the oven until it is tender before you use it.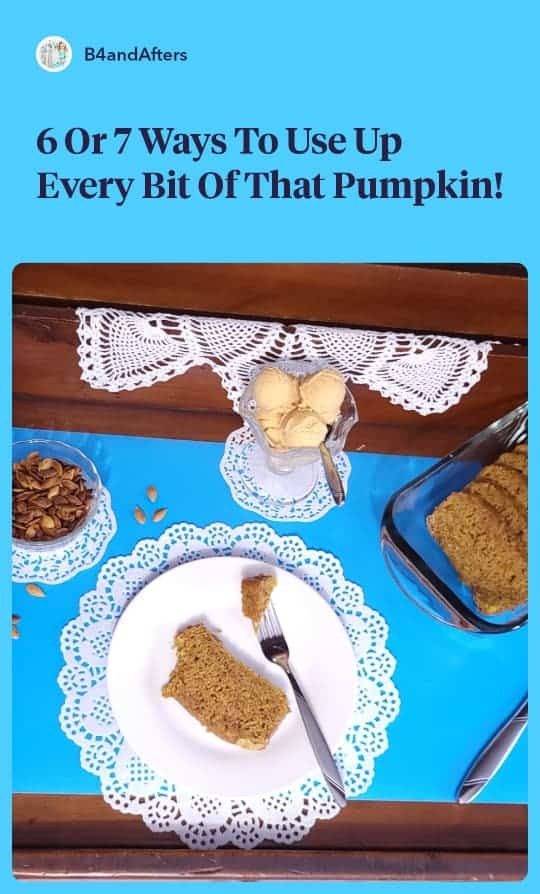 Here are 6 things you can make to use up a pumpkin… use everything but the skin!
Someone gave me a pumpkin. First, I cut the stem out, cut it in half, scooped out the seeds, and baked it in some water at 350F for about an hour.
After the pumpkin is tender, scoop out all of the flesh. Throw away the skin (I couldn't think of anything to make with the skin!).
You can make Pumpkin Bread.
It is delicious plain, or toasted with butter.
Give some to a friend, freeze it, or eat all of it!
2. You can make Pumpkin Butter for it if you like.
3. You can make Pumpkin Frozen Yogurt. The recipe (and many other great recipes!) comes with the Ice Cream Maker that was given to me last Christmas! Mmmm– it almost tastes like pumpkin pie!
Frozen Yogurt is a tad healthier than ice cream… especially with pumpkin in it. All pumpkin foods are healthy, aren't they?!
4.Then, you can roast your pumpkin seeds. Spread them on a baking sheet with a little oil and salt or other seasonings like yellow curry powder.
5. The stem that you saved? Make a fabric pumpkin and hot glue a real stem on it!
6. My favorite pie ever can be made by adding some pumpkin to the cheesecake part of it….
7. If you still have some more pumpkin, you can try this Twist On The Traditional Recipe: Pumpkin Praline Pie
Ok, that's all I have for now. I hope you save this on your Pinterest so that you can find it again when you need it in the fall. [1. Sign up for a Pinterest account if you haven't already. 2. Hover over one of these images (tap on an image if you are using mobile) and when you see the red P button, click on it to save it.] Did you know that is what Pinterest is for? And did you know that I have saved something like 13,000 things over there, so I can find them again when I want to?! Well, they are categorized nicely….see? (And besides saving things for myself, I do save things that I think you, my readers, might find useful, too.)