Painting the Girl's Room Yellow
This is a post on the difference a little paint can make to brighten a girl's room. Looking for a boy's room instead? Try this post.
BEFORE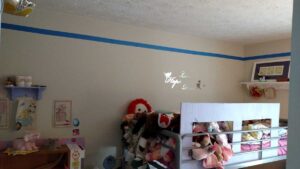 (*This post may contain affiliate links. By purchasing anything from these links, I may receive a small commission at no cost to you. More information is available on my Disclosure page.)
Introduction
My daughter's room hadn't been painted since we had moved into our house. She wanted it to be pink. I had put up wallpaper border, hoping that might be enough and that I wouldn't need to tackle painting the entire room. But…. well, once the wallpaper border was up, I realized how much nicer and finished looking the room would be if I painted it.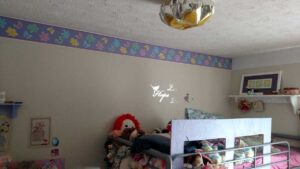 Timing
We looked at the wallpaper border, and I convinced her that yellow would be better than pink…. although I think she still wishes it was pink. Sigh. She has soooo many other things in her room that are pink– I didn't want to be overwhelmed by PINK! So I waited until my daughter was going to be away at her grandparents' house for three weeks. And that was the perfect time to tackle the job! It was much less frustrating than if I had tried to do it while she was home. I didn't feel like I had to rush, and that made the whole project go a lot smoother.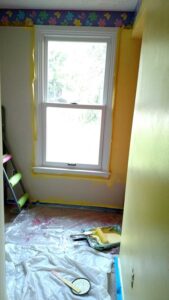 To see the cute curtains that I sewed for this window, click HERE.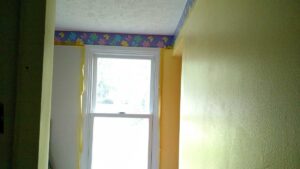 Bold or Pastel?
An interior designer wrote once that a friend had been afraid of using too bold of paint colors. Then her friend's house ended up looking like an Easter egg– all pastel colors. So that has influenced me to choose colors a little bolder than I would normally be comfortable with. I'd hate for someone to say my house looks like a pale Easter egg : ). So for my daughter's room I went with the brightest yellow in the wallpaper flower.
I moved my daughter's bed into the middle of the room and covered it. It is a small room, so I had to move things several times to get to all of the walls. But it was sooo nice to have three weeks to complete this project!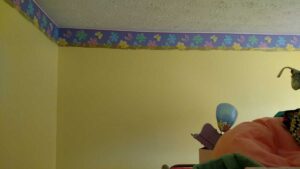 Delicate Wallpaper or Freshly Painted Trim?
Because I had put the wallpaper border up not long before I painted the room, I used Yellow Frog Tape* to protect the wallpaper from yellow paint. The Yellow Frog Tape is for delicate surfaces. I didn't want to put up the regular blue tape, and then have it be too strong and pull my newly installed wallpaper border off of the wall. In the picture above, you can see the yellow tape over the lower edge of the wallpaper border. But it is a little hard to tell since it is nearly the same color as the yellow paint!
AFTER!!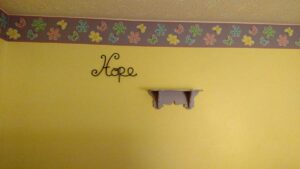 I ended up rearranging the furniture in the room to suit us better. When my daughter got back home late at night, that was what she noticed. She noticed that the bed was in a different place, rather than that the wall color was different! I also made new curtains for the window… you can find that post by clicking here.
These are some flower hooks that I had picked up at

a long time ago–and they coordinate perfectly with the flower wallpaper border!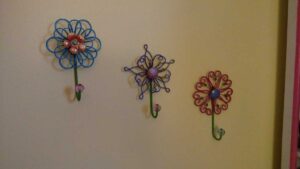 SaveSave
SaveSave
SaveSave
SaveSave
SaveSave
SaveSave
SaveSave
SaveSave
SaveSave
SaveSaveSaveSave
SaveSaveSaveSaveSaveSave
SaveSave