Patriotic Decor
This post contains links to affiliate websites, such as Amazon, and we receive an affiliate commission for any purchases made by you using these links. We appreciate your support!
Last year I shared my Fourth of July Decor. I have more to share with you this year. (And I've included a "real life" picture at the end.) Some are things I hadn't shown you last year, and some are rearranged from last year.
I have a new garden flag. This one I bought on sale somewhere.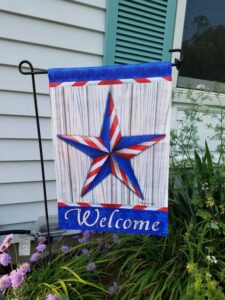 [sc name="This Post May Contain Affiliate Links"]
This is my cilantro blooming. It reseeds itself. The seeds are coriander, which can also be used for seasoning.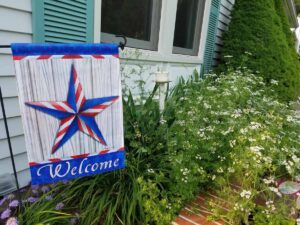 I bought this double flower spinner last year at a flea market for $3. Click on the Picture if you want to see its spinning action.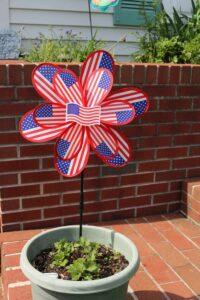 This peg hook decor is in our hallway to hold our keys. I think this was a wedding present.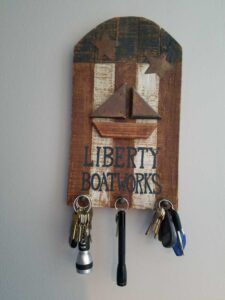 Here is my living room with the built in bookcases. A crocheted zig zag (the modern name is chevron) throw covers the television.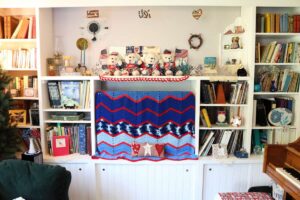 The Liberty Bears got center stage this year.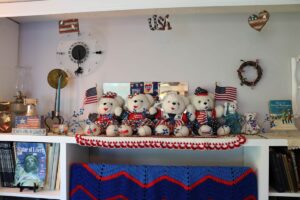 My little dried hyrangea bouquet is to the left, on a blue and white doily that I found last year.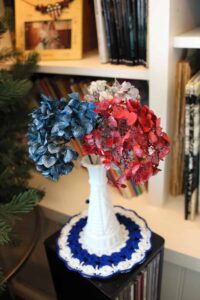 I have not yet been to see the Statue of Liberty, but I found this kids' informational booklet in some home schooling things I had.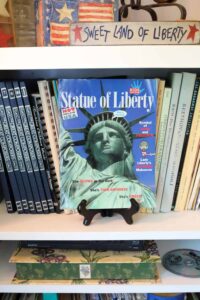 Moving towards the right, this is a simple miniature grapevine wreath. Someone tied some Americana fabric to it (not me). What an easy way to decorate a simple wreath.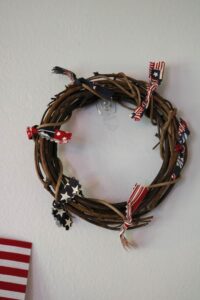 This children's book is one that I read as a child. It was very exciting, courage-inspiring, and one of my favorites. My daughter is reading it now (but sadly discovered about 15 pages missing…. I don't know if they were always missing). I have been to Valley Forge several times.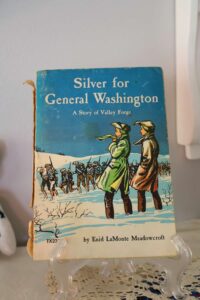 Someone recently gave my daughter this eagle Beanie baby named Baldy. I borrowed it for my decor this year.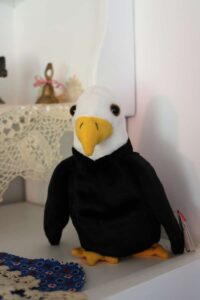 Here is my little corner shelf.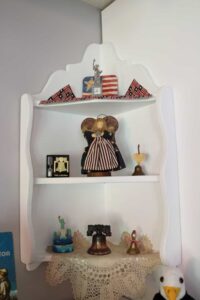 At the top is a Statue of Liberty clock that someone gave me years ago.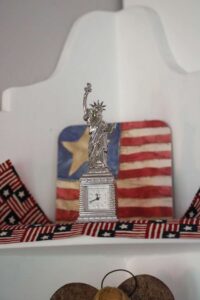 On the bottom is this little glass hinged Statue of Liberty that was also a gift, 19 years ago. The arm with the torch broke off, but I was able to glue it back on with a hot glue gun.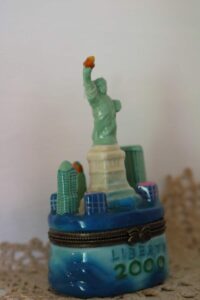 You will notice the year 2000, and to the right…..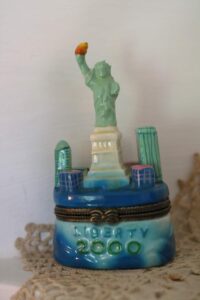 you can see the Twin Towers that were destroyed one year later.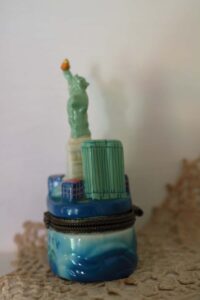 To the right is a blue vase holding some dried white baby's breath flowers.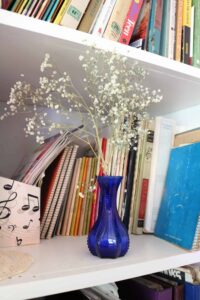 Since this 79 year old little vintage book has red, white, and blue, I included it in my patriotic decor.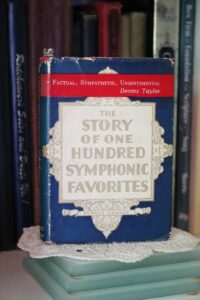 Here it is beside a $20 so you can see how small it is. (I thought if $1 was good, then $20 should be even better!)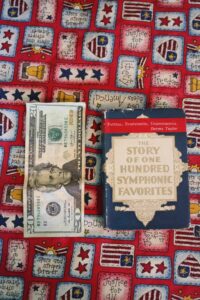 Moving to the right, the adjacent wall is the piano area.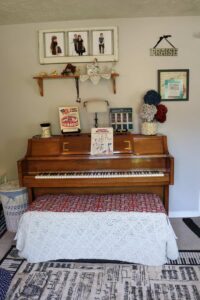 On the piano to the right you can see the new bouquet that I made by spray painting some dried hydrangea flowers. I love how the bunches look like bursts of fireworks. As I thought about what to put in the bottom of the jar, I wanted to use something white. So how about… popcorn! It is not buttered. I popped it in my air popper. It does not matter if the popcorn goes stale. Popcorn– the latest and greatest vase filler!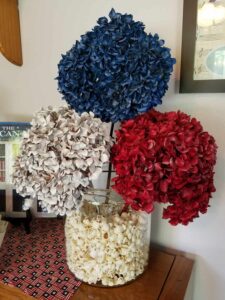 The Americana fabric on the piano bench is a valance curtain that I made years ago for a previous apartment window. Last year it was on the TV.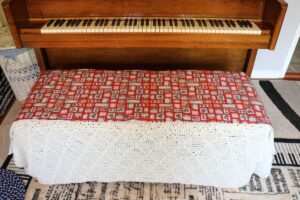 Here is a closeup.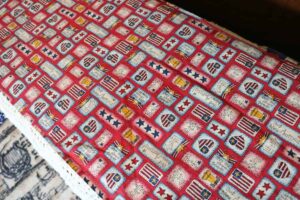 Here are some patriotic piano books from my piano book collection.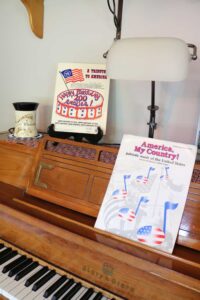 I took my own school pictures of the kids this year.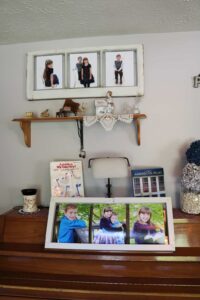 I had another window to use as a frame.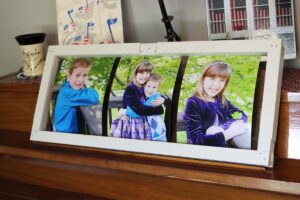 Across from the piano is the couch and windows. I hung mini star foil garland up with white lights.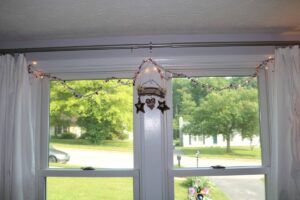 I put a flag afghan on the couch.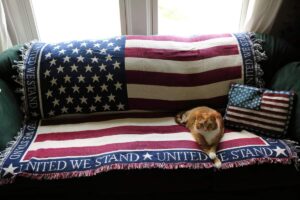 Creamy the cat liked it. She thought I put it there for her.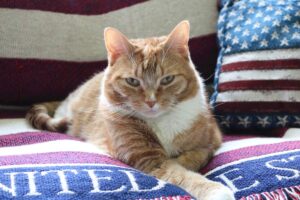 I put a Stars and Stripes rug on the floor in front of the TV. (Last year I had this rug in front of my stove in the kitchen).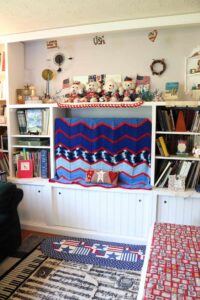 I hope that you have enjoyed seeing my patriotic decor this year!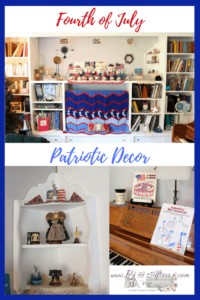 Isn't it great to think that my house is so pretty and clean and organized? Well, I've heard alot about "picture perfect" blogs and Pinterest…. so I just wanted to show you some real life. While I was photographing one side of my living room, here's what the other side looked like: Funny, right?!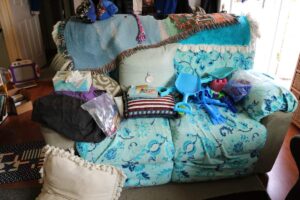 If you haven't had a chance to see my Patriotic Pine Cone Tree, you may click the Picture below for more details.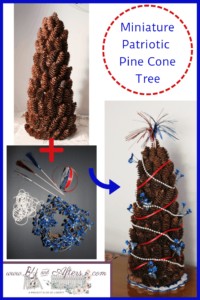 More Patriotic Ideas