Winter Window Scene
This post contains links to affiliate websites, such as Amazon, and we receive an affiliate commission for any purchases made by you using these links. We appreciate your support!
Welcome to our Christmas in July Craft Hop hosted by Terrie from Decorate and More with Tip! If the summer heat is bothering you, hopefully these inspirational thoughts of Christmas will cool you off a little. You can see everyone's ideas at the end of this post! If you are here from Celebrate and Decorate, then thank you so much for stopping by!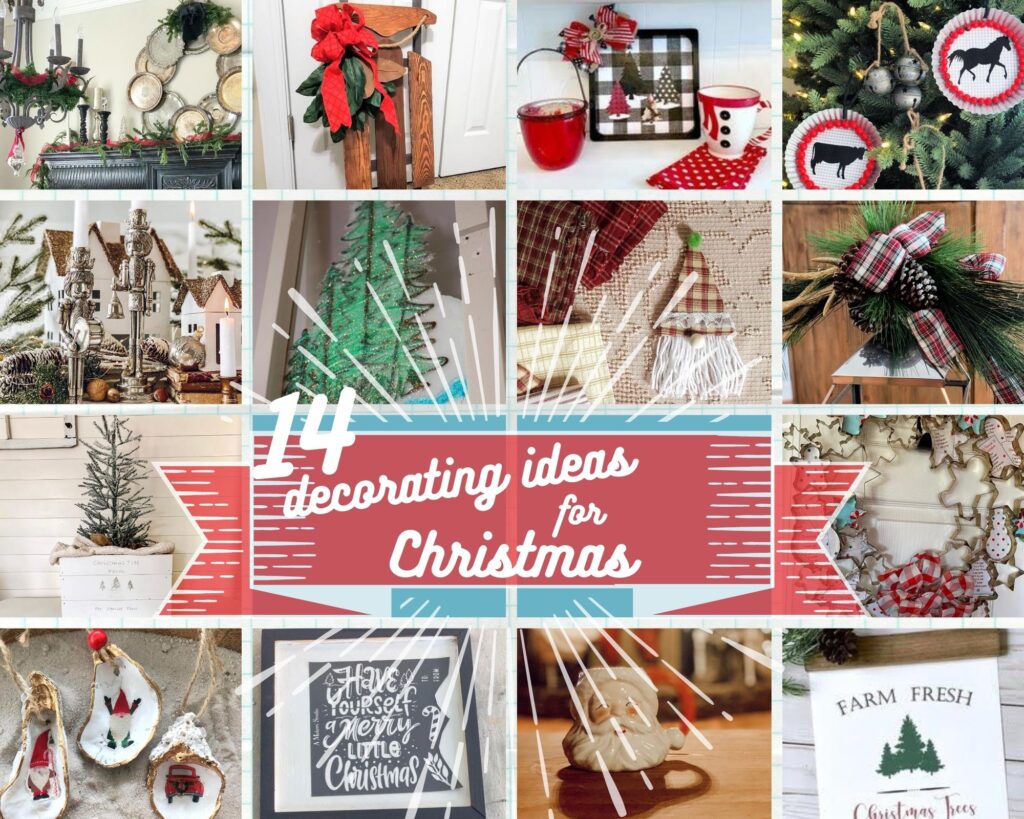 Before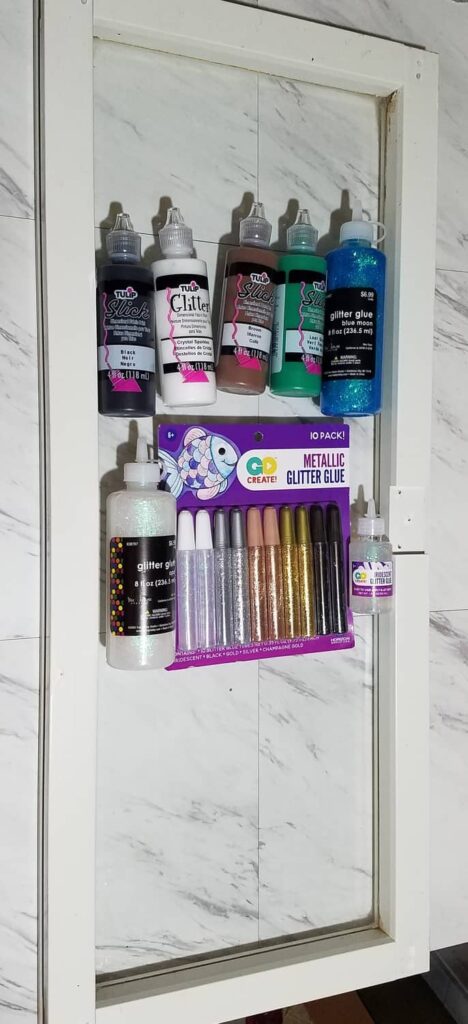 Often I get ideas for crafts when I am out shopping and see other people's creations. Last summer when I was in Branson, Missouri, I saw these gorgeous glittery winter scenes painted onto old farmhouse windows. They were priced at over $100 each! So I snapped a couple of pictures as I thought about trying to paint my own winter scene on a window.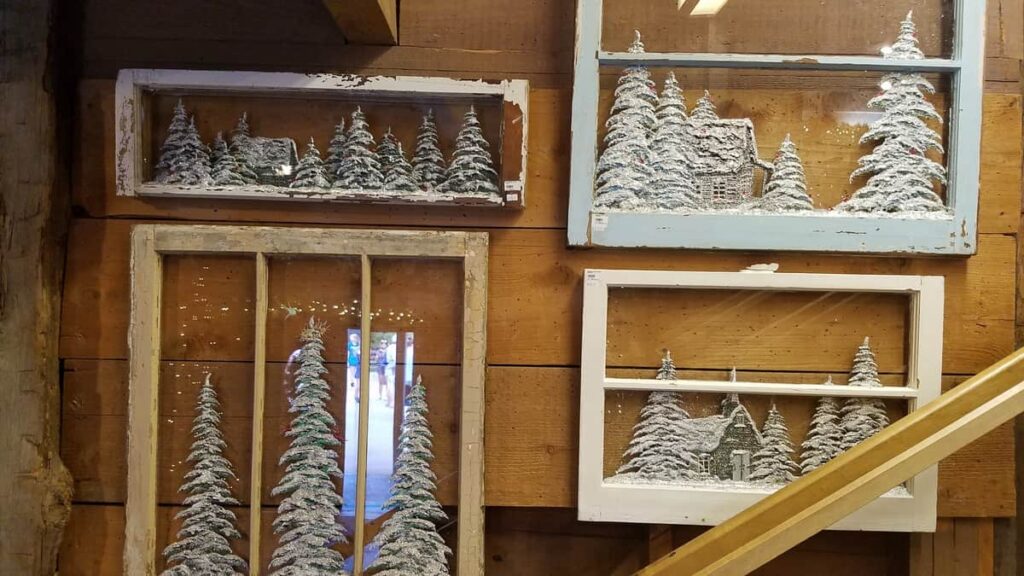 I even already had some windows that would work! I salvaged two basement windows and they were just waiting for a project. I bought several different kinds of glittery paint, but then other projects needed finished first so everything just sat. Eventually I started painting. I started by outlining the tree trunks in black and brown paint.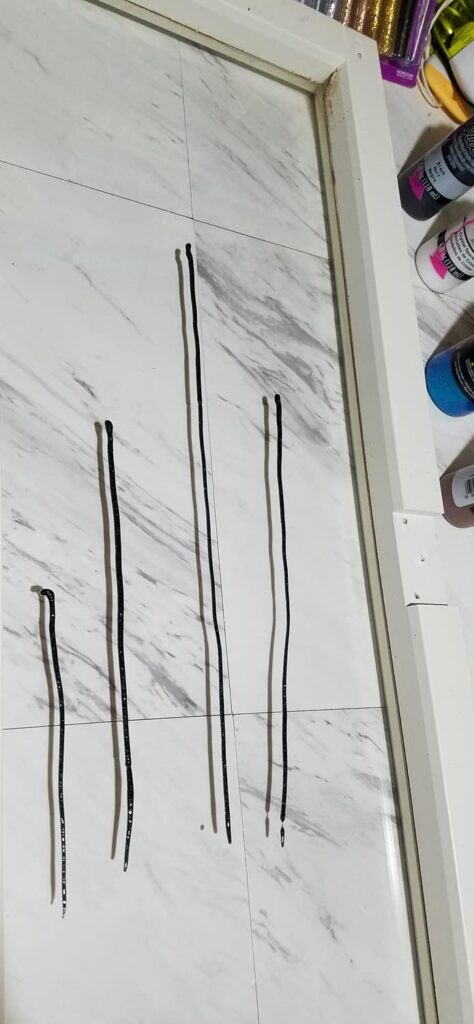 Then I made an outline of evergreen trees along a pond water feature. Already, I wasn't sure my idea would turn out very good. In fact, I had forgotten something. I was going to try a sample painting on a small $1 dollar store glass frame to practice. But I forgot about that and went ahead with the full size painting. So I do recommend that if you try this project that you paint a small sample first. If I make another one of these, I will definitely be trying out some different techniques in my painting.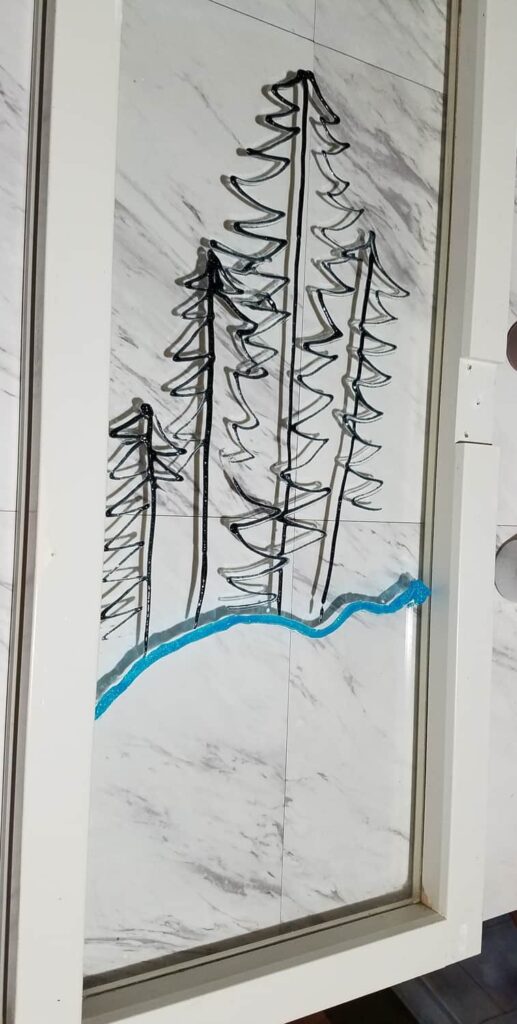 I filled in the tops of the trees with green, but didn't like it so didn't keep filling it in. I lined the pond with some white glitter for snow…. remember this is a winter scene. Instead of making the pond a solid blue, I made a swirly pattern.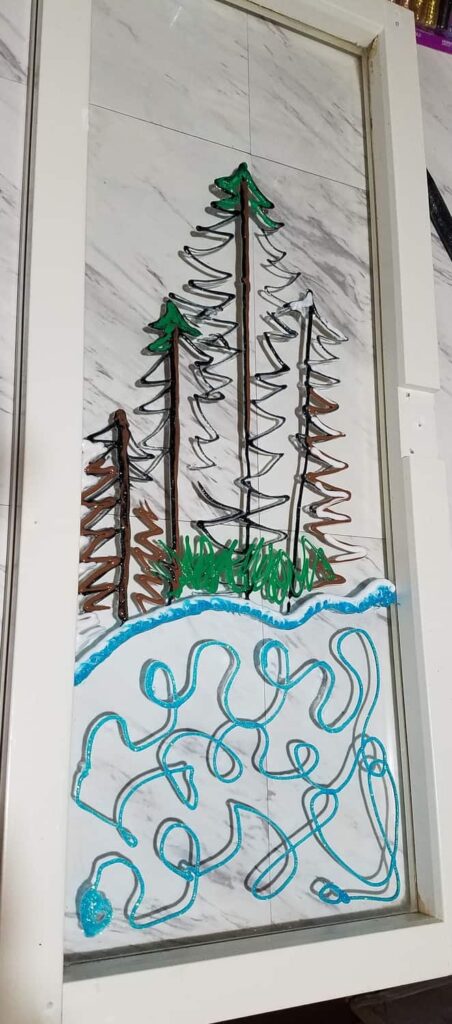 It was at this point that I stopped taking pictures of my process. My painting wasn't turning out anything like my inspiration….. I wished I had layered my colors differently, and designed my scene in a different way.
Then I realized that I could paint on the BACK of my window, and that the color would show through…. So I painted some green on the back side of the window to fill in the trees. That didn't look quite right, so then I painted some white on the back of the green, to give more of the snowy effect that I was aiming for. I also painted white glitter paint on the BACK side of the pond. If and when I paint another window painting, I will paint on both sides of the glass on purpose, from the beginning. It was really fun being able to layer my painting by painting on the back of the glass. It was like being able to paint "underneath" my painting, and it saved my picture, I think!
On the front of the trees, I added white glitter for more snow. I put small silver glitter dots in the sky for stars.
The Back of my Window Painting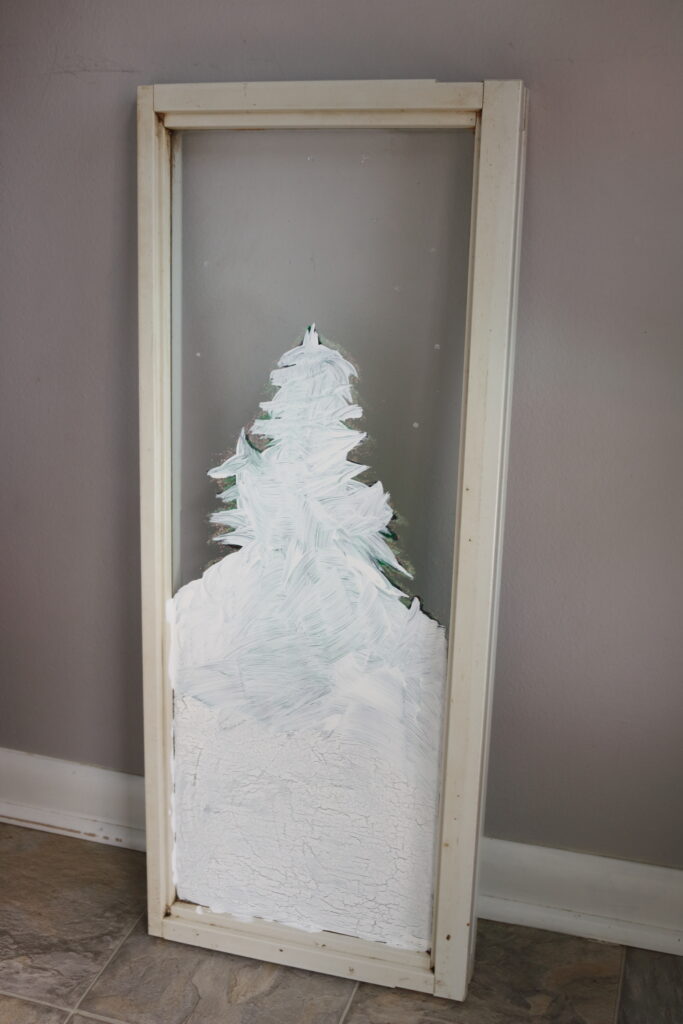 The white paint cracked, but I think it gives a nice effect with the cracks.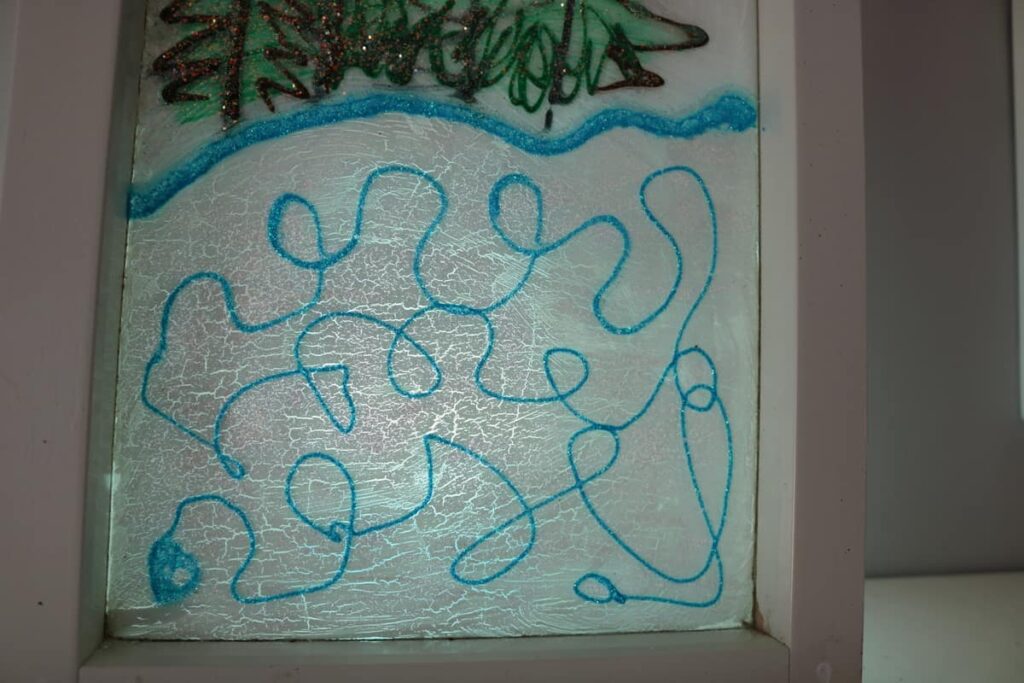 I took this picture of the front outside my house and there was a cloud in the sky that reflected in the window!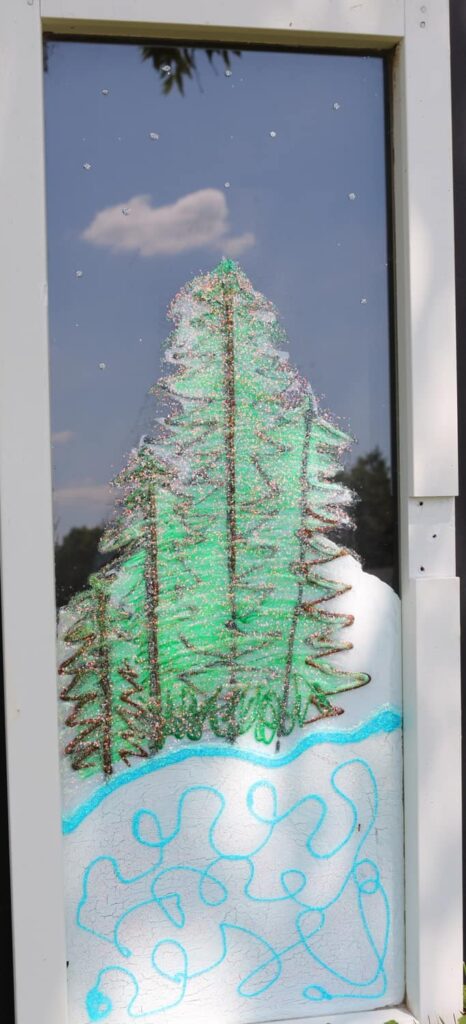 I stood the window up on my mantle area to take its picture and realized that my lamp matched the pond water!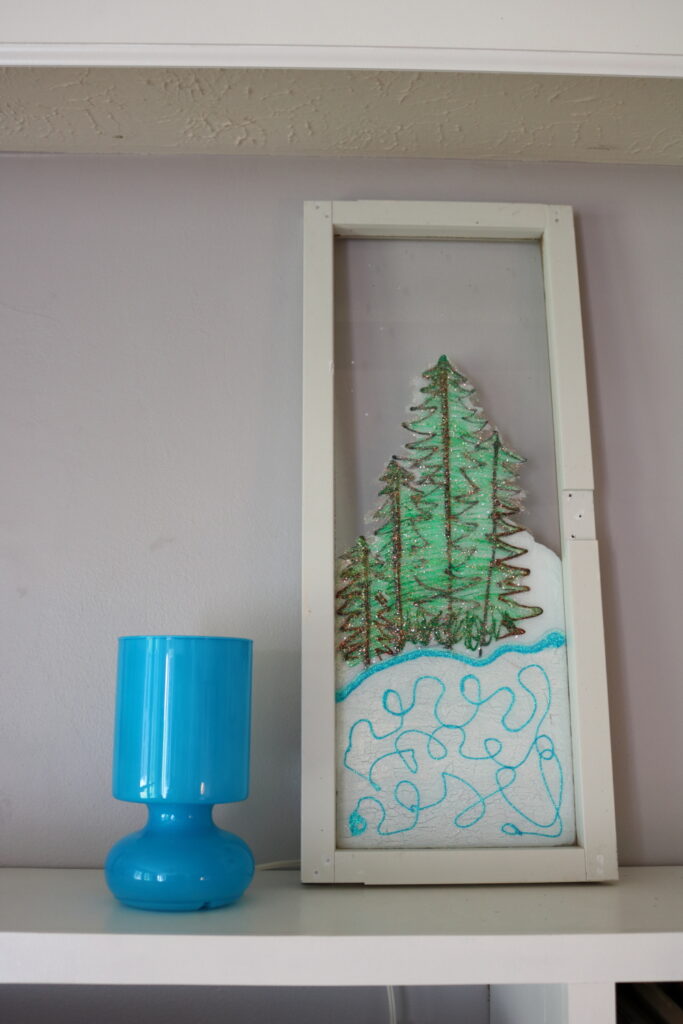 Below you can see a closeup of the glitter.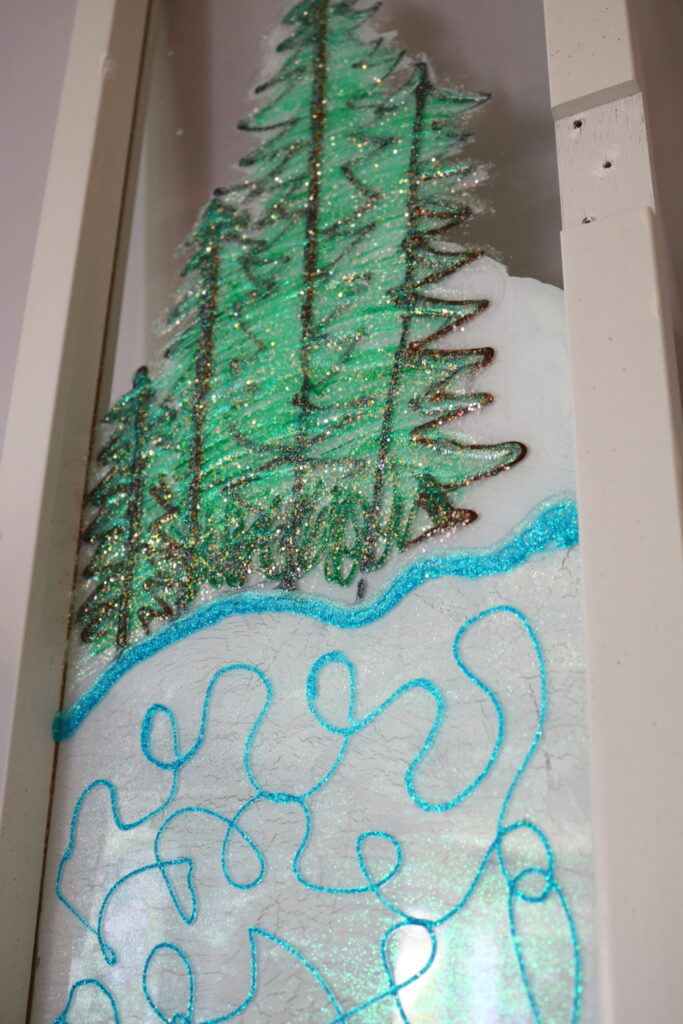 You may remember that I had drilled a hole to be able to turn on my lamp. After setting my window scene up beside the lamp, I had an idea– why not turn the lamp on and light up my winter window scene from behind?! So I did!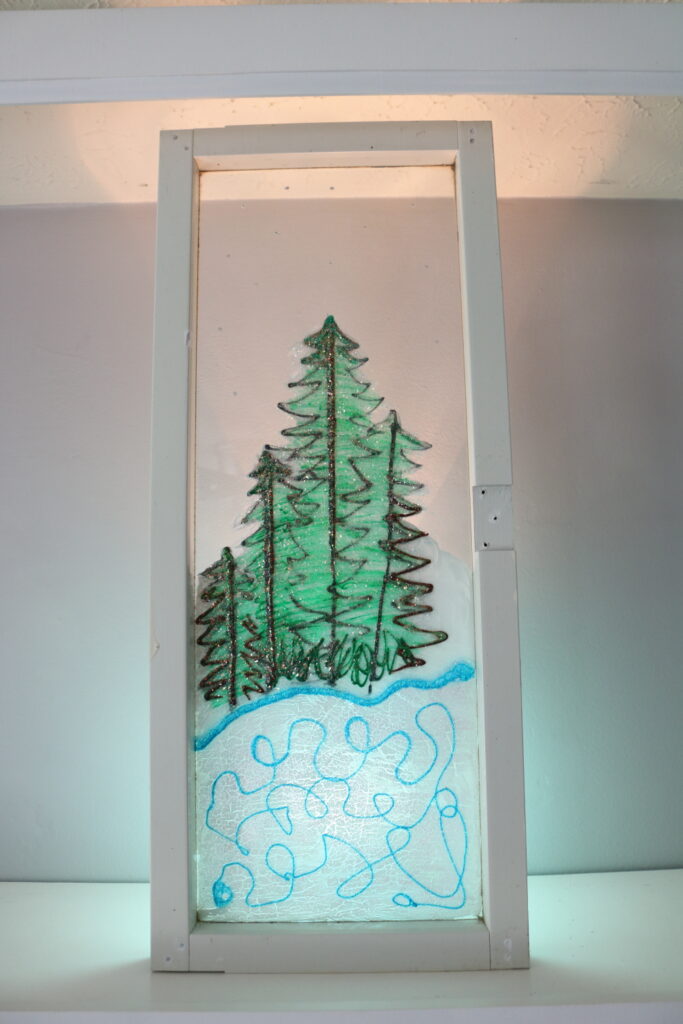 Wow! Being backlit really gives this winter window scene a fabulous effect! If I were going to leave it like this for any length of time, I would have to add some braces to the front and back of the window.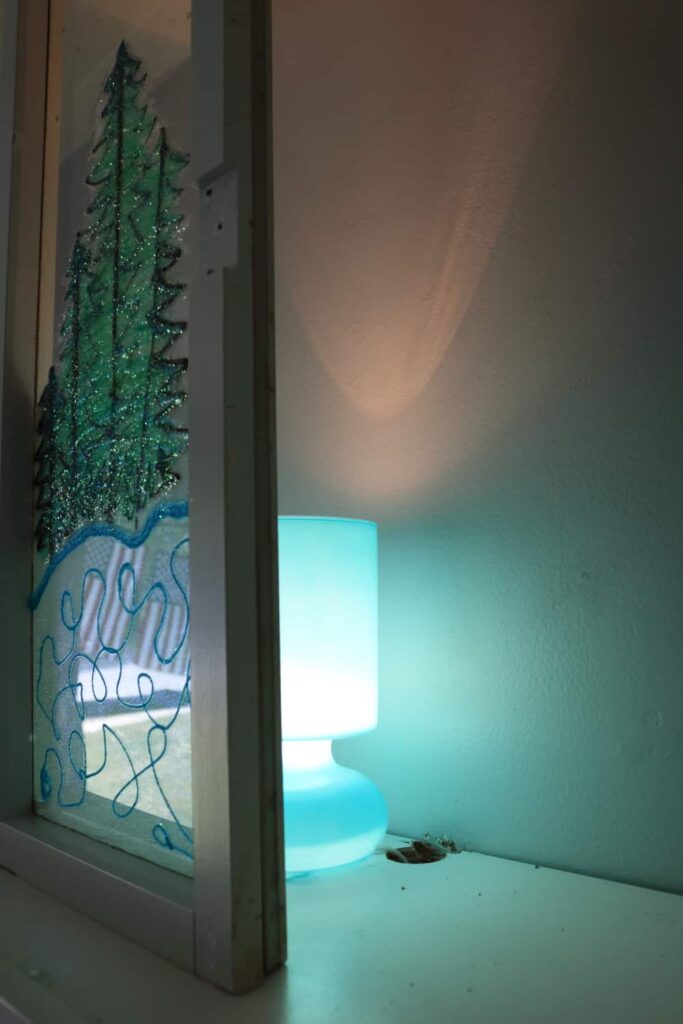 I hope you have enjoyed seeing my winter window painting. I would like to do more things with windows in the future. So far, this is the second window project I've done. The first one was very easy, as I simply taped photos onto a window and then added hardware on the back for hanging. Have you ever made a window project?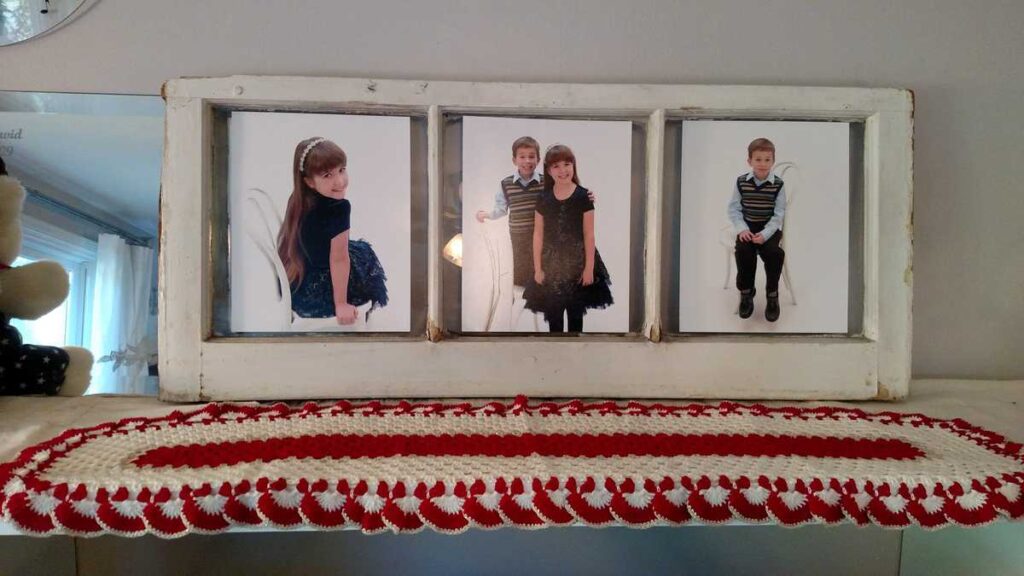 A window painting would be a great project for older kids, especially using dollar store frames! (Of course, children should be well supervised because it is glass.) What a great gift idea for kids to make at Christmas time, or any time!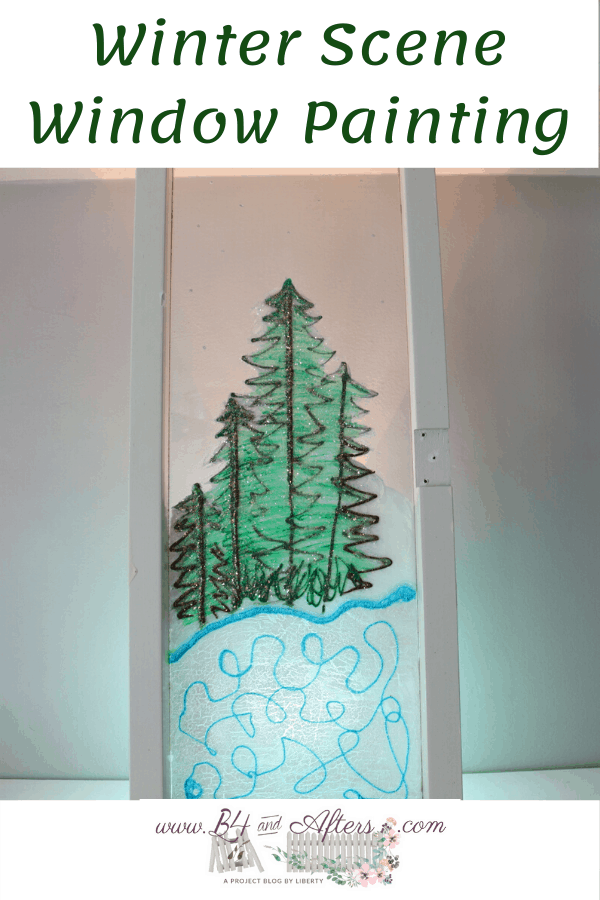 Next up is A Vintage Flare Farmhouse. Enjoy!
For even more Christmas ideas, see below!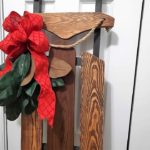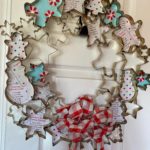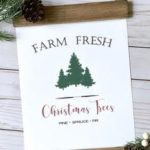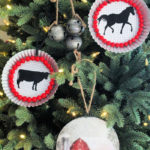 * * * * * * * * *
Decorate and More with Tip
|
Sew Sassy by Paula
|
DIY Vibes
|
Pretty DIY Home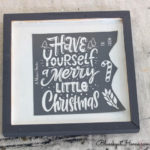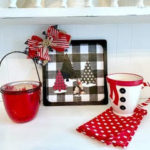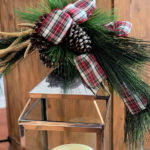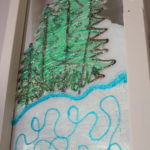 * * * * * * * * *
Bluesky at Home
|
Patina and Paint
|
Celebrate and Decorate
|
B4 and Afters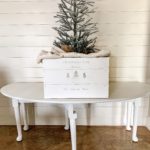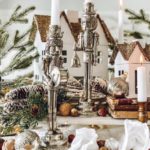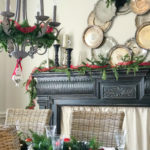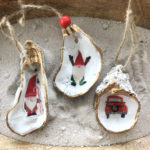 * * * * * * * * * *
A Vintage Flare Farmhouse
|
LeCultivateur
|
County Road 407
|
The House House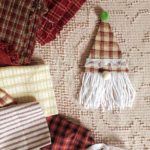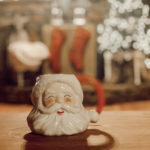 * * * * * * * * * * * * * * * * * * * * * * * * * * * * * * * * * * * *
Jessica B Simmons
|
Living Little John