My Experience Painting a Vintage Hutch
This post contains links to affiliate websites, such as Amazon, and we receive an affiliate commission for any purchases made by you using these links. We appreciate your support!
Before I give you Allll the details on painting a vintage hutch, I must thank Jenn at Miss Mustard Seed Milk Paint for providing me with the paint and finish to complete this project. She has been helpful to answer my questions when I had them, and I really appreciate that!
This was my second time using MMSMP, and my first time using the Tough Coat finish. Sometimes it seems like paint such as this is for professional furniture flippers. But I am certainly not a professional, even though I would like to be. Read on to see all about my experience with this Milk Paint!
I'm joining my blogger friends in a DIY hop hosted by Celebrate and Decorate to share this project, and I hope you will enjoy seeing their projects at the end of this post. Wasn't the Tissue Paper Garland a neat idea?!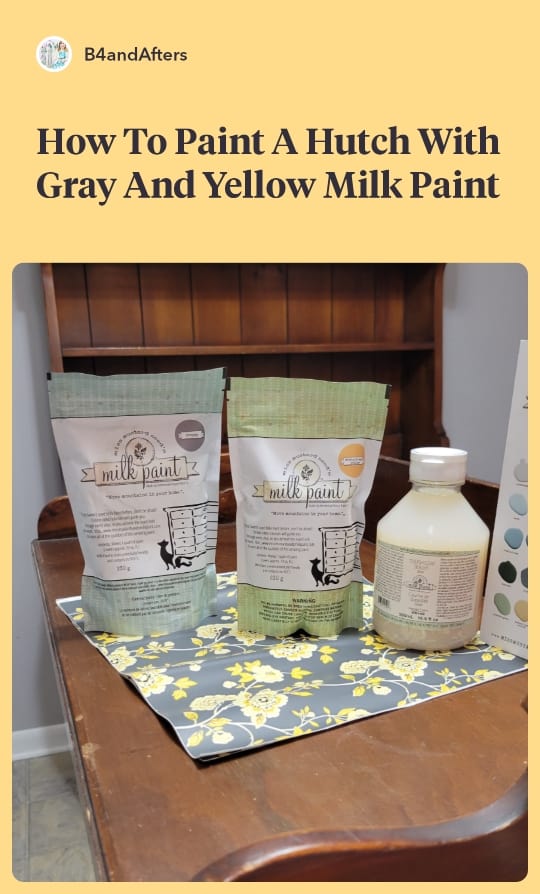 The first time I used milk paint from Miss Mustard Seed was when I painted this blue dresser in my son's room. I enjoyed that project a lot, and was excited to try some more colors! I did run in to some hiccups along the way, though….

I was soooo excited when I found this hutch in my development, out on the curb for FREE! I think I must live in the best neighborhood for giveaways like these! Since my small house is already crowded, I thought, well, I can just paint it and yardsale it. But now I know that when you paint a gorgeous vintage hutch, you are very likely to end up keeping it yourself!
[By the way, I've now Painted Another Hutch and I think you will like it, too!]
So, How Do you Paint a Vintage Hutch?
Short answer: With a LOT of patience. There were so many surfaces to paint! The shelves, underneath the shelves, the back, the countertop part, the matching tray…. I always forget these things in between projects. But then once I am committed to painting something, I must finish.
So be sure to stock up on lots of patience just before you begin to paint! And if you read through all the details below, and follow my tips, you will be sure to succeed.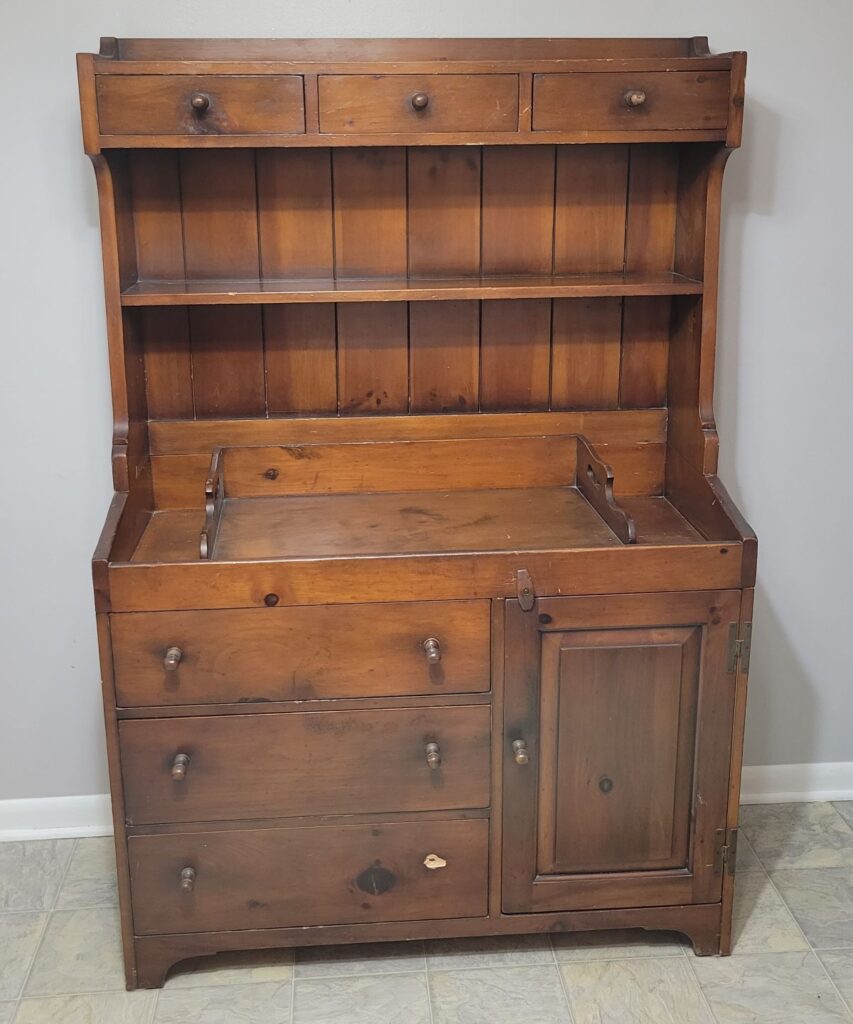 This hutch really looks like a dry sink to me. Do any of my readers know if dry sinks ever have an upper shelf section attached like this hutch has? I know precious little about such things….
Painting a Vintage Hutch
Let me warn you: this is a verry long post! So if you would rather just watch the video, feel free! Then come back and read the rest of the details at the end of this post.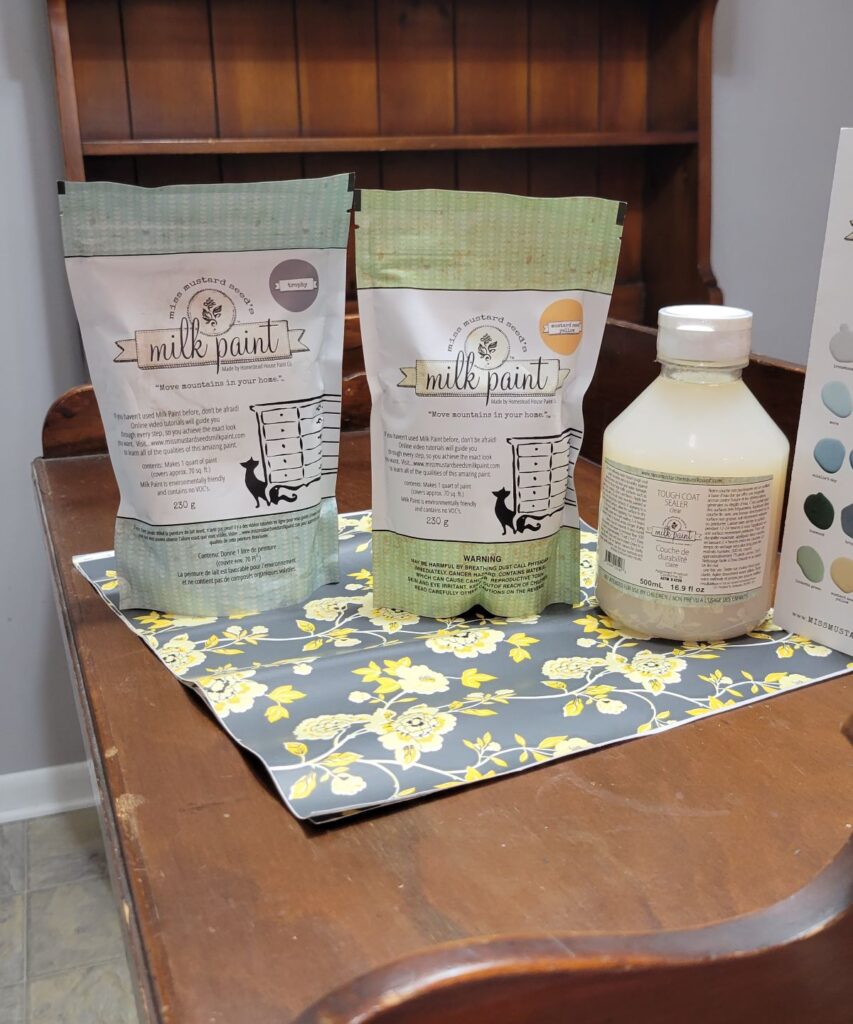 Someone in my neighborhood set out this hutch bc they didn't want it anymore. It was heavy, and my husband helped me load both pieces into our truck.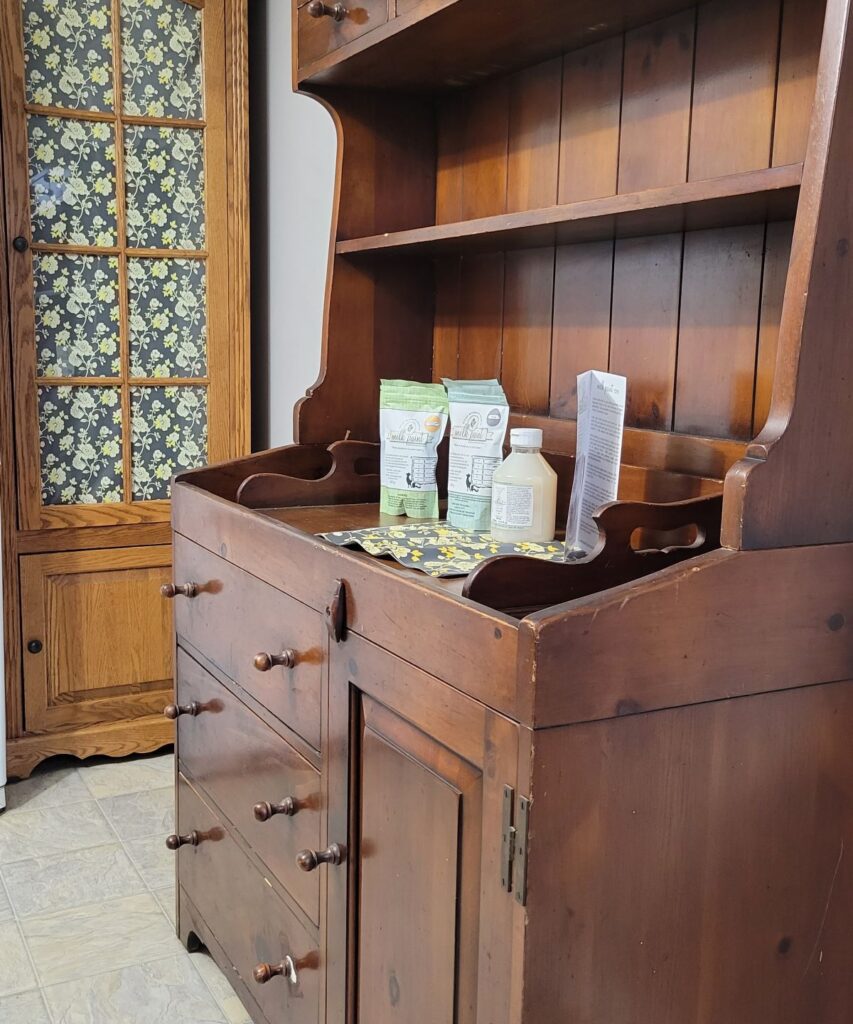 It has a serving tray! I love the solid wood.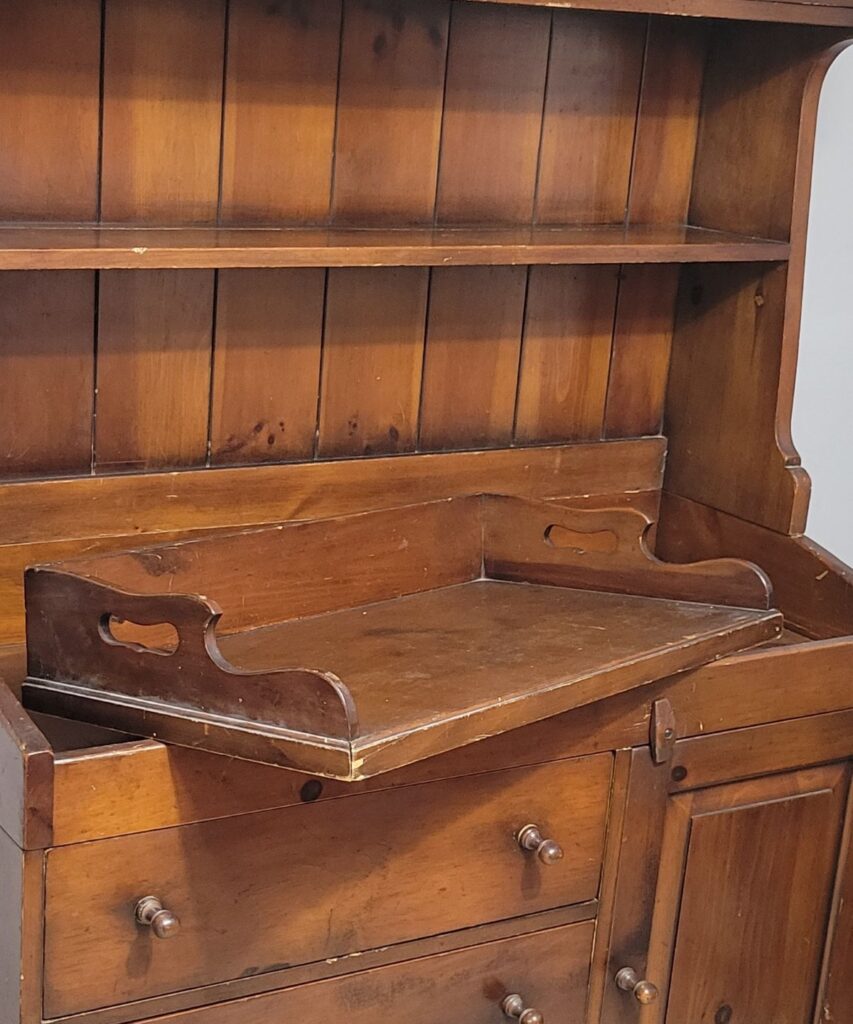 The top drawers moved when you pulled one out… it was fun!
Here is the back. The top is made from separate boards. You can see where the knots match. 🙂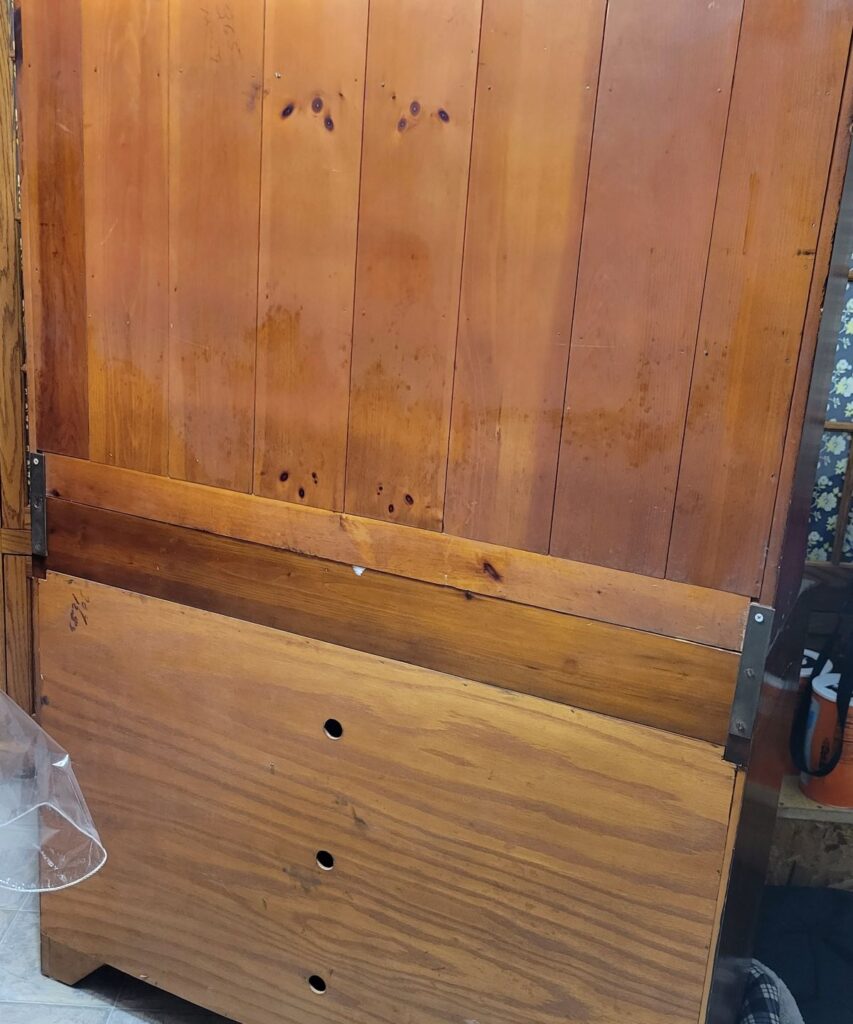 I don't know if maybe this is the date it was made?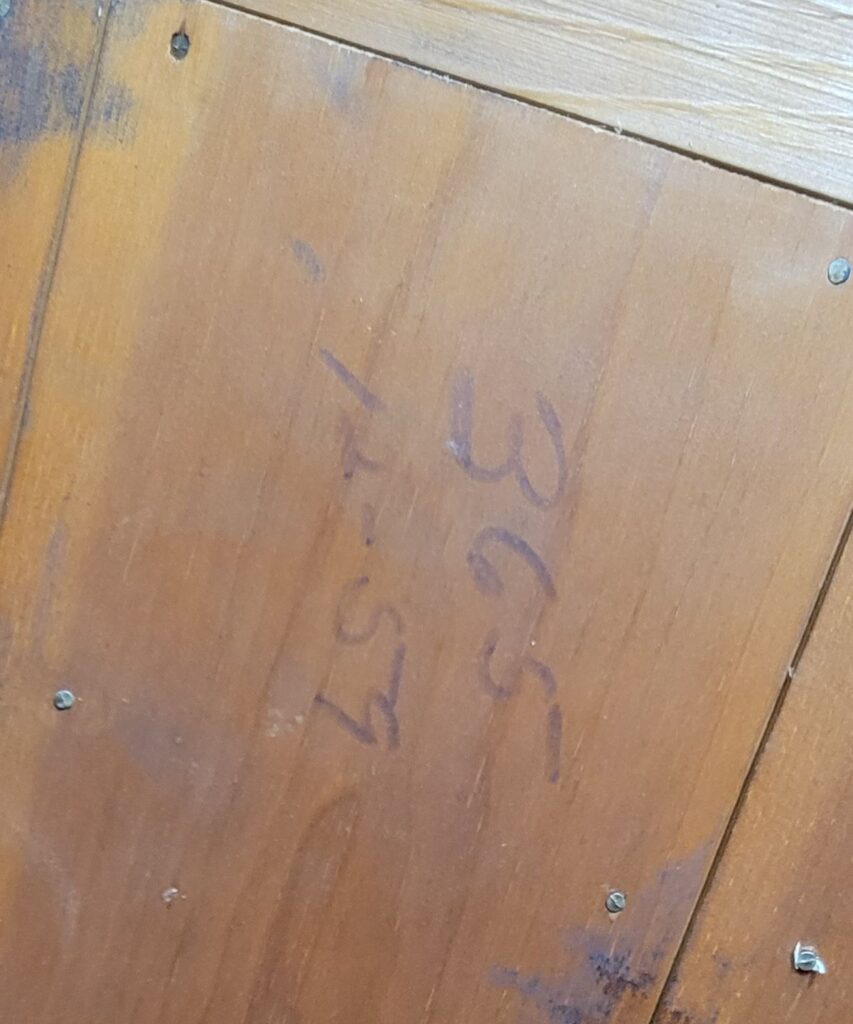 This mark is inside one of the drawers, and underneath the tray.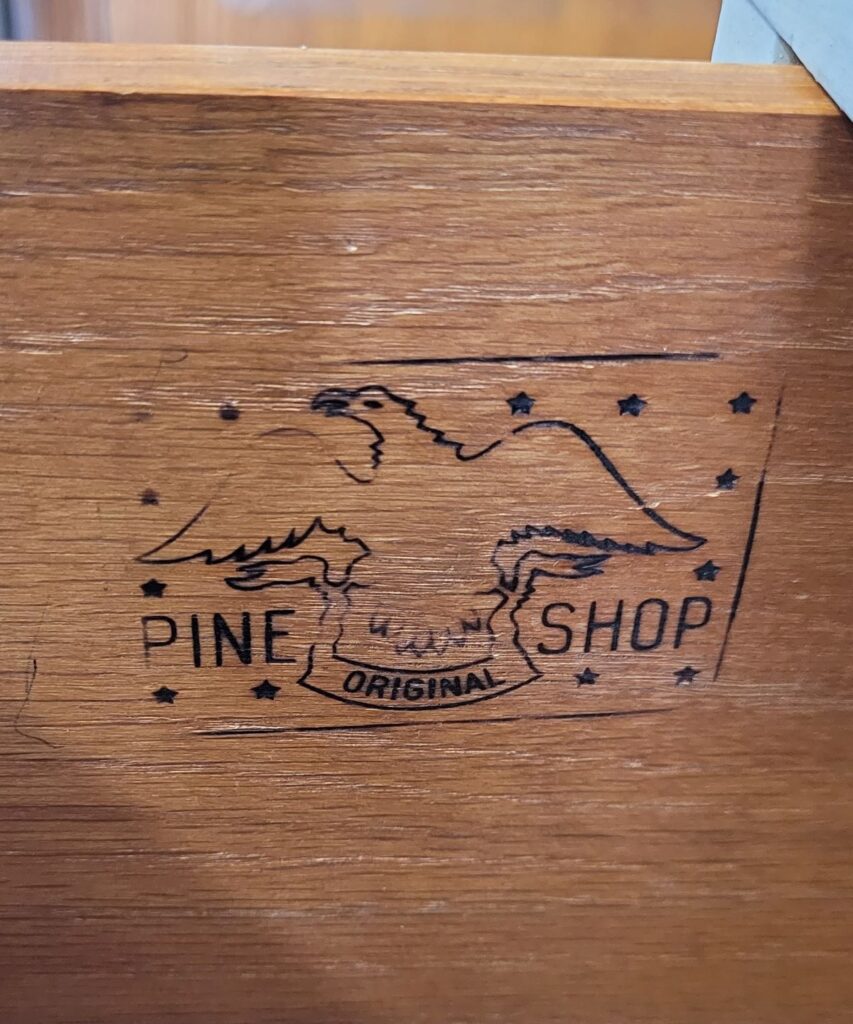 There were several problems. The 3 drawers on the bottom left were hard to open. Two were stuck so tight a screwdriver was necessary to pry them open.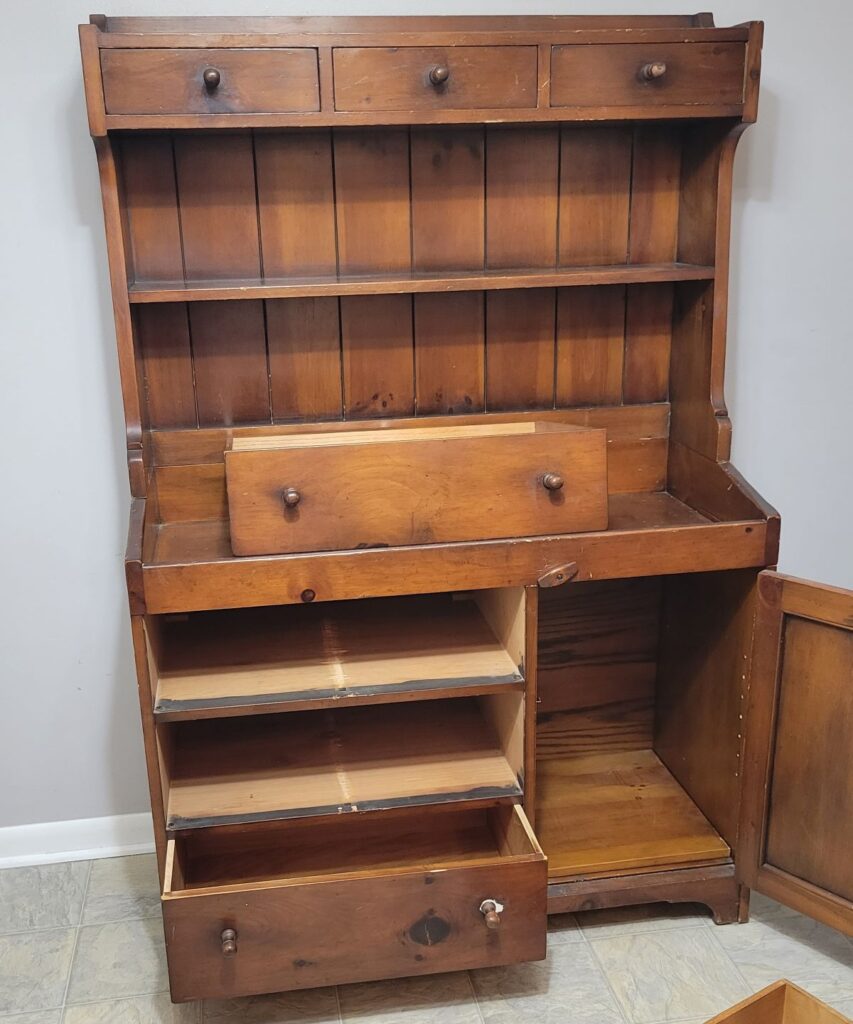 Thankfully, it was an easy fix. All I had to do was remove the middle runners on the drawers and the hutch!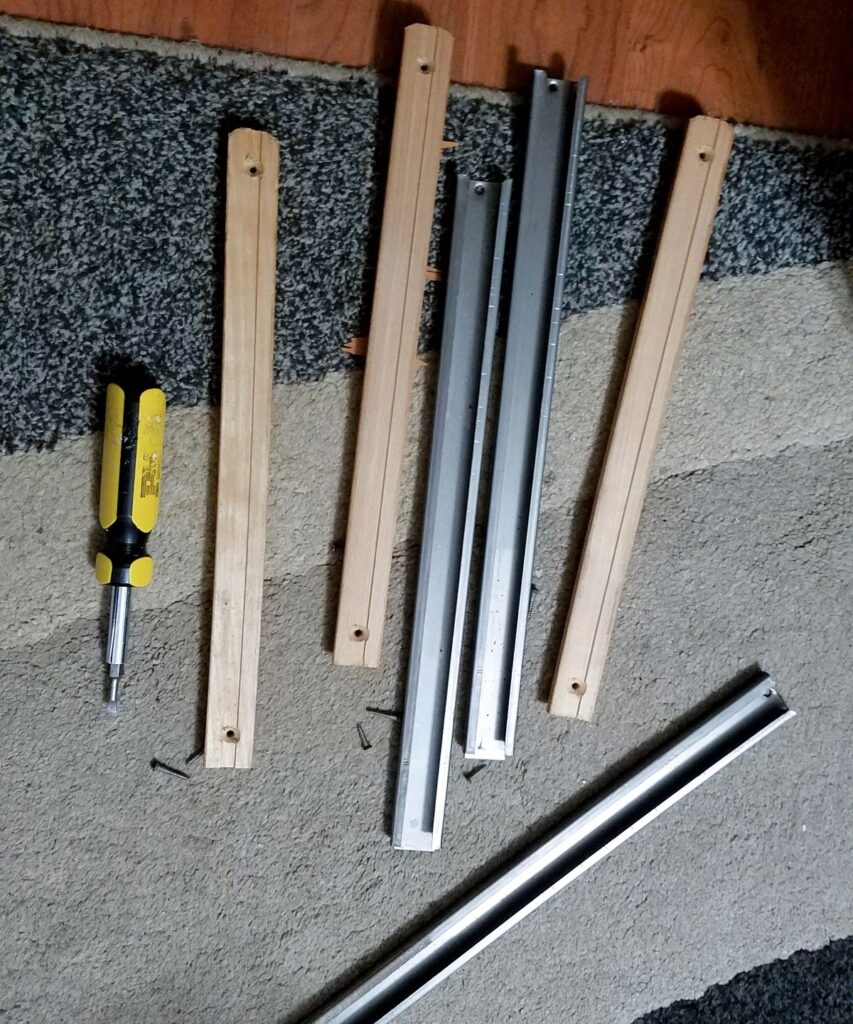 Why someone thought they were necessary I will never know. There is solid wood between each drawer space.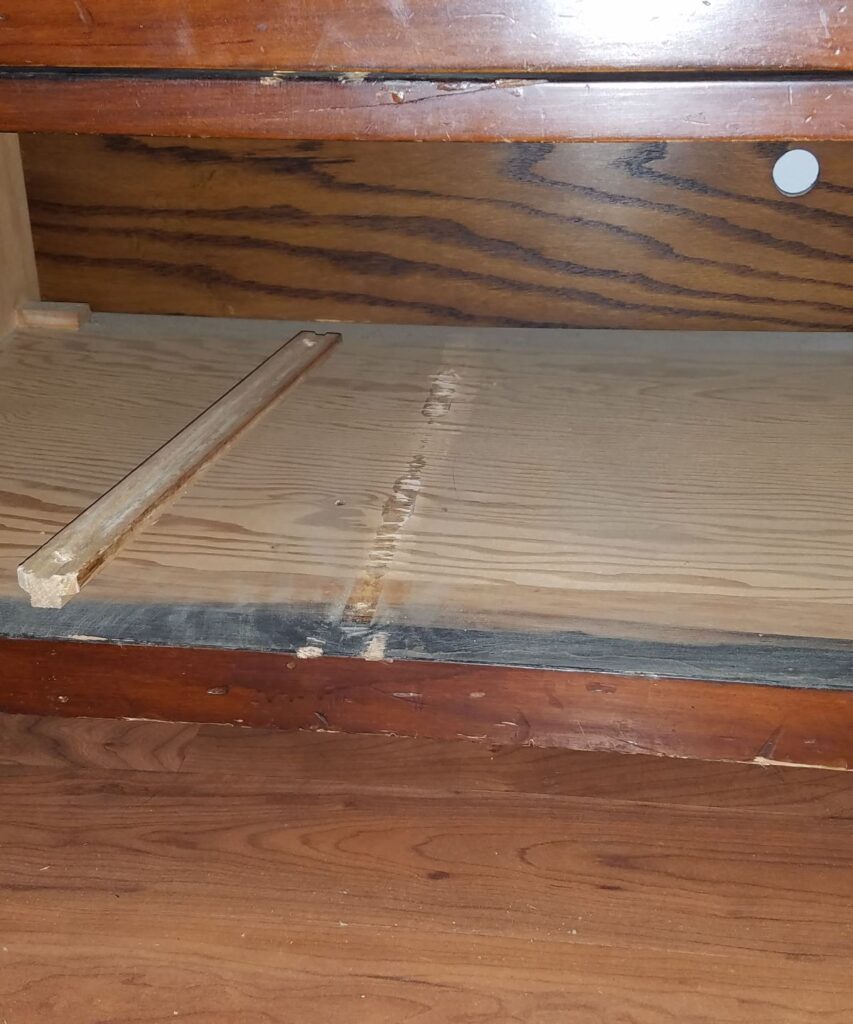 I am so thankful that it was such an easy fix!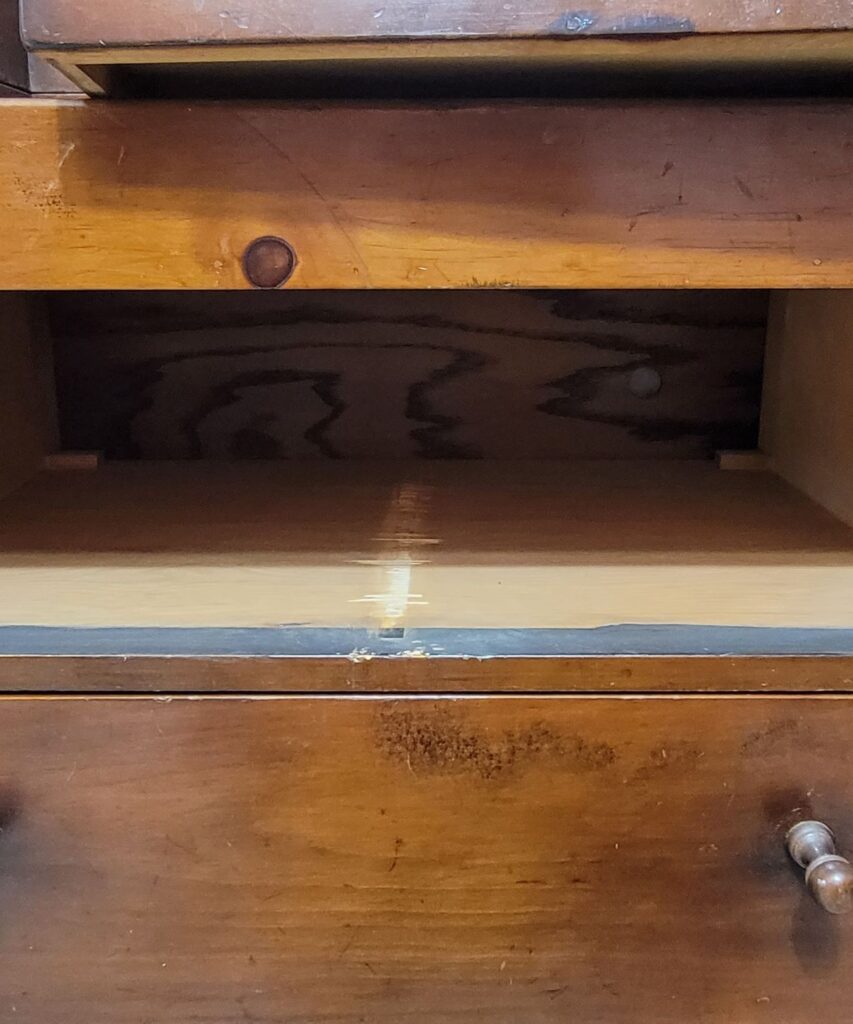 The drawers fit very well in their spaces, and painting will cover up the screwdriver marks.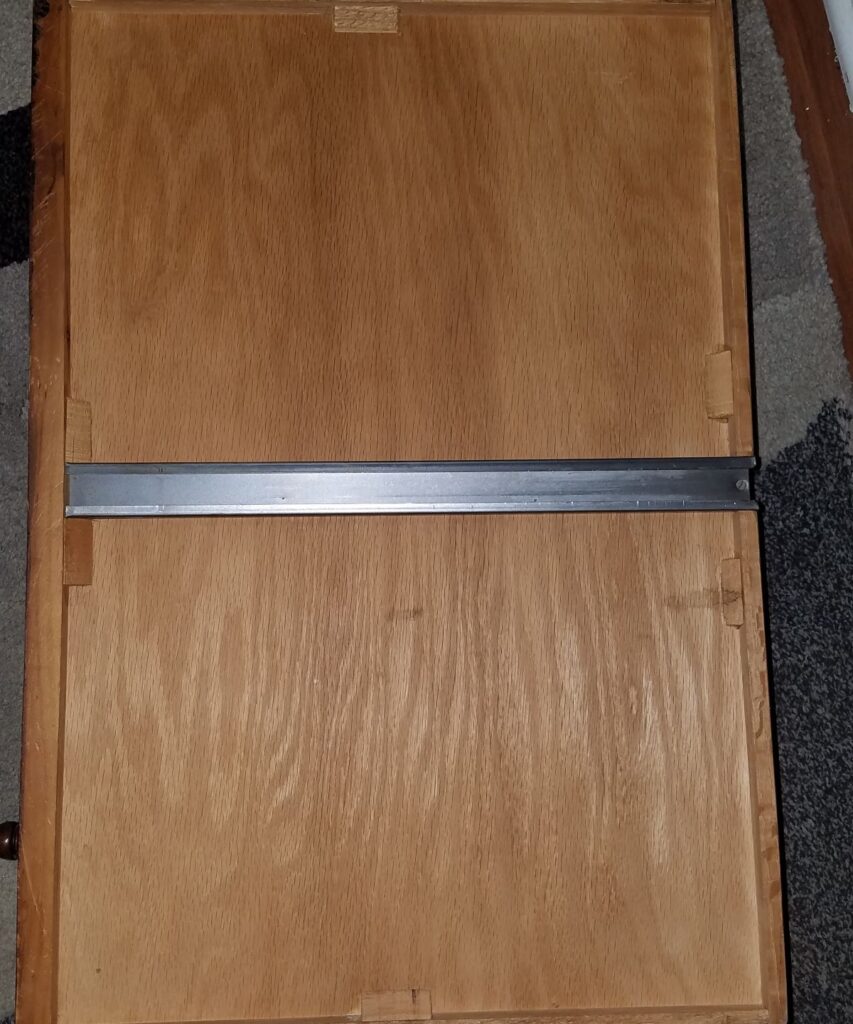 Three knobs were torn loose, probably from trying to open the drawers. I glued them back with wood glue.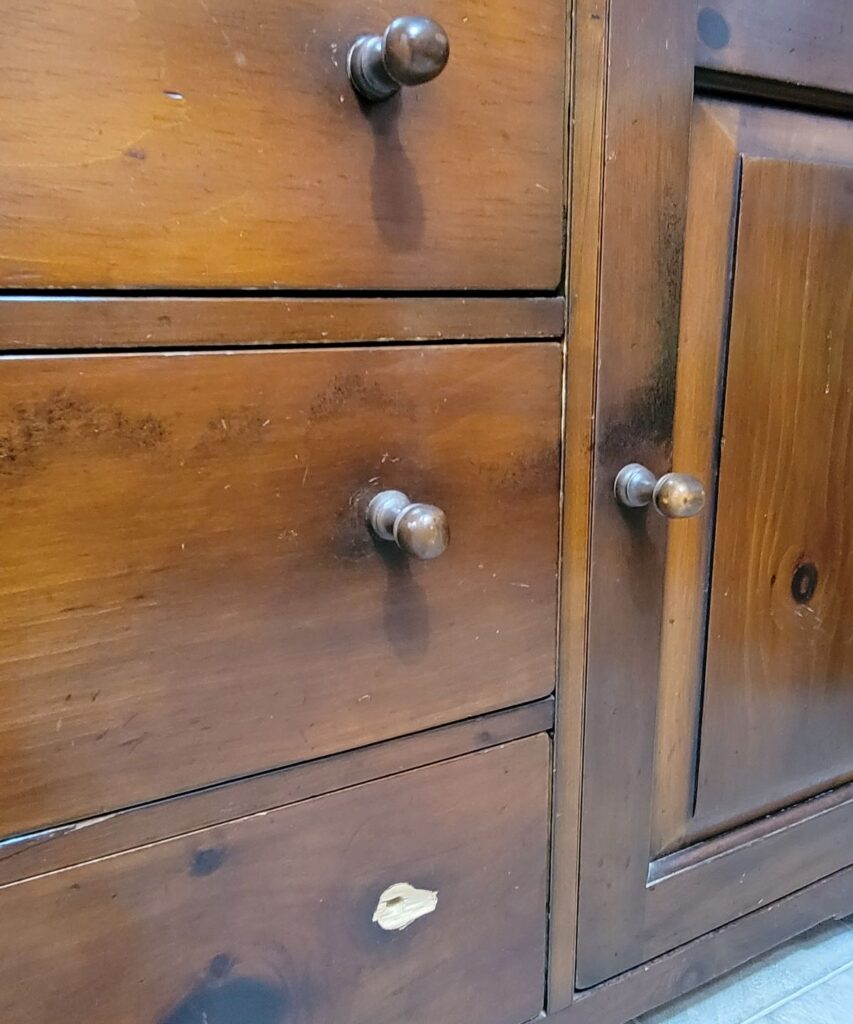 I really enjoyed using the hutch as a backdrop for my Cookies and Food Photography! I realized it could look even better if it was painted.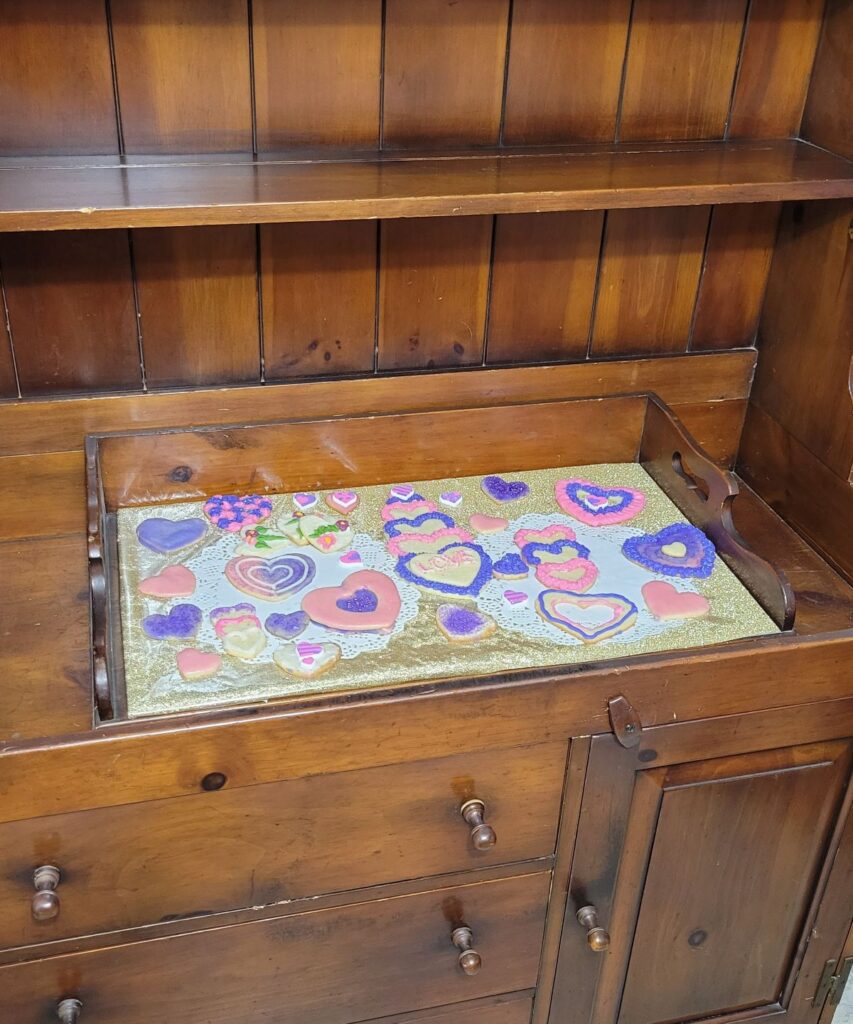 My plan for this hutch originally included a dull white called Linen. But it was unavailable, so I chose gray (Trophy) and yellow (Mustard).
The gray and yellow coordinates with some Floral contact paper that I have used in other areas of my kitchen. It also goes well with my flooring.
As I was planning how to incorporate the colors together, I printed a black and white copy of a photo, and outlined it in black marker.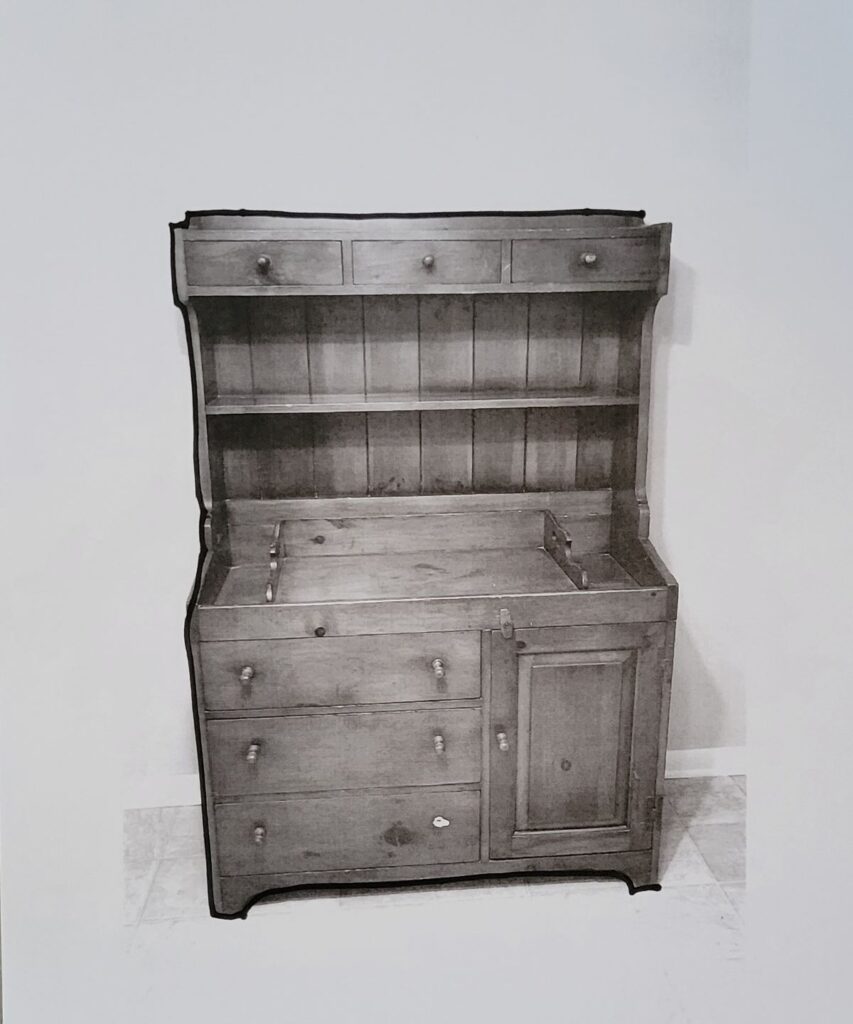 Then I lightened it, thinking I would color the picture. I never did color it, but it did help me think through my plan.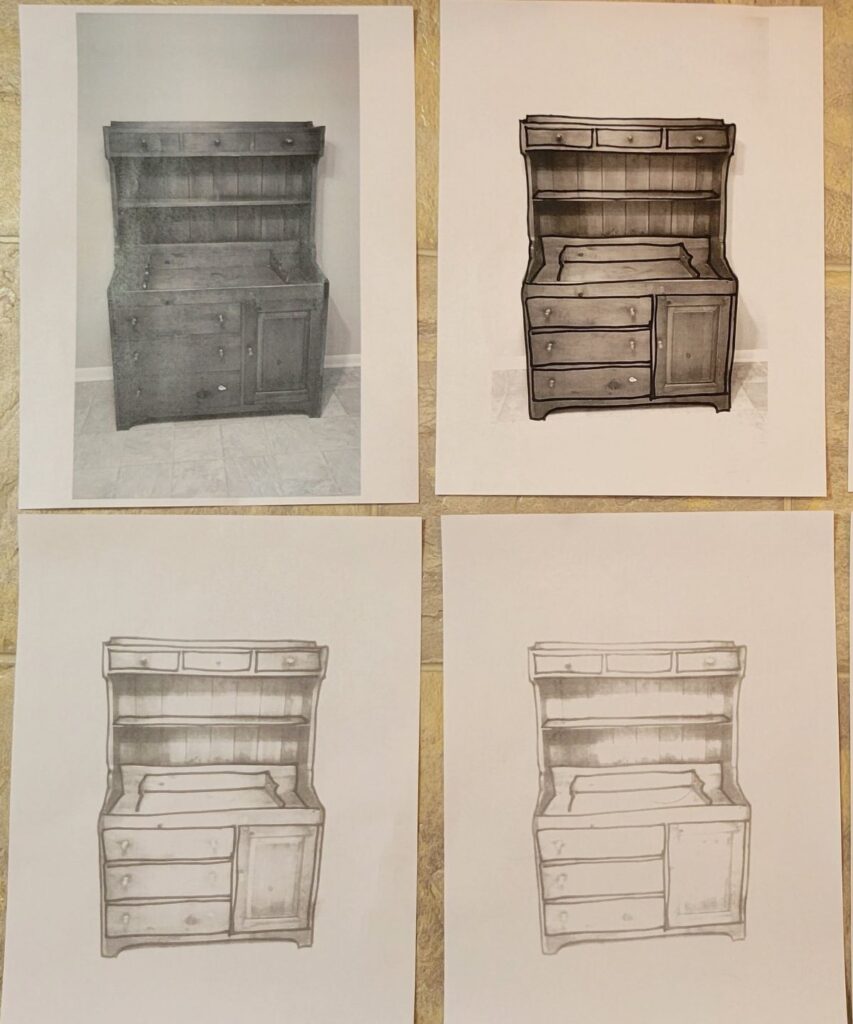 First, I am going to practice on this shelf that was given to me.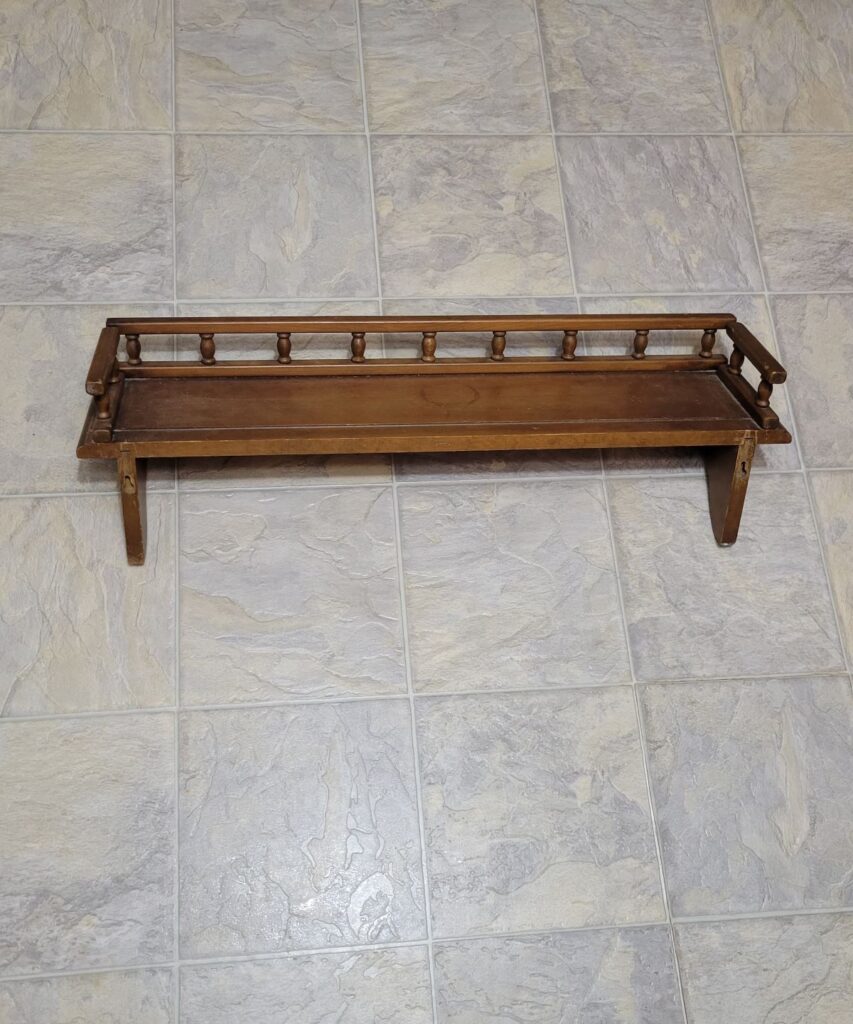 The browns are close enough for me to picture the end result on the hutch.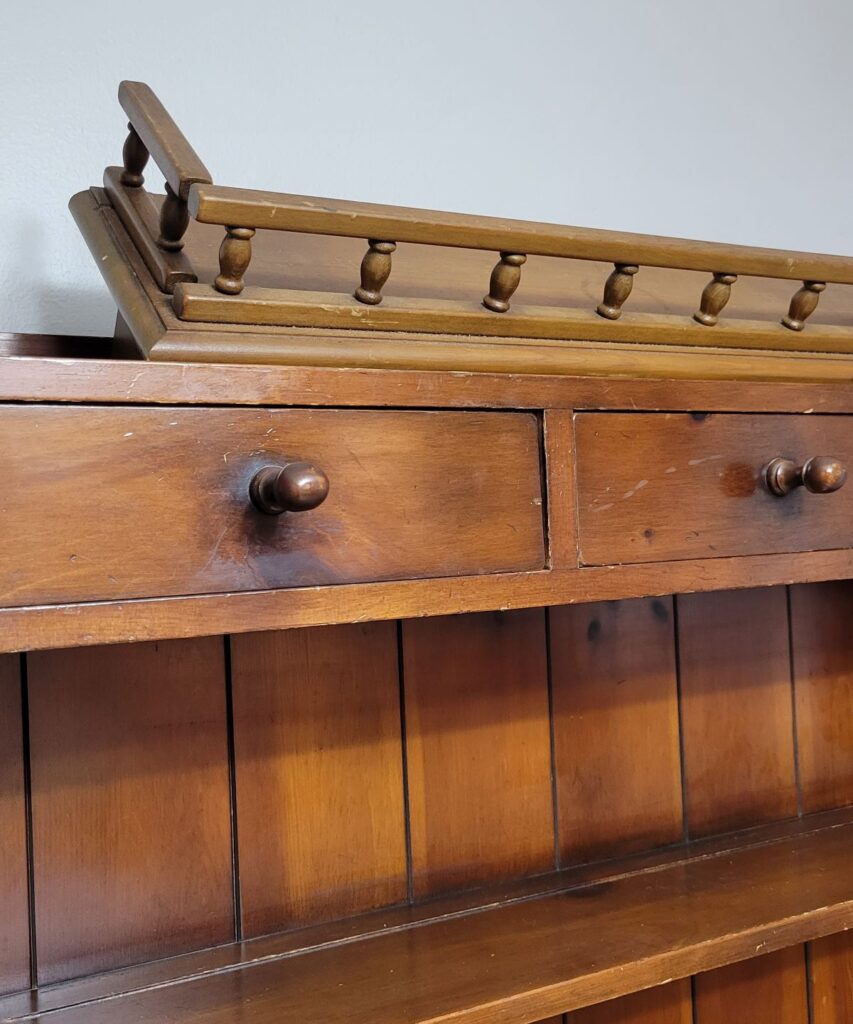 I decided to prime the shelf with Zinsser primer first. I'm not sure if that was a good idea or a bad idea….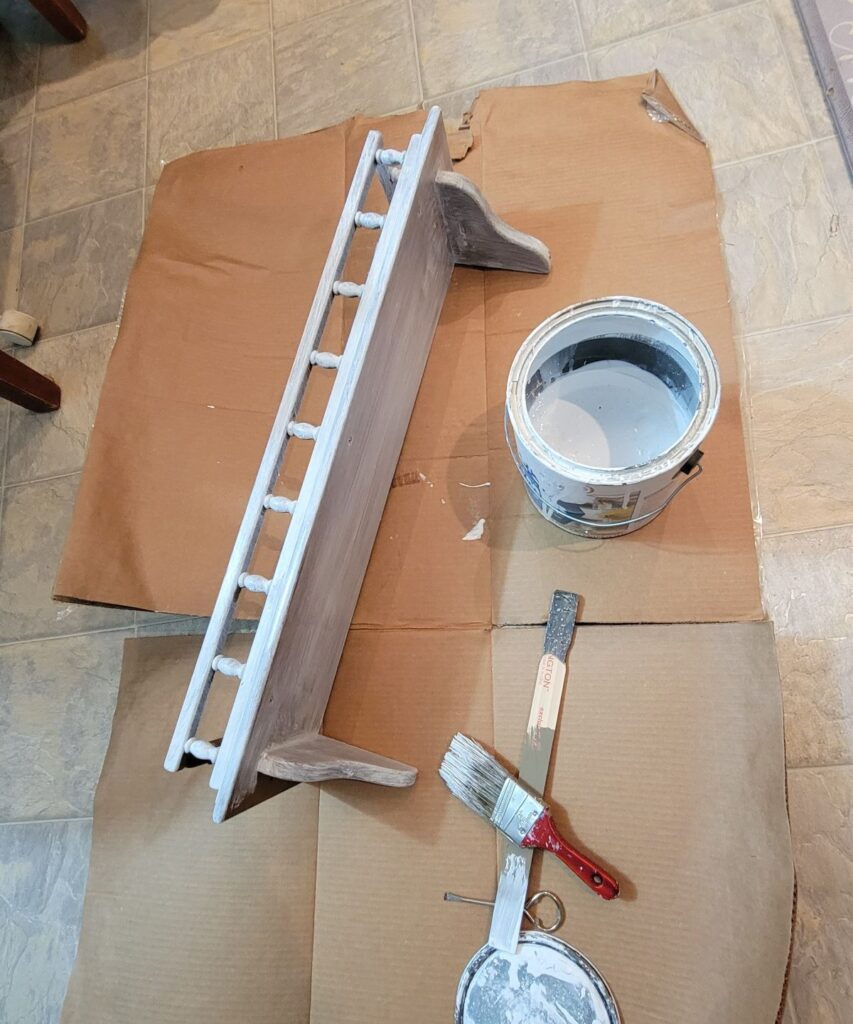 The Trophy gray seems to have a greenish hue.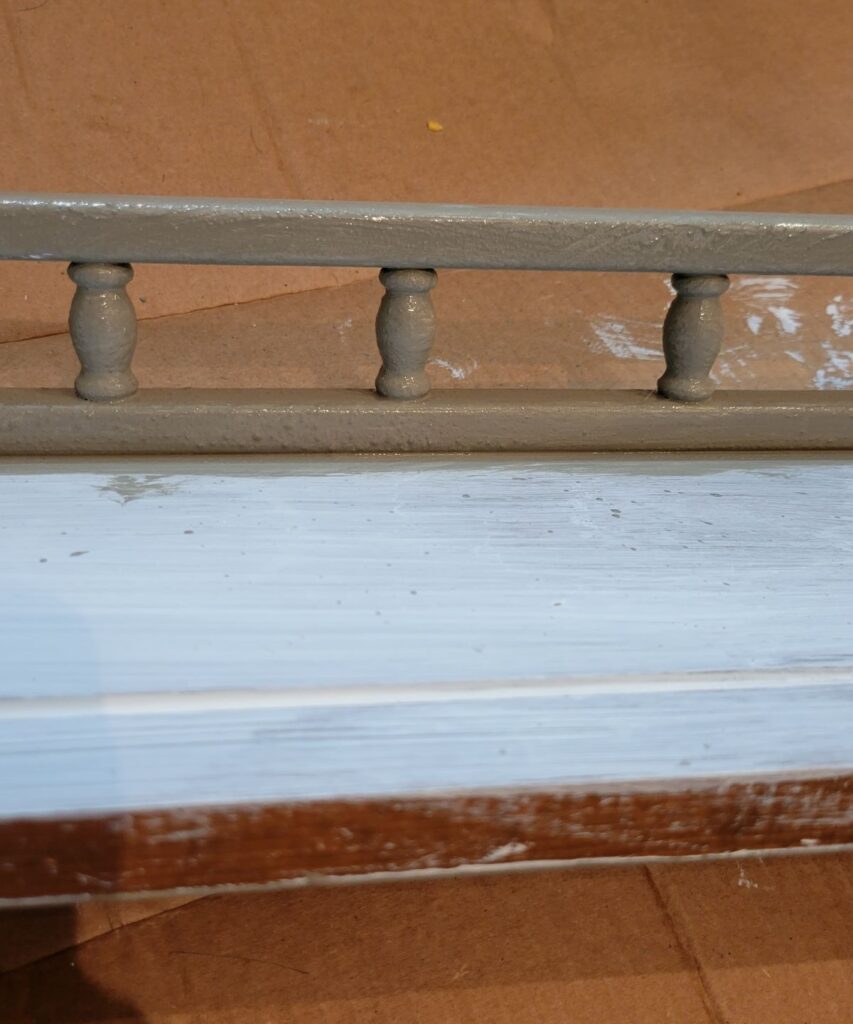 It also has a brownish hue in this light.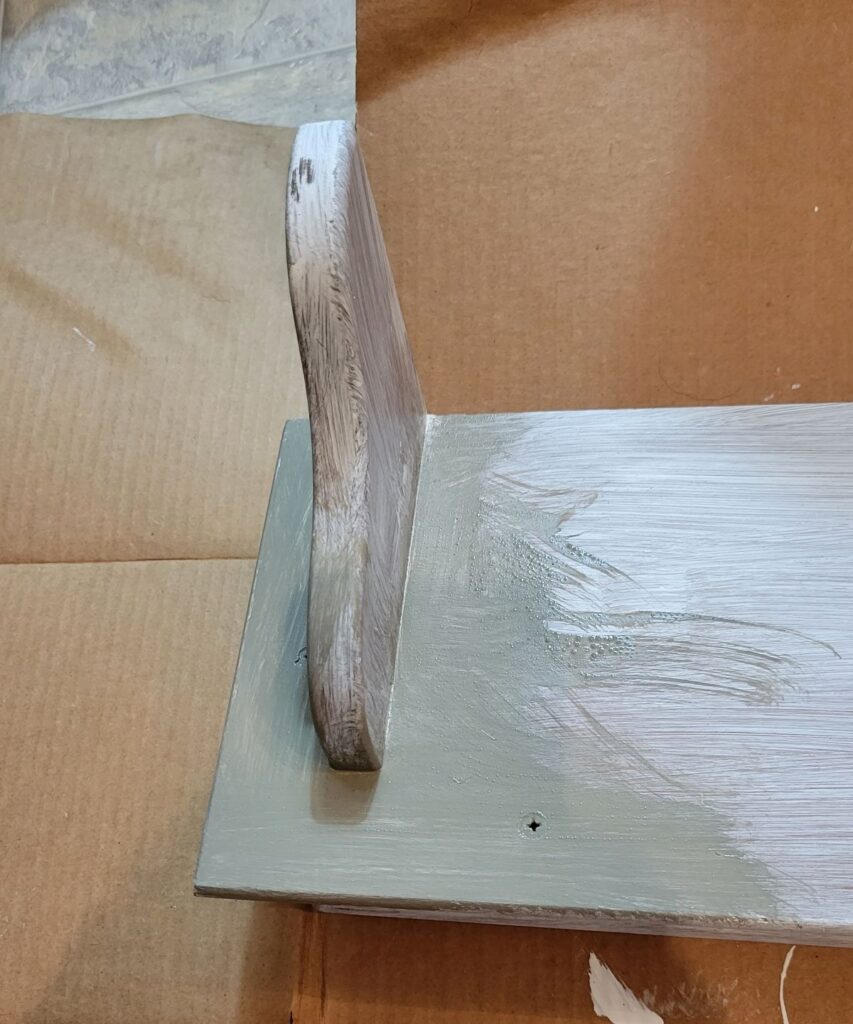 It dried fairly light colored, but blotchy. I'm not sure why the color is so uneven. I do know how to paint, & I was stirring the paint as I painted. (Later I found out that they had trouble with some of their paint batches– ugh!)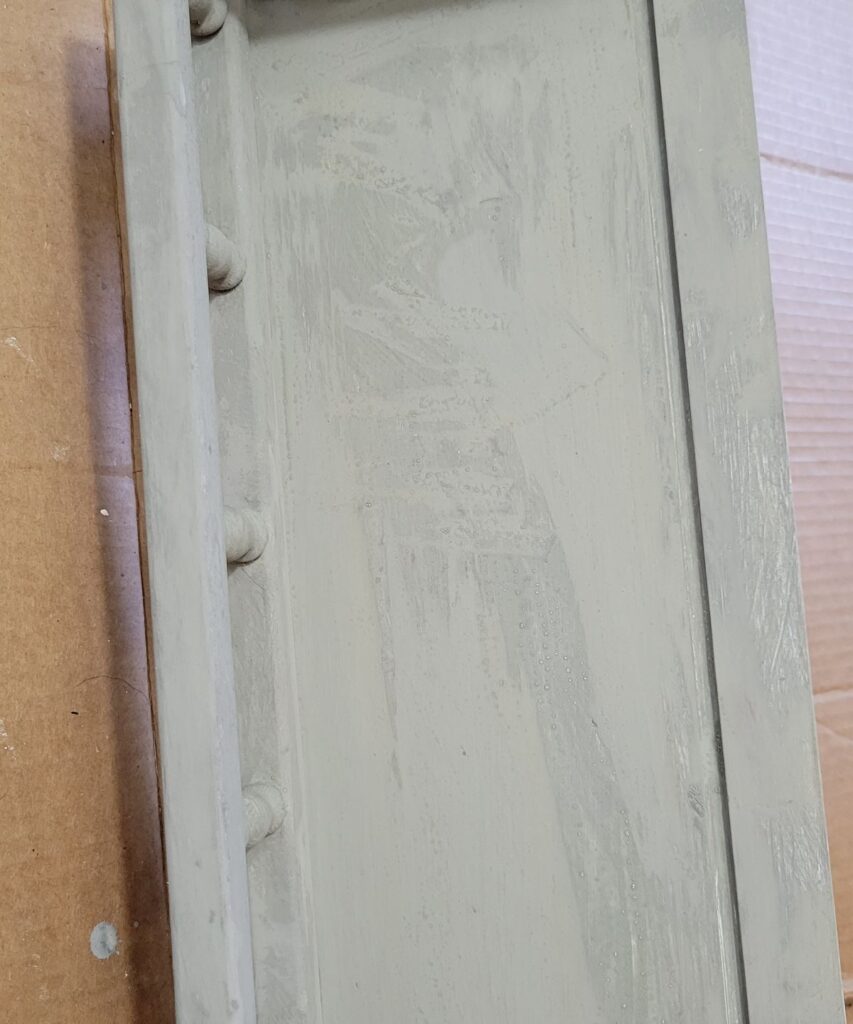 The yellow was fun to use. I followed the directions for mixing each color.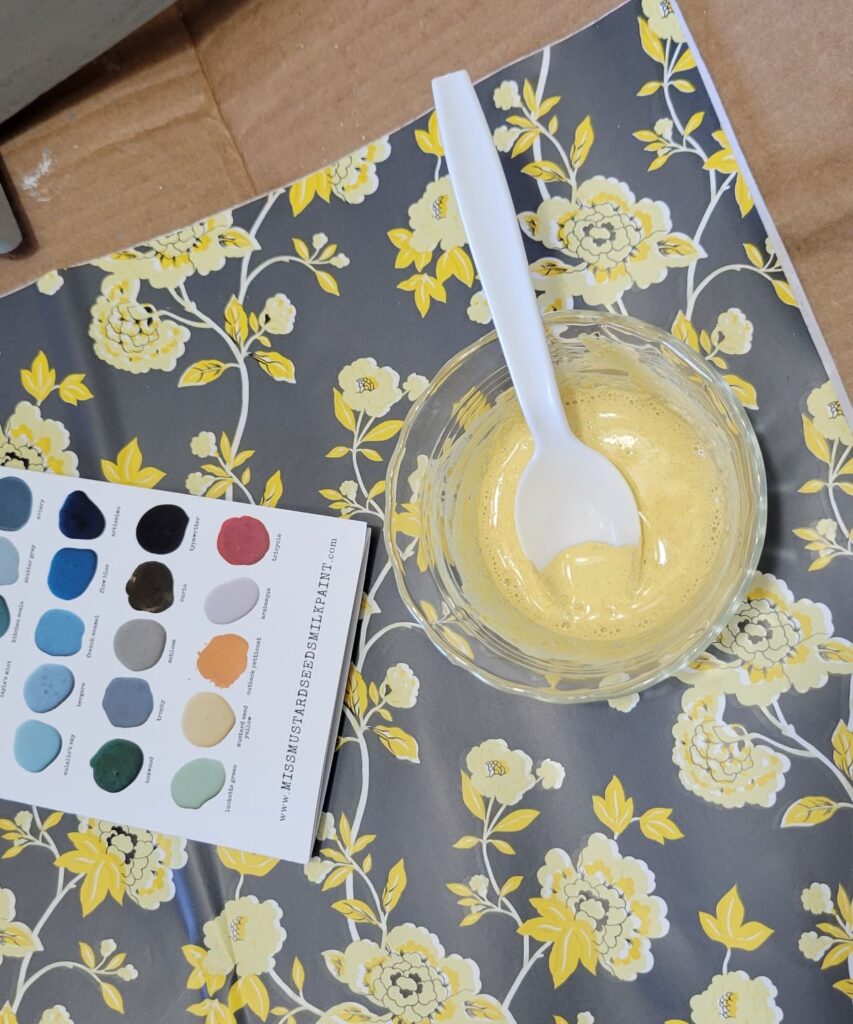 The colors look lighter until you apply the topcoat finish of your choice.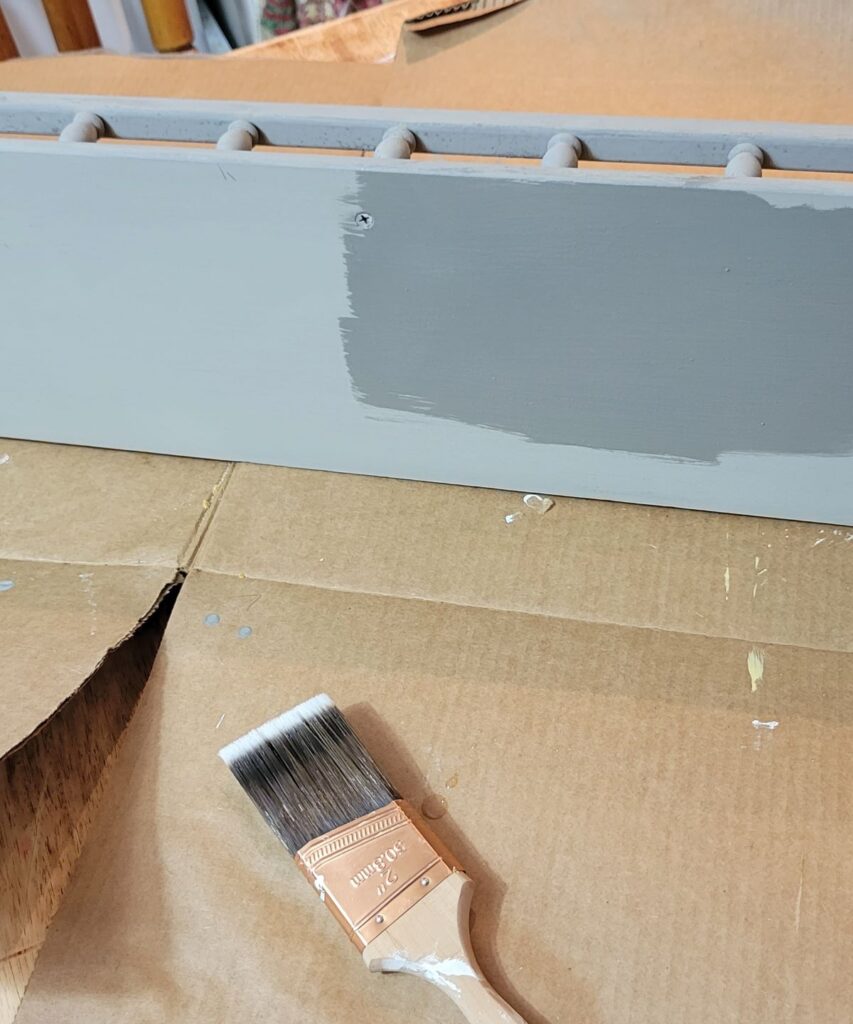 The test piece is looking good!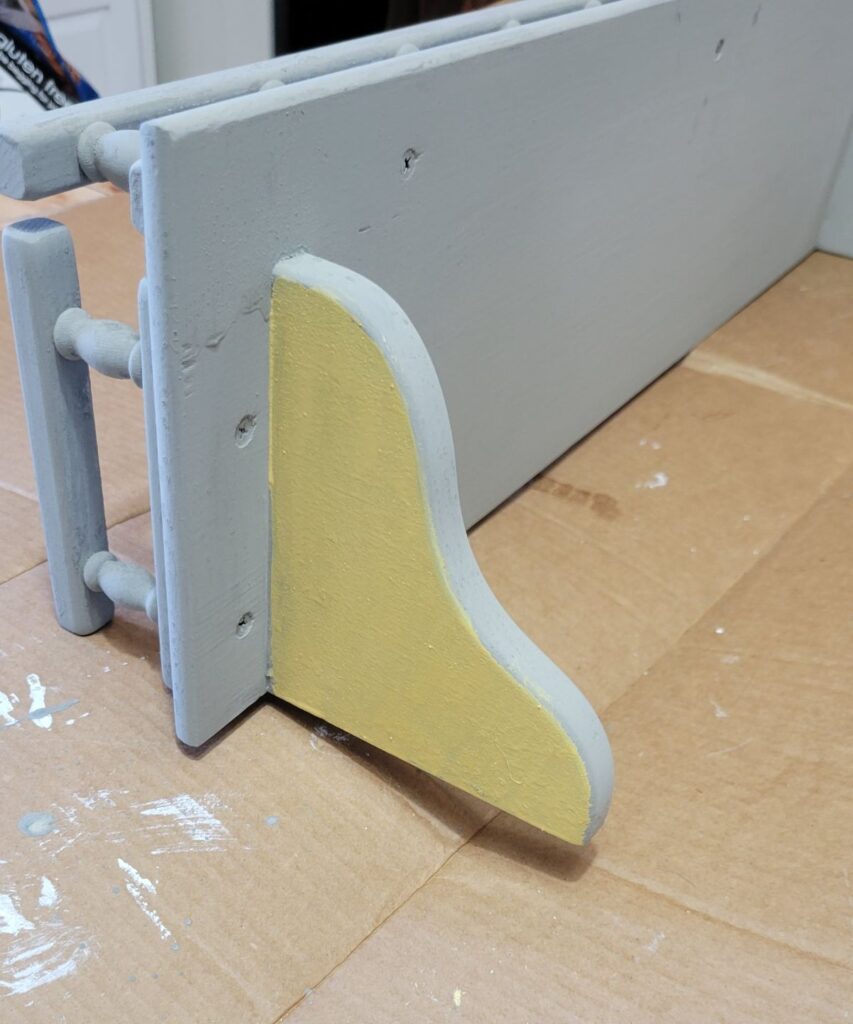 Time to start the hutch! I decided not to prime it. But after seeing this, I decided to prime it after all.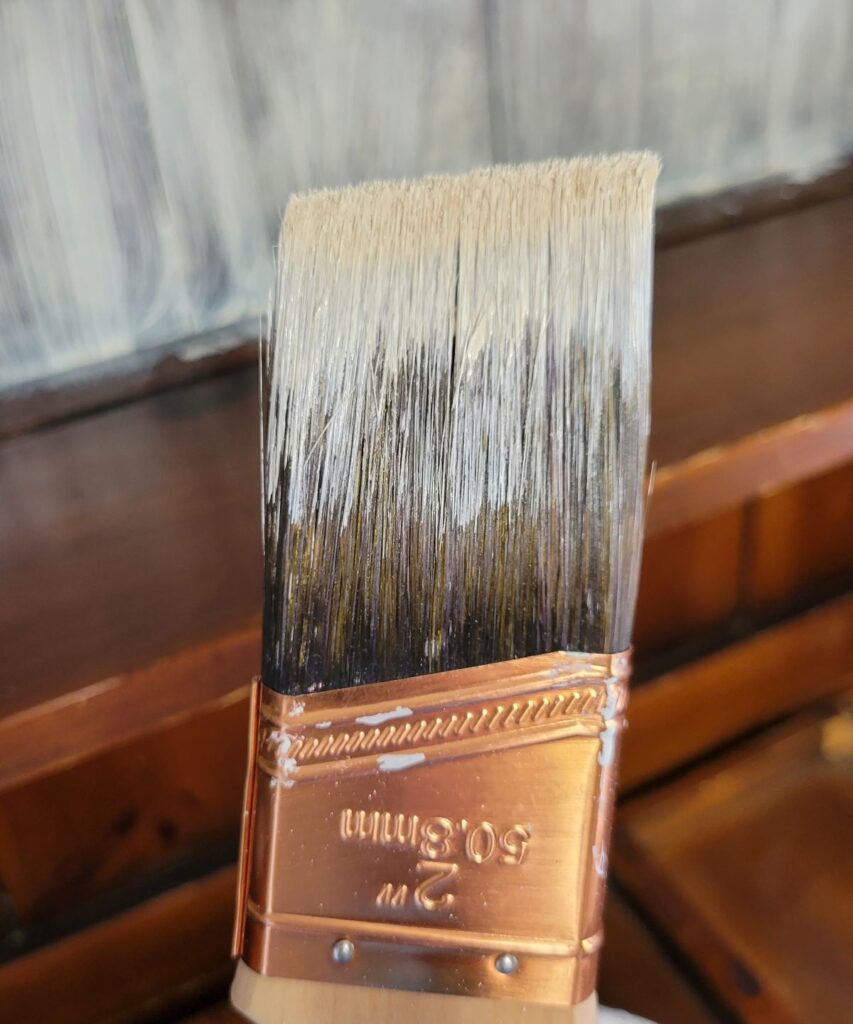 But when I did, I realized that the stain on the hutch was bleeding through the primer… ugh!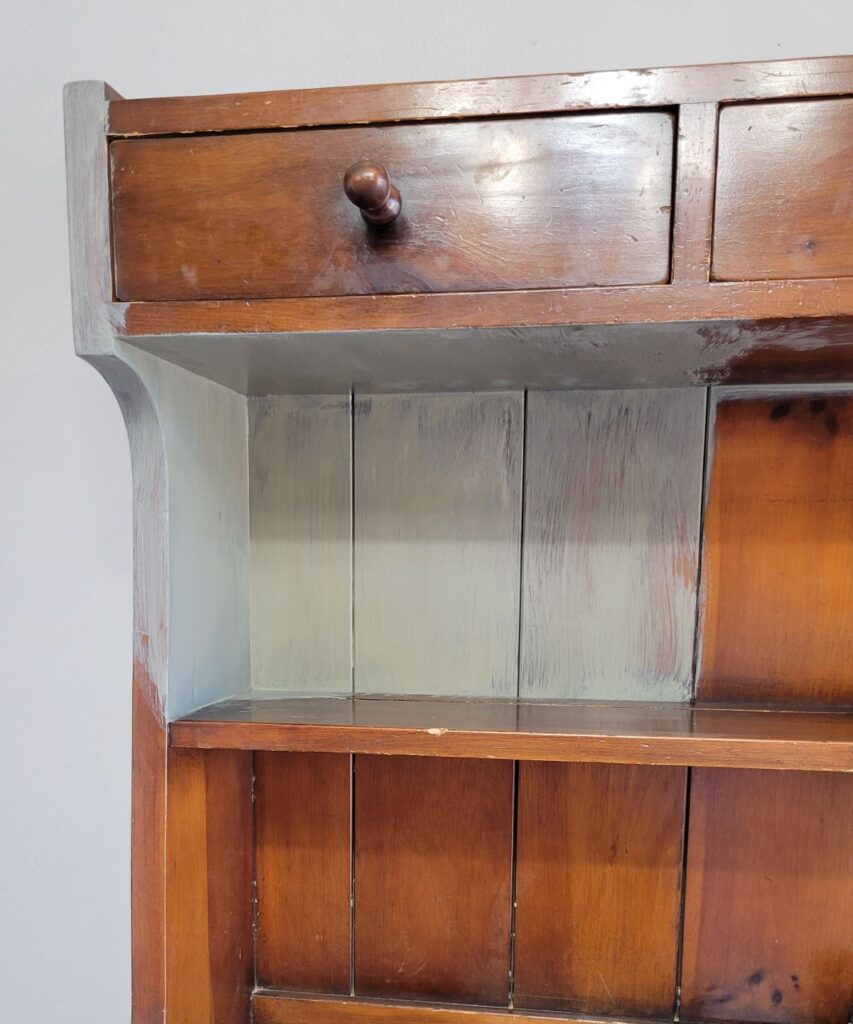 What a disaster! Thankfully, I had watched the MMS video about using their Tough Coat Clear Finish for a stain blocker. So, that's what I did!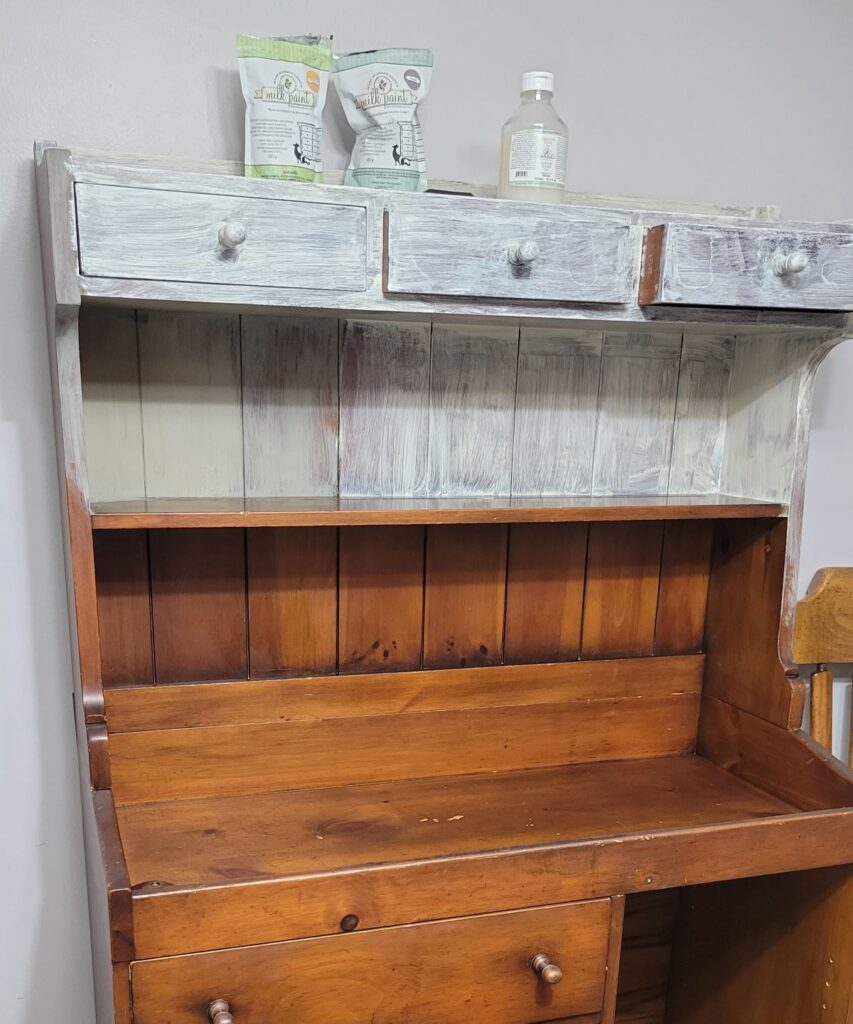 After the clear coat dried, I painted the sides yellow (everything would need two coats).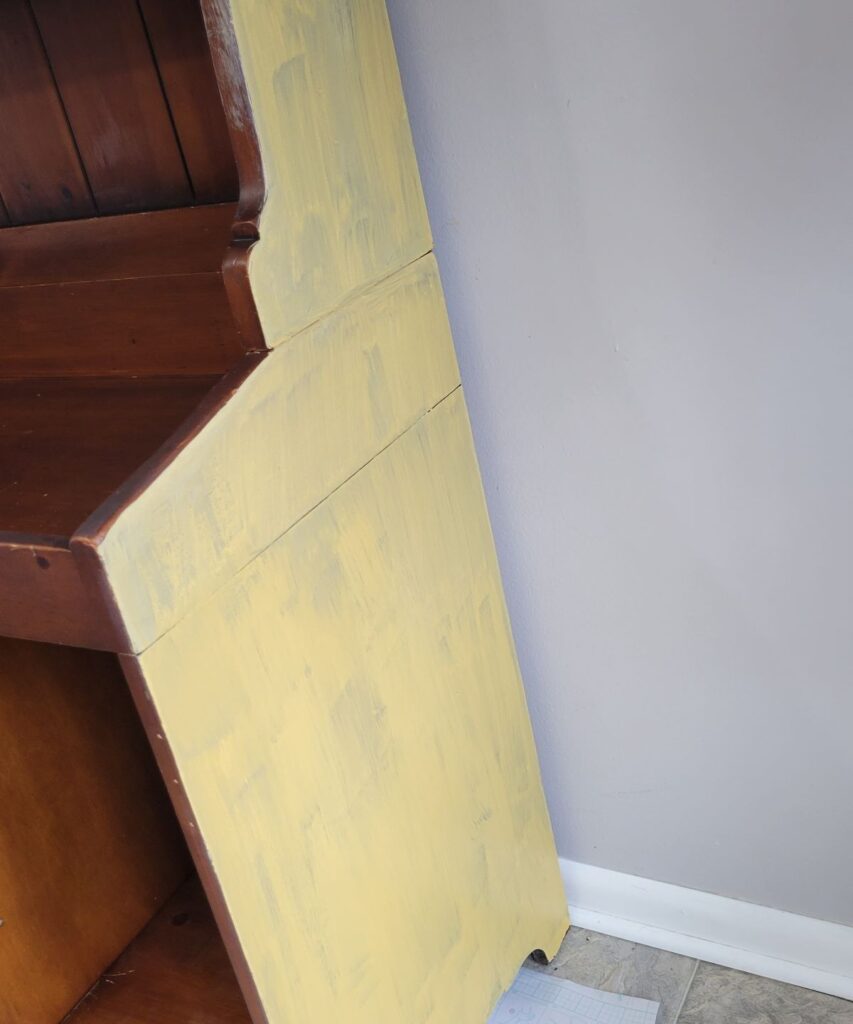 I painted the tray…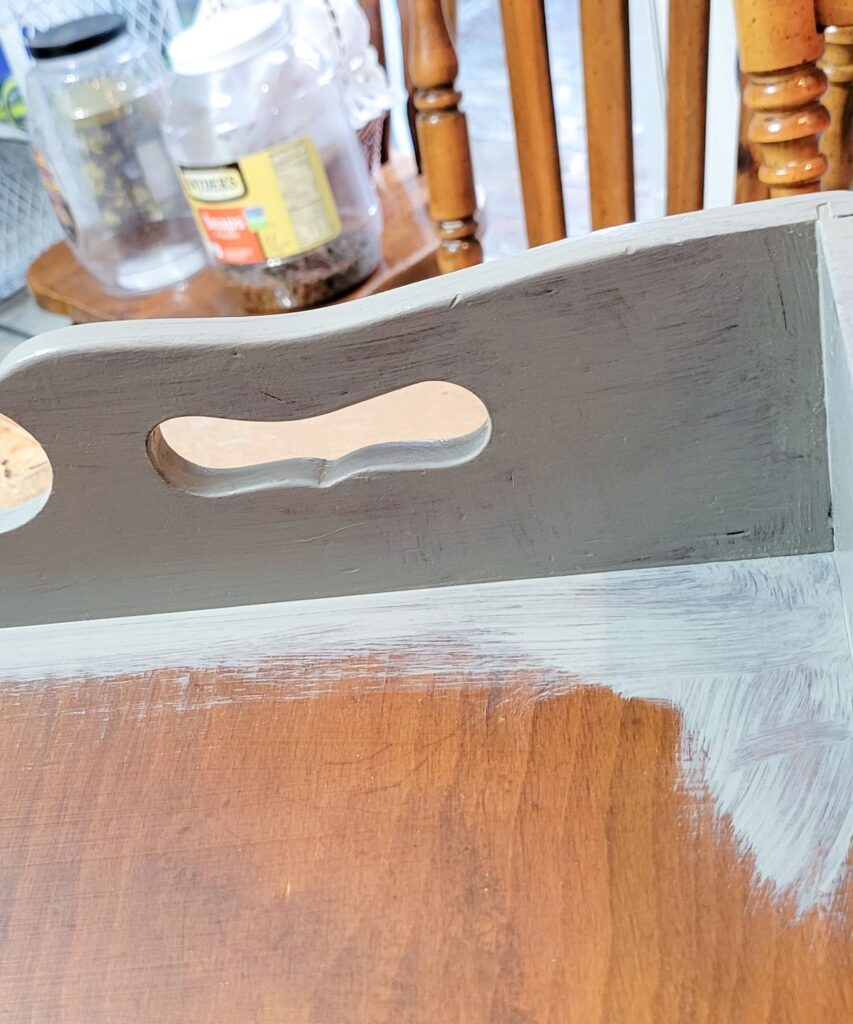 I painted the door that I had taken off of its hinges.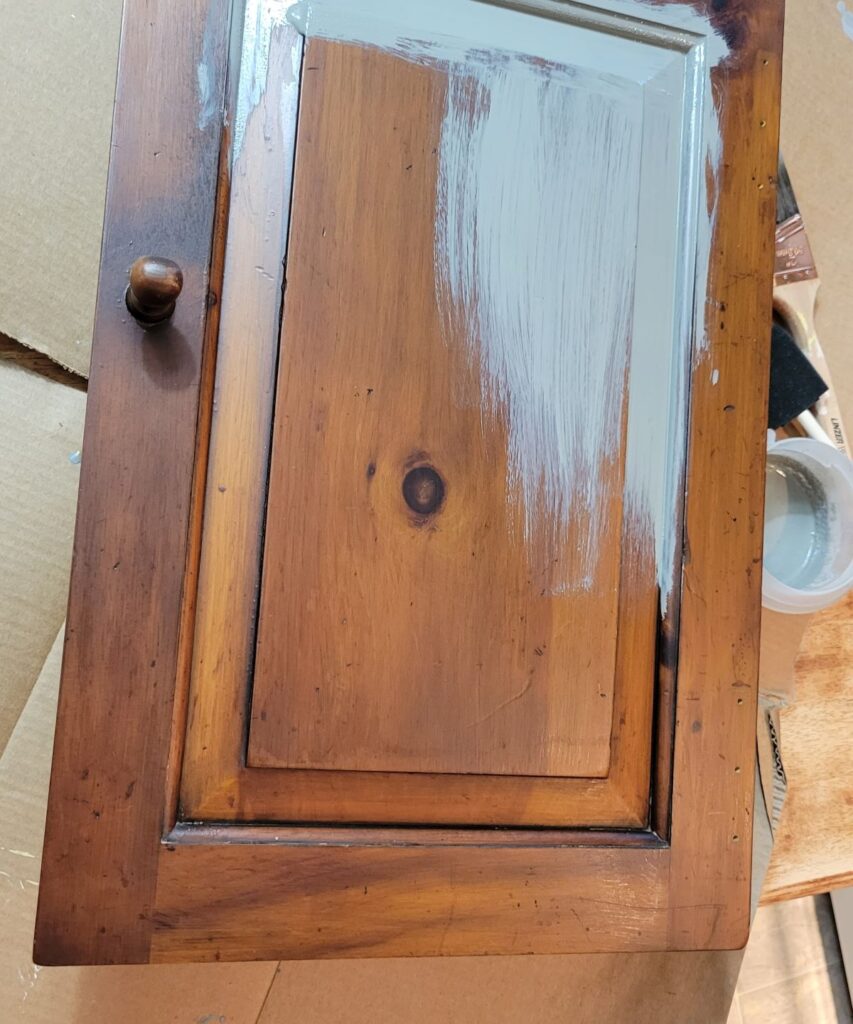 The door and tray were easy to paint because….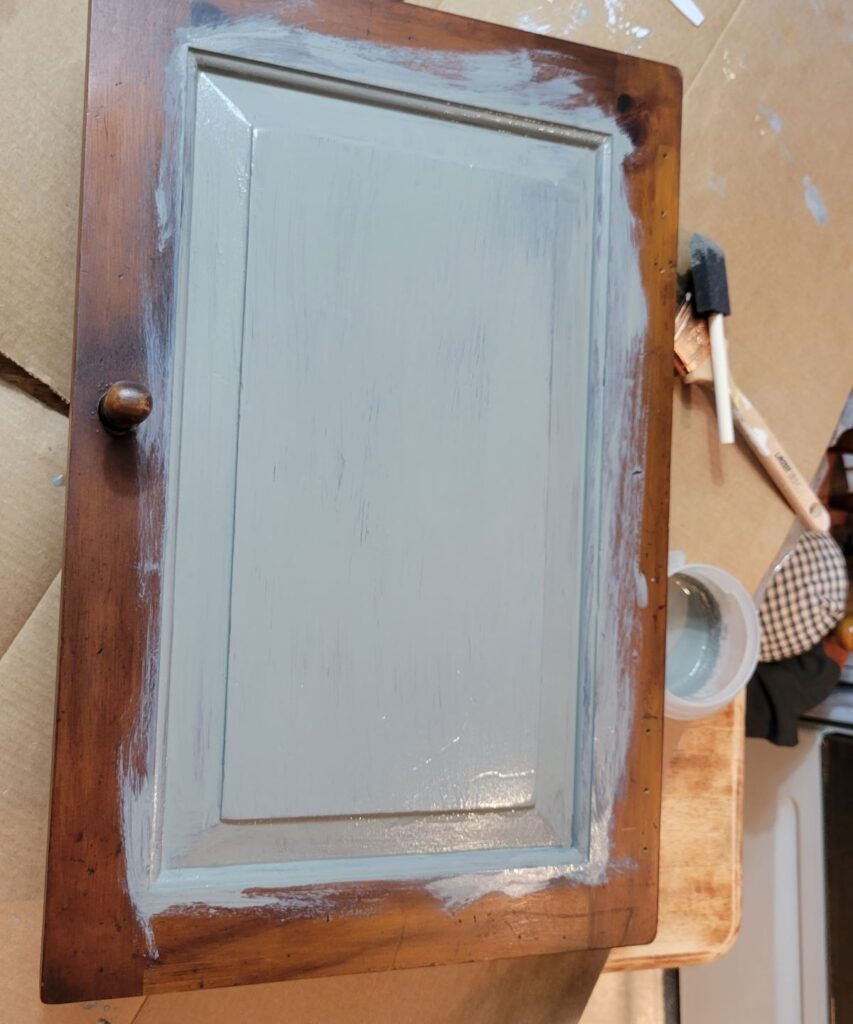 I set a pot or a bowl underneath so I could paint the edges easily.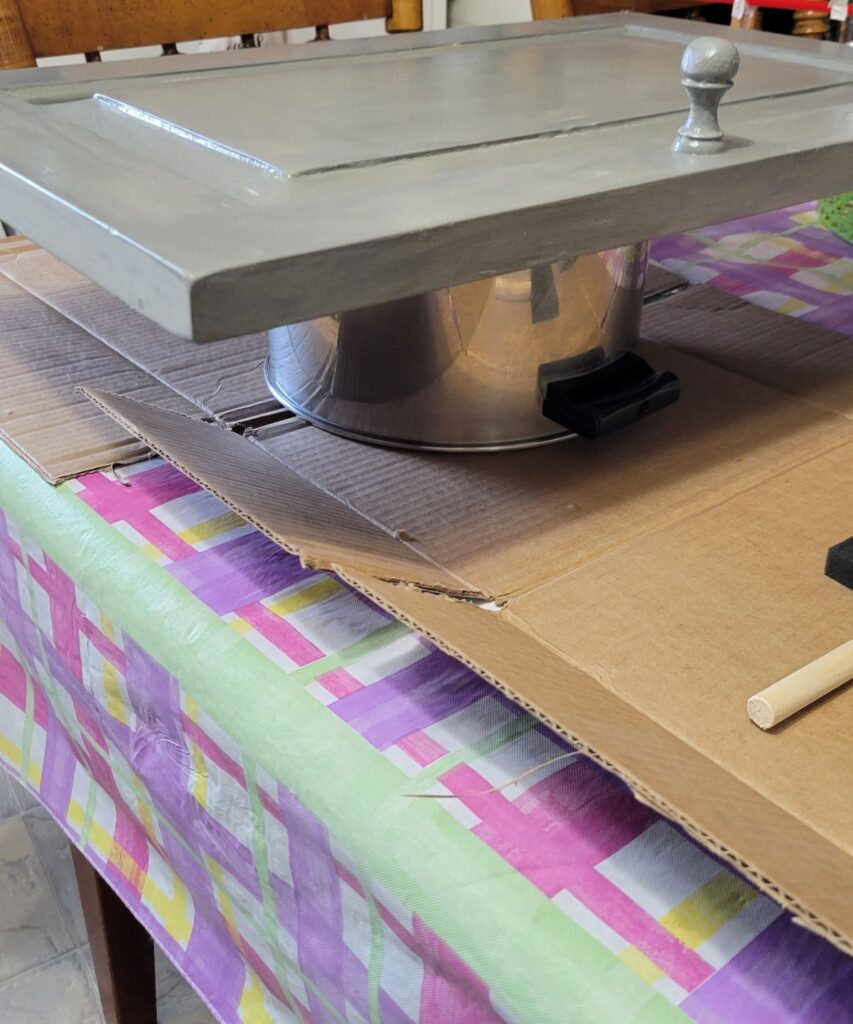 Here is the Tough Coat clear finish going on the shelf. See how dark it turns? It will lighten a bit as it dries.
And this picture shows you how the clear coat changes the yellow to be darker.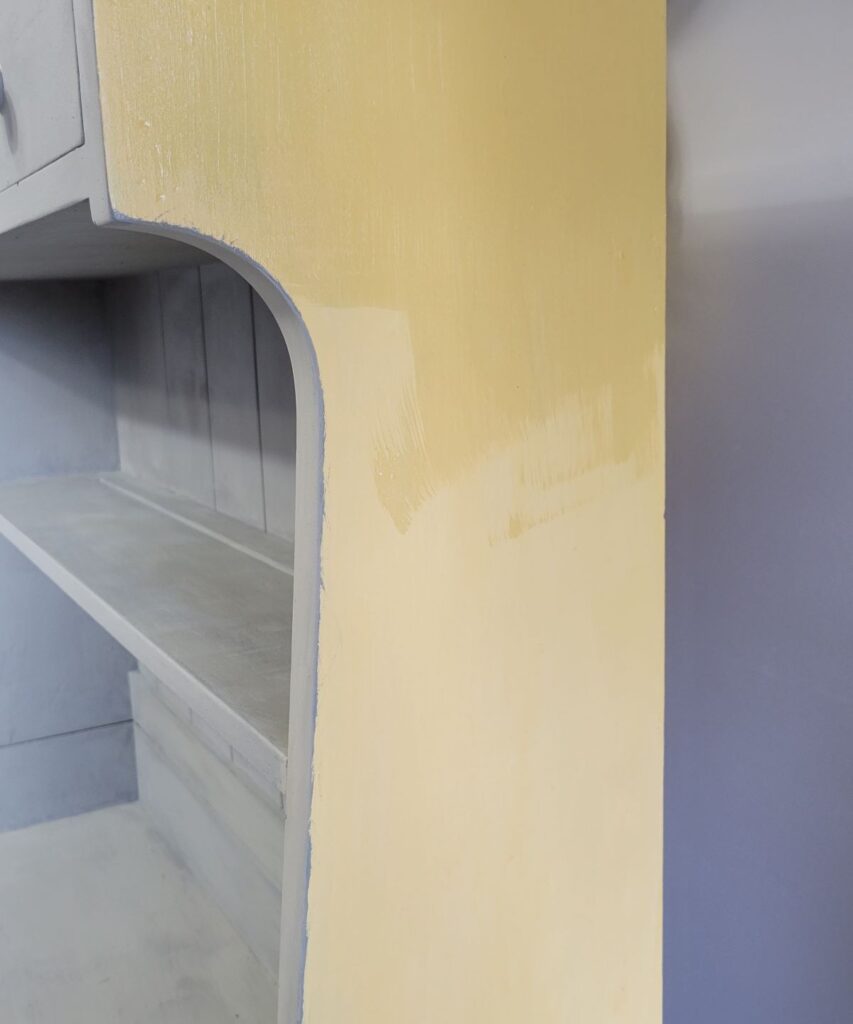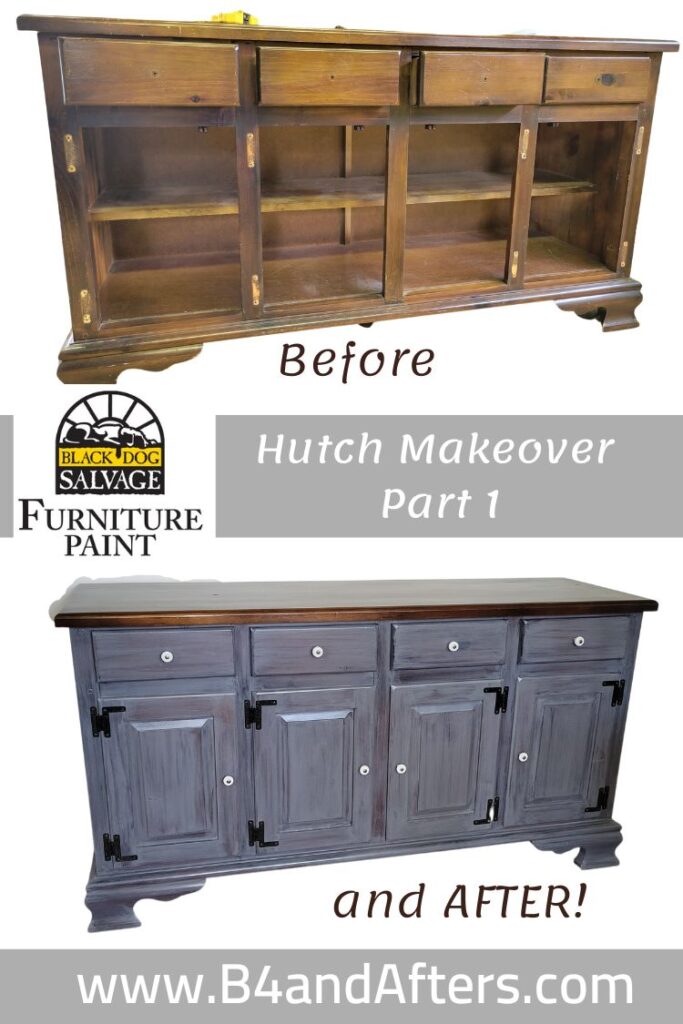 To paint the drawer area, I first painted the strips between the drawers.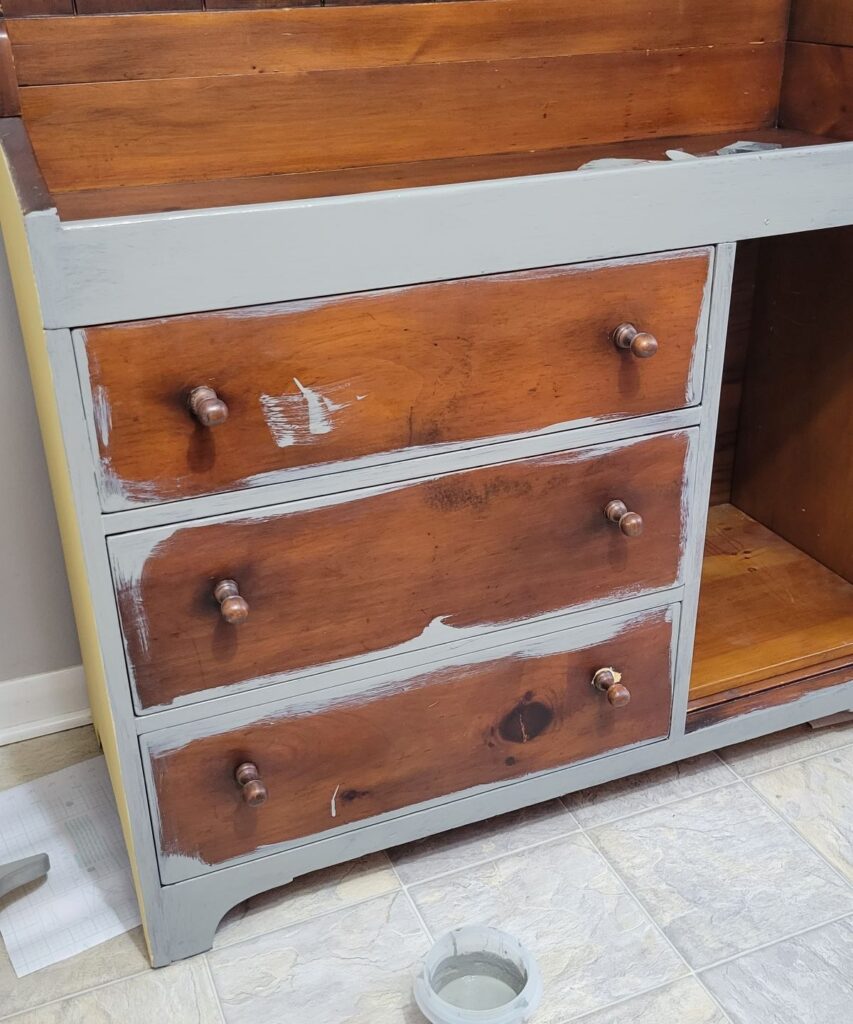 Then, beginning at the bottom, I pulled out each drawer to paint it, pulling out the drawer above it further, so it wouldn't drip on the drawer below.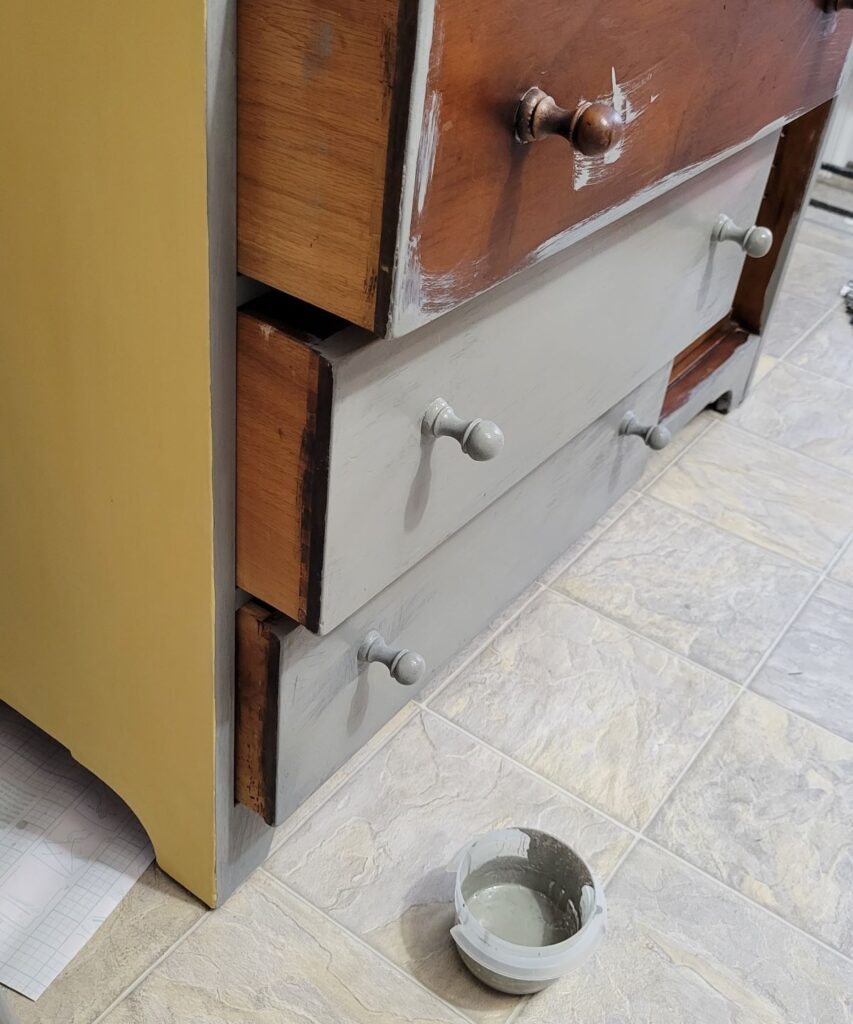 This first coat was done at night. I do recommend painting in natural daylight as much as possible, which I did do for the final coats.
When I rinsed my paint brush, I saved the water to reuse the next time I mixed a batch, so as not to waste any paint.
I love that my ice cream maker fits perfectly in the cabinet space! I edged it with some contact paper.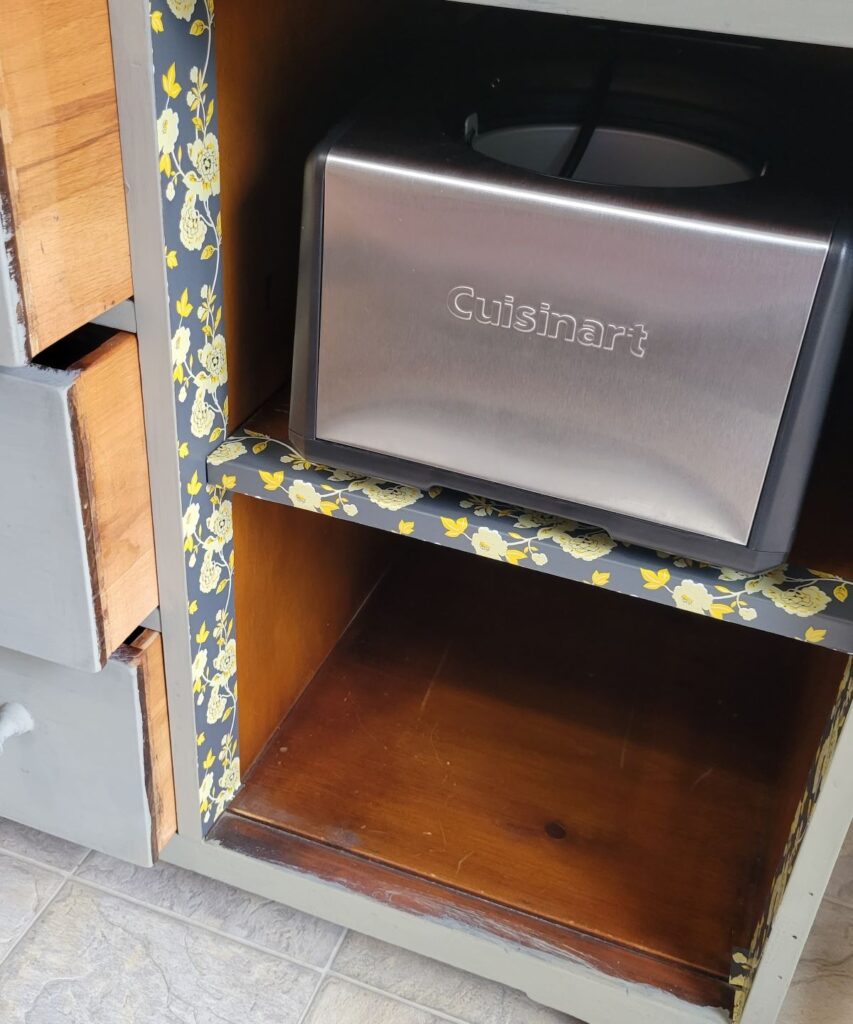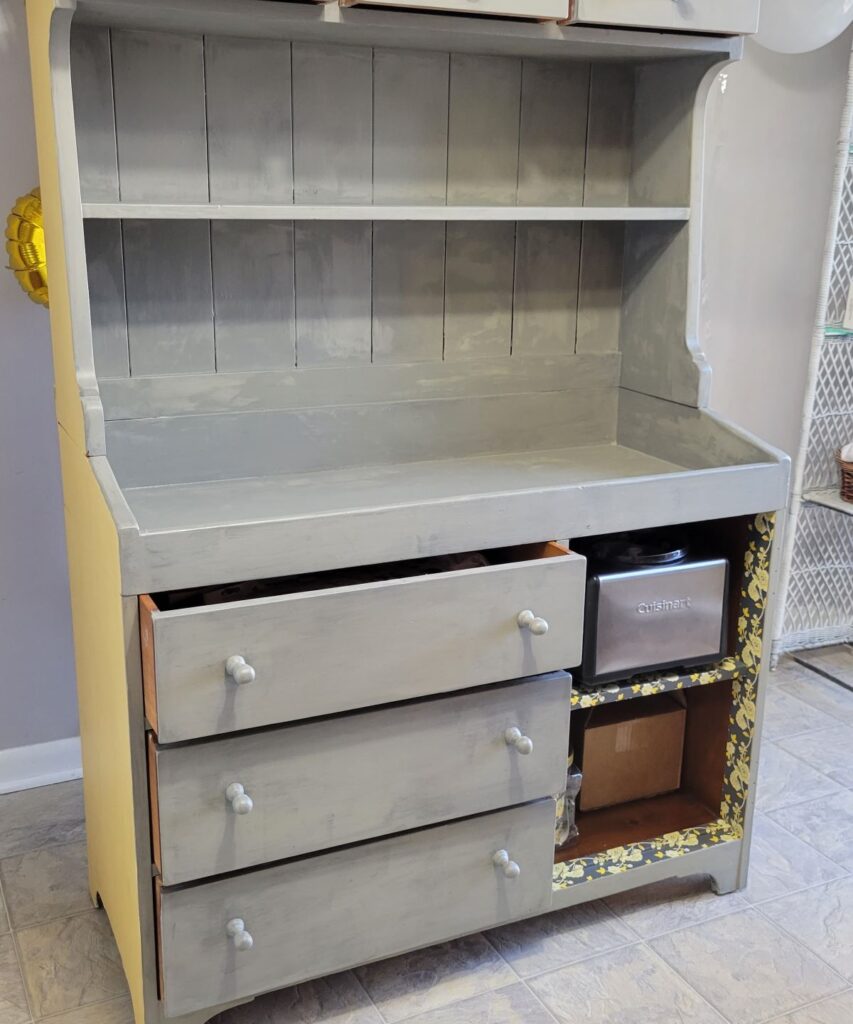 Look, dovetailed drawers. I thought about painting these drawer sides yellow. Should I do it?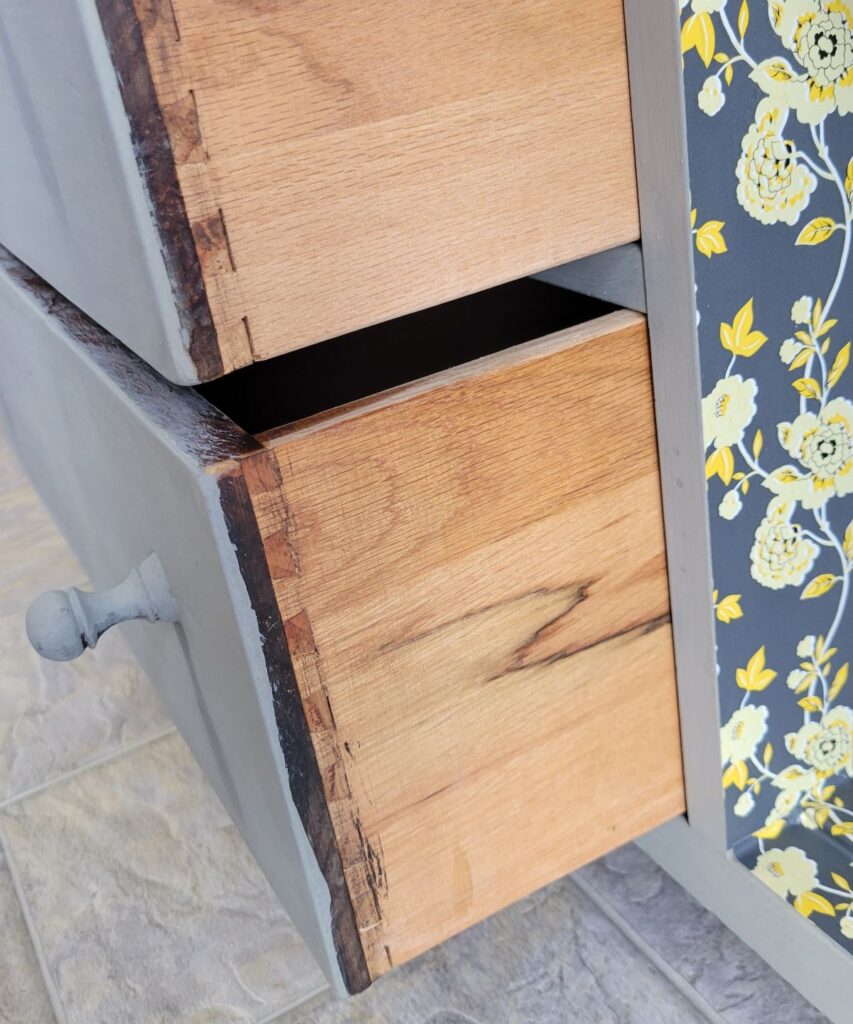 The hutch is finished, except for adding the Tough Coat.
I started with clear coating the tray.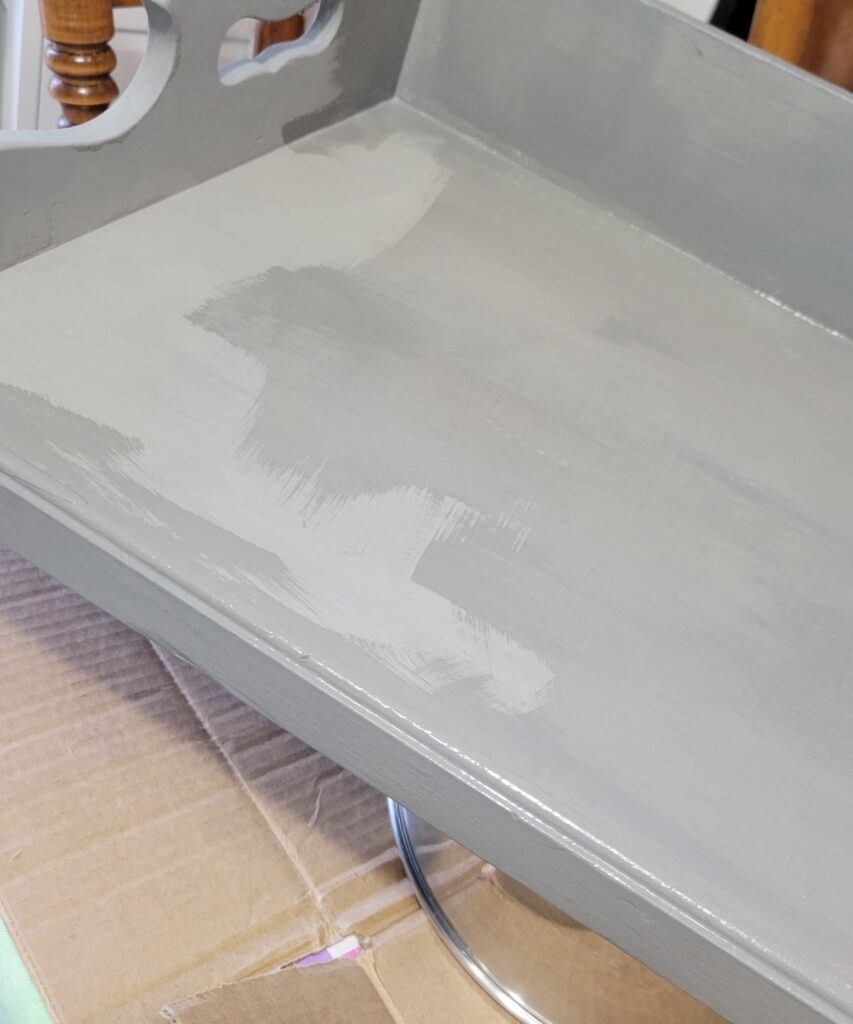 Again, you can see how adding the Tough Coat (or any finish) darkens the color.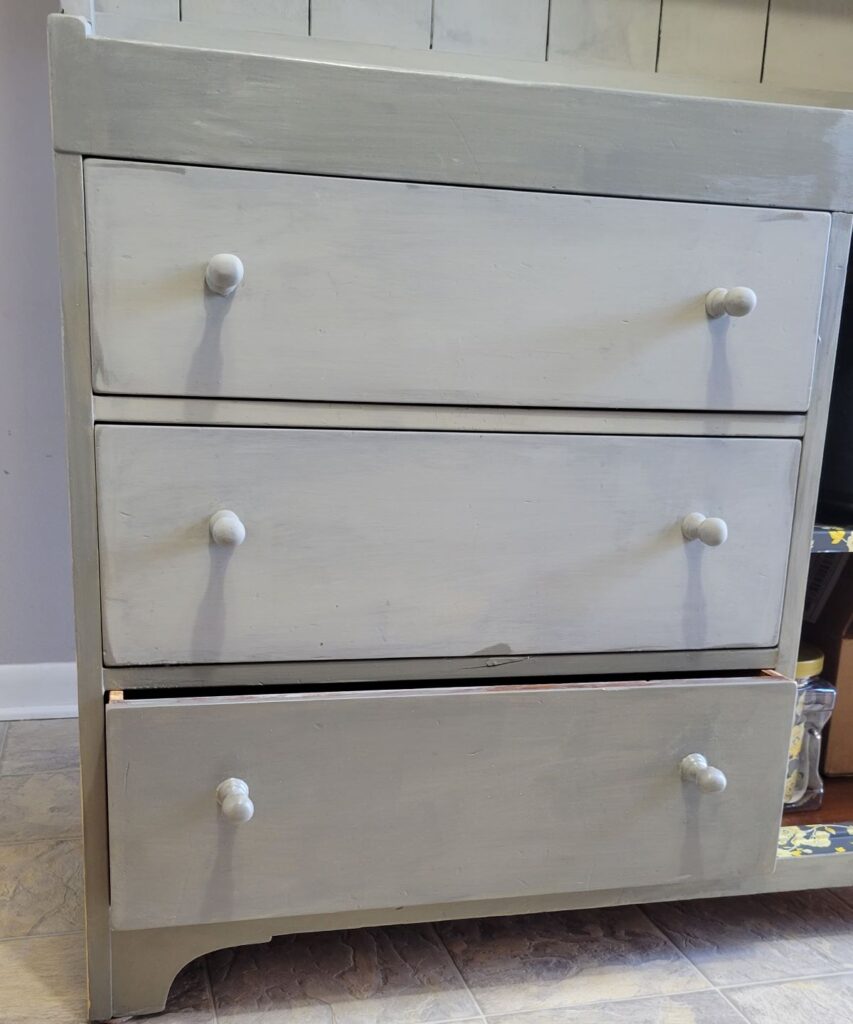 Creamy the cat is always interested in my projects.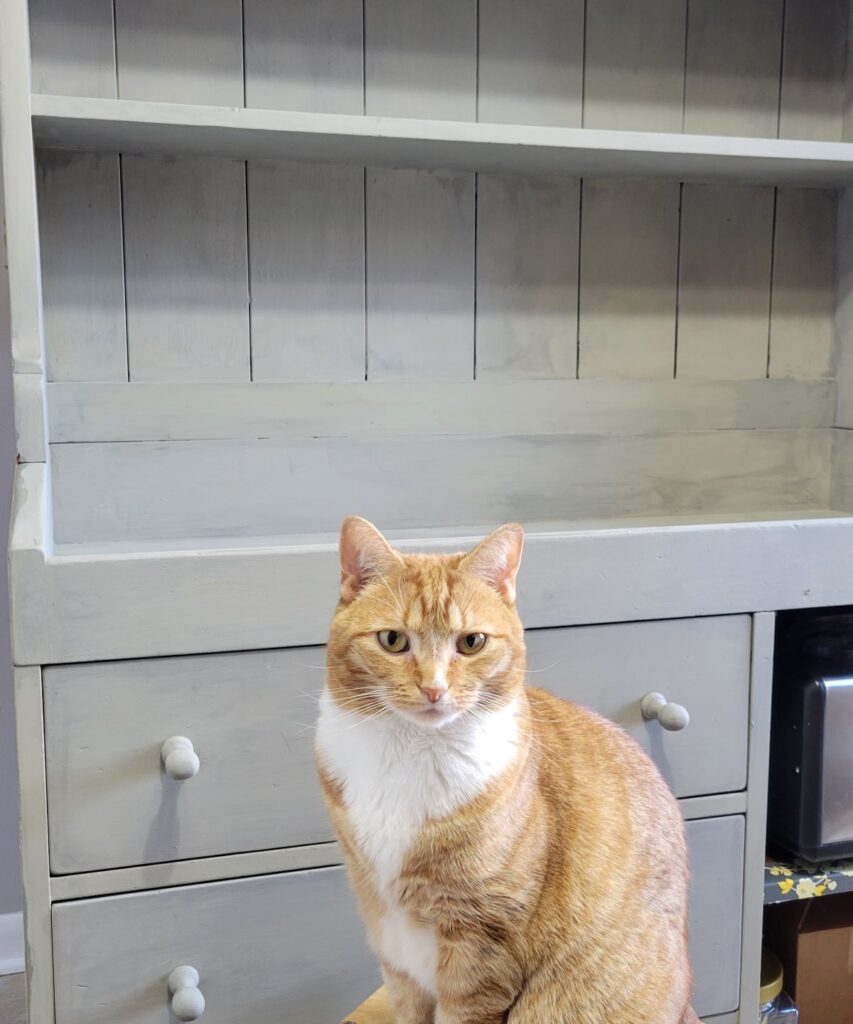 At first all of the fluctuating colors in this powdered milk paint bothered me, but it is growing on me!
This is the wet clear coat. I hope you are ready to see the final result…..
Here it is! I used my Vintage Tupperware on it.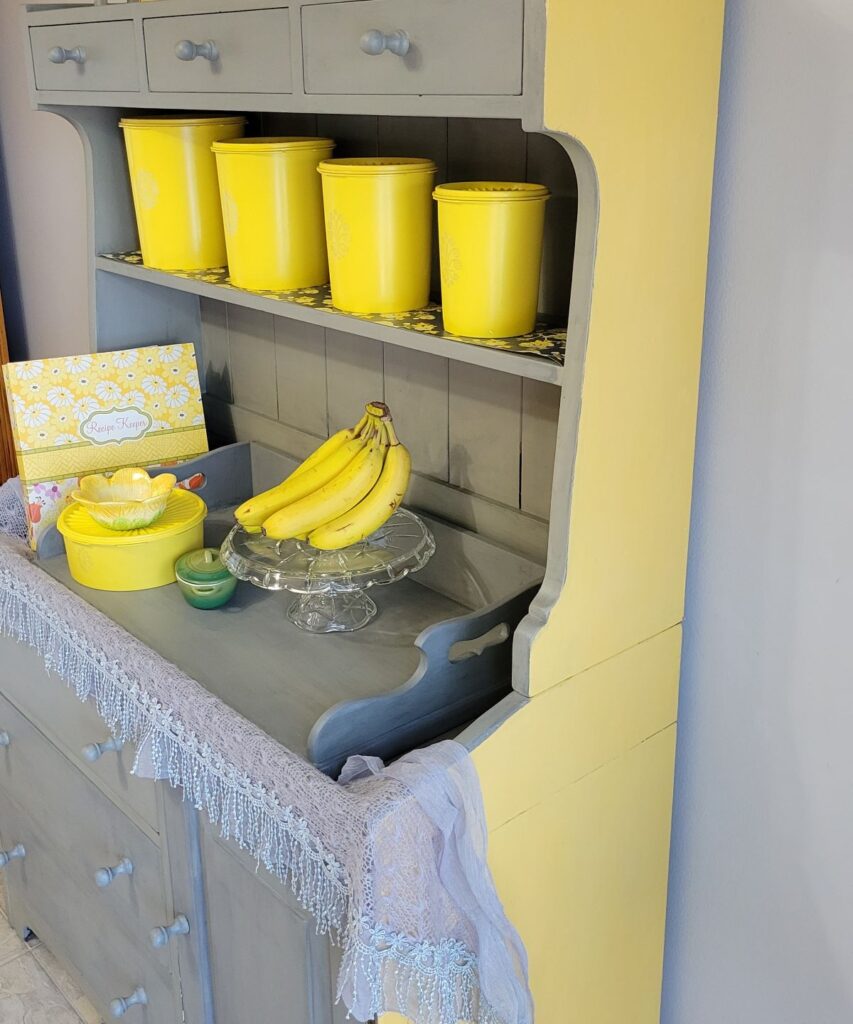 I really like how it turned out. It was a lot of work, but worth it.
It looks soooo nice in my gray and yellow kitchen.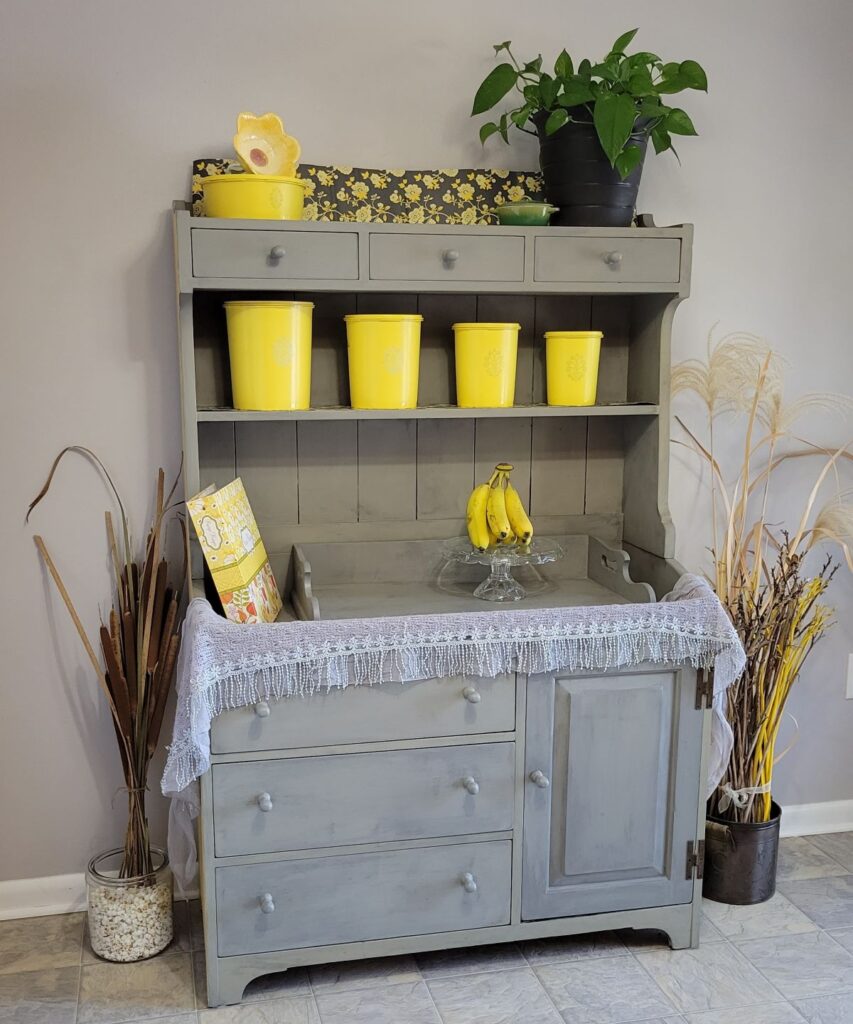 The first time I used MMSMP, I painted this Dresser in Flow Blue.
Pretty And Functional… the best of both worlds!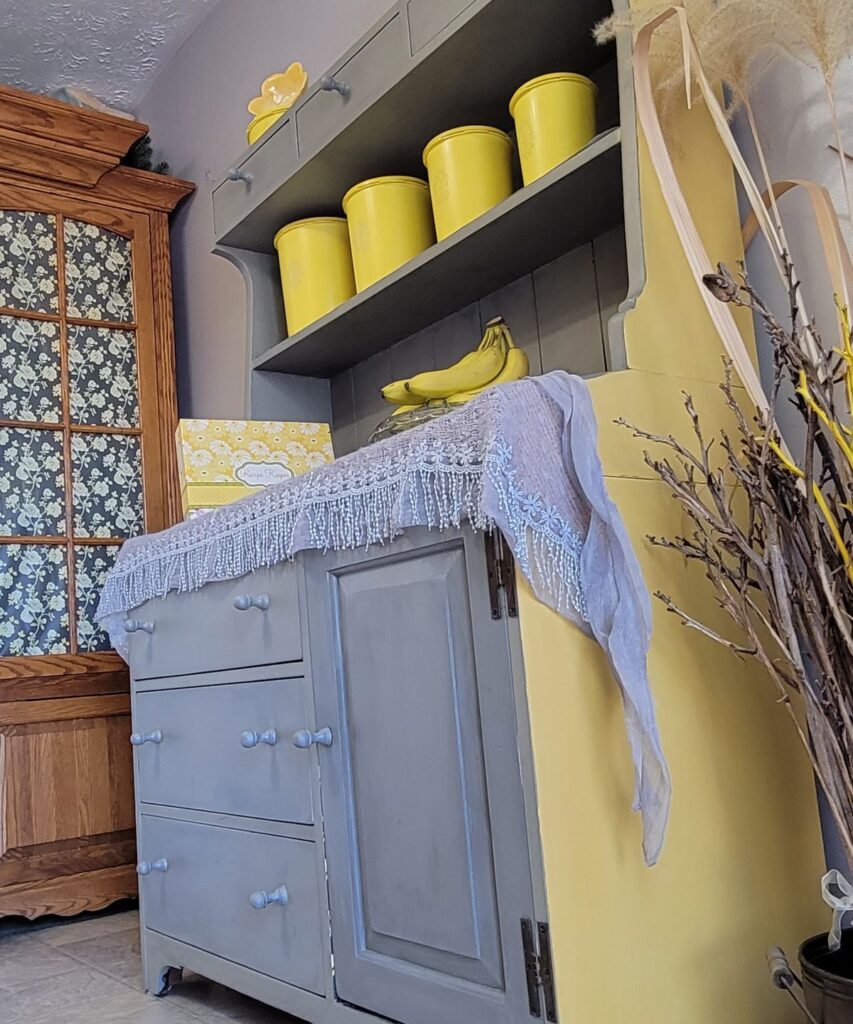 But wait, there's more! I only laid the contact paper on the shelf without adhering it, in case I don't want any yellow…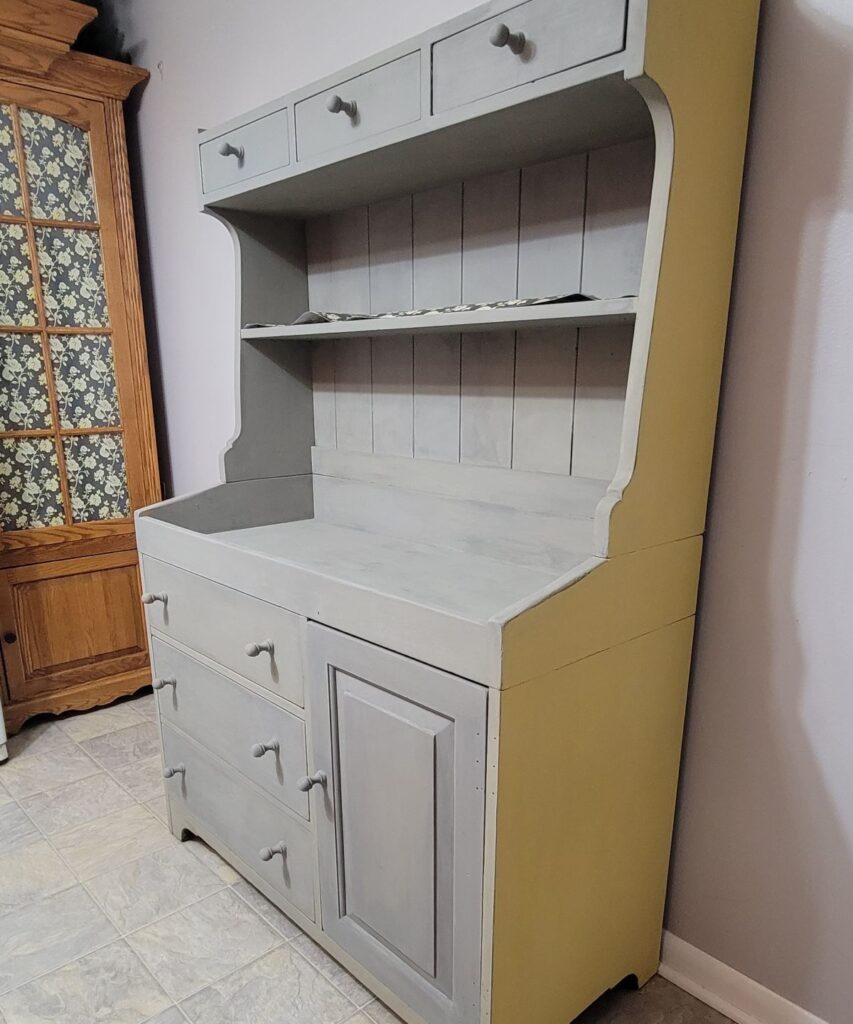 See? Now if I am styling something like Valentine cookies, I can have a neutral backdrop that won't clash.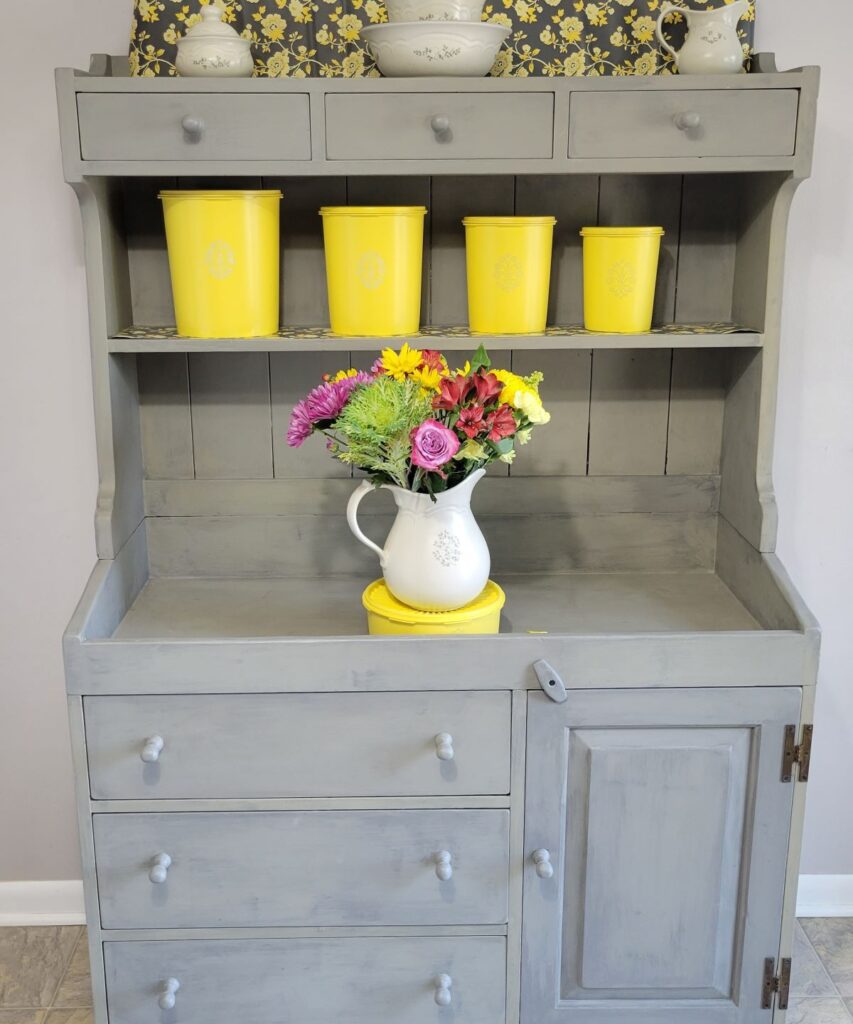 These are my Heirloom dishes from Pfaltzgraff, made in my own county here in the USA!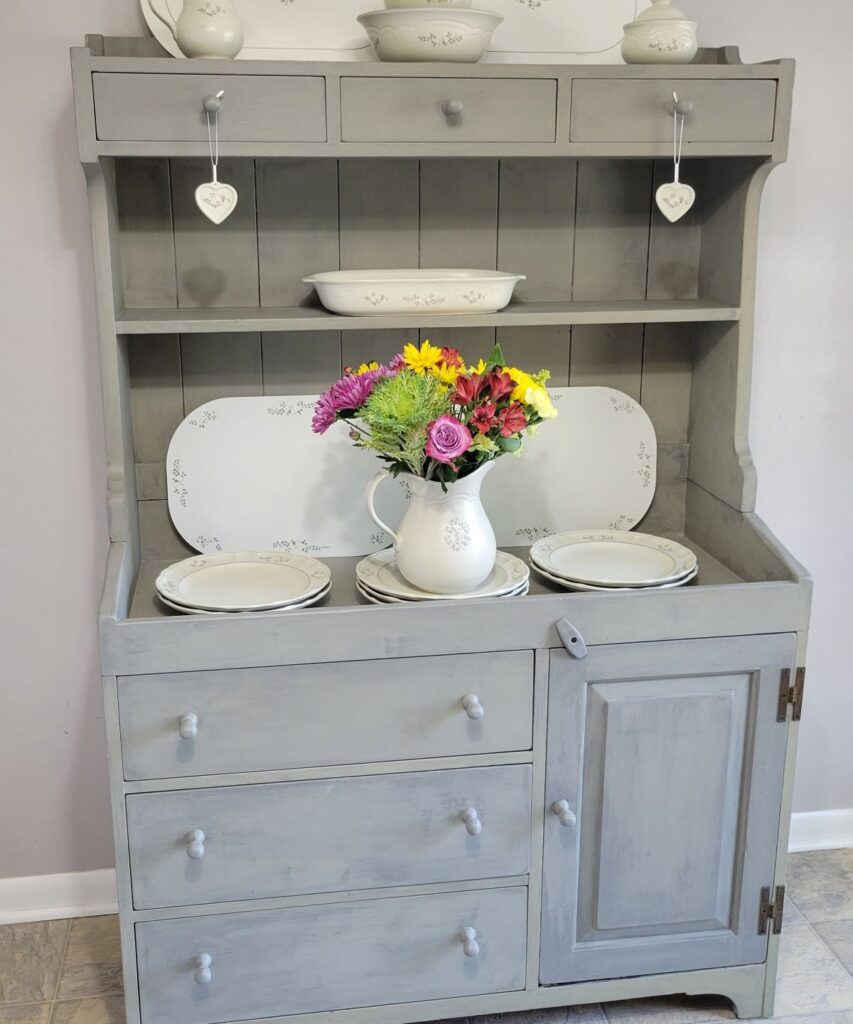 They look so good with my Miss Mustard Seed Milk Paint hutch!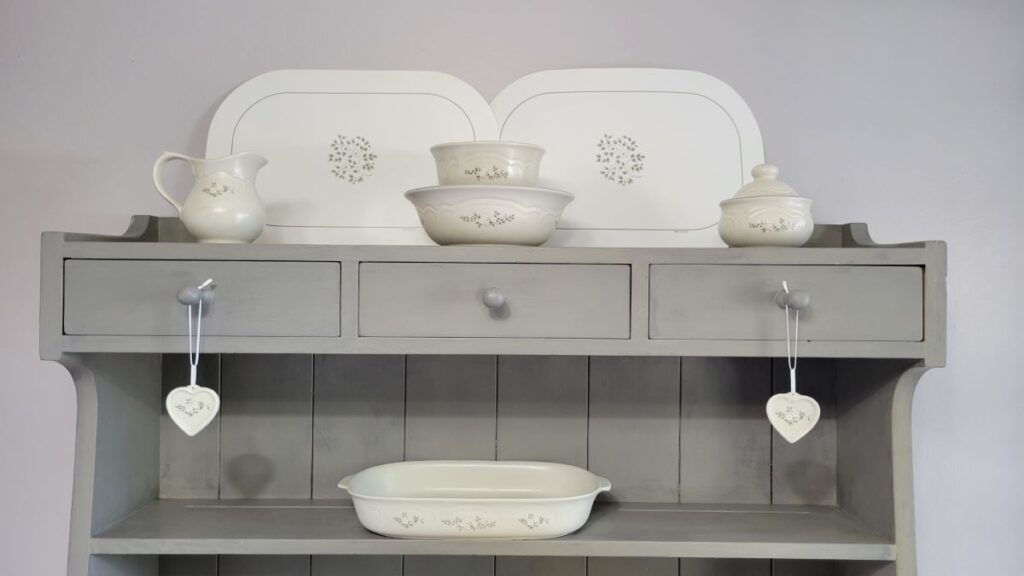 Most I have found at local thrift stores, but a few pieces I have ordered from Etsy.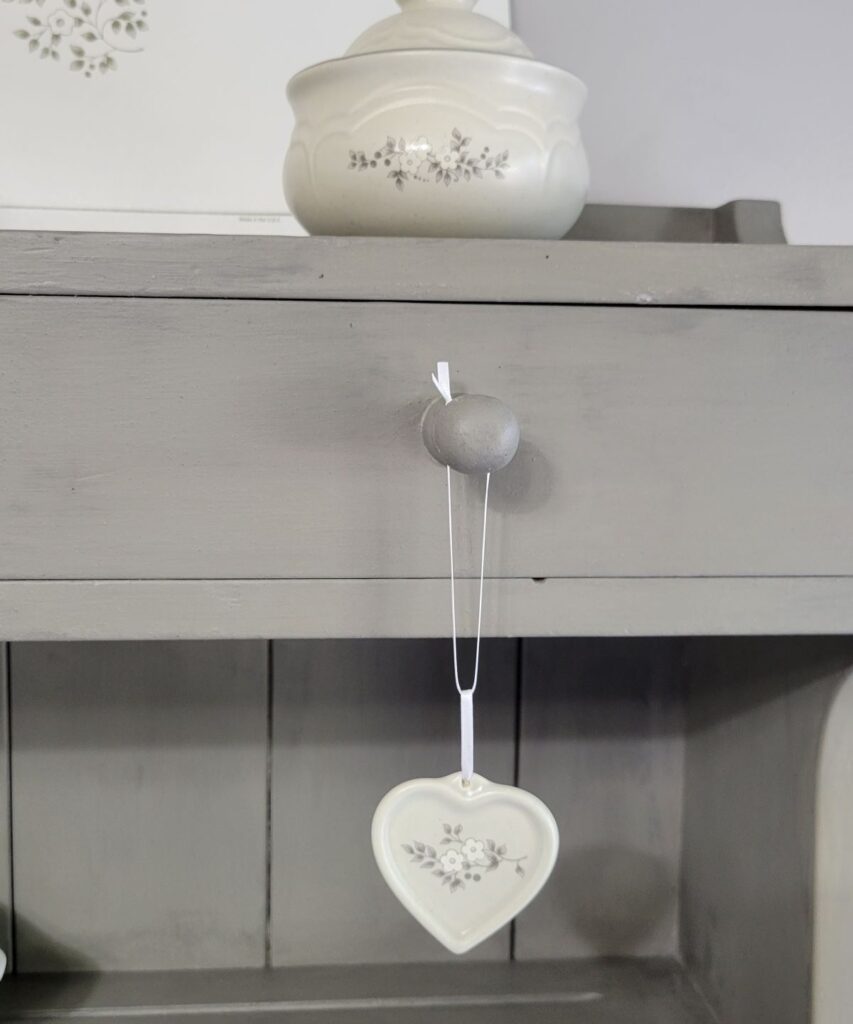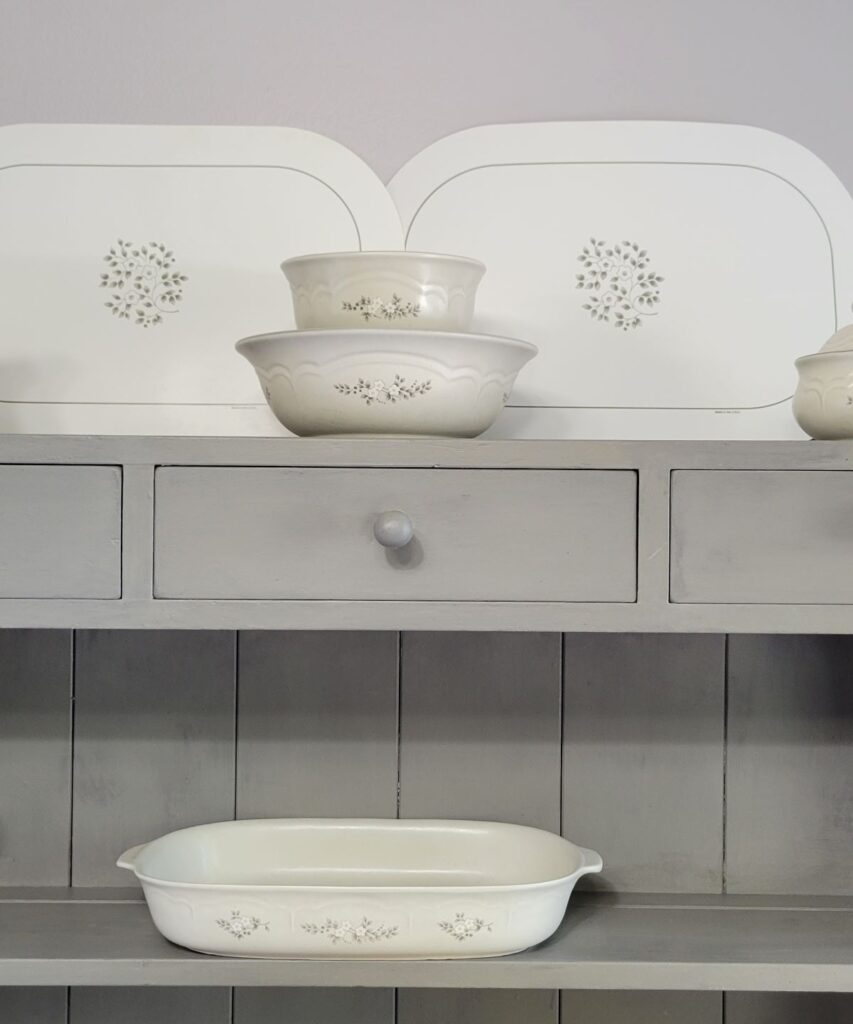 I love this pitcher for a vase.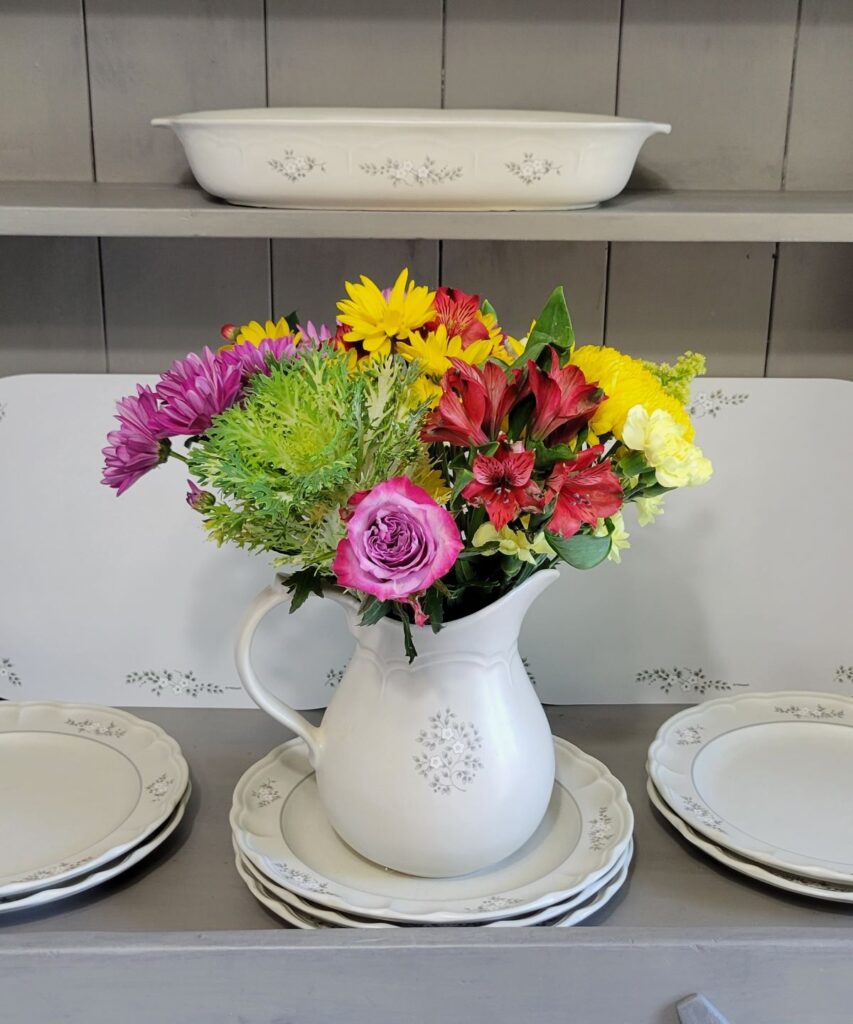 So which way do you like the hutch better? Neutral or with the yellow?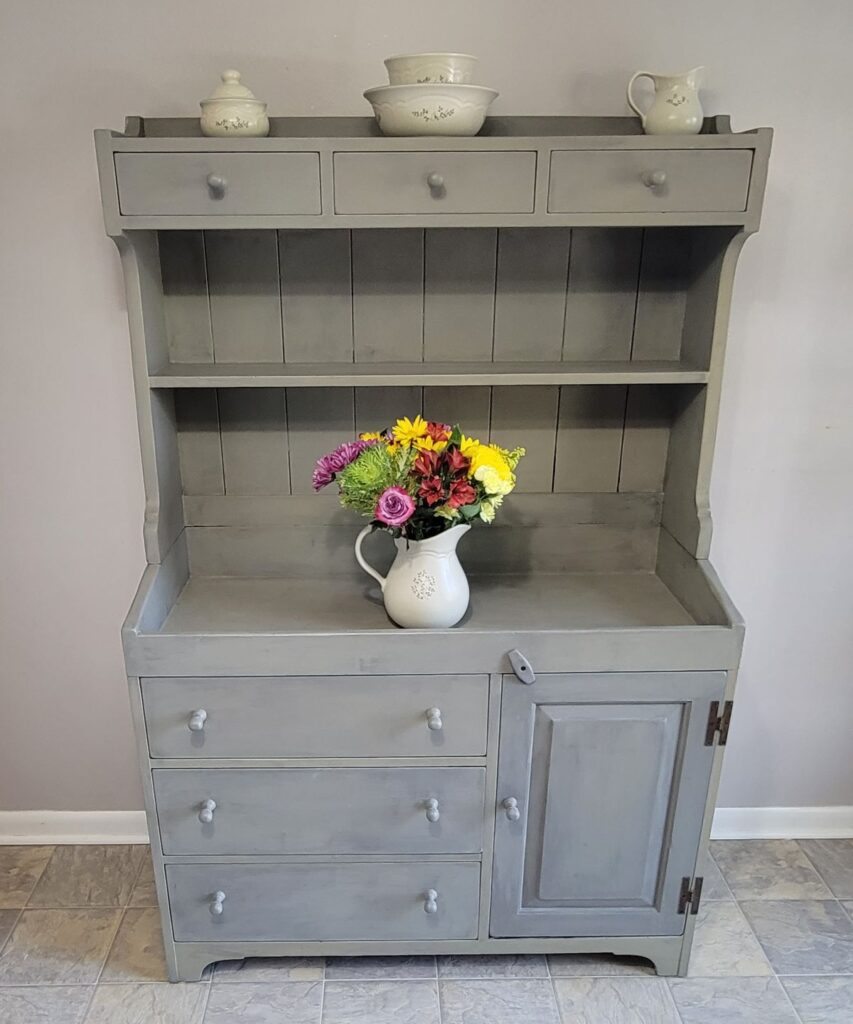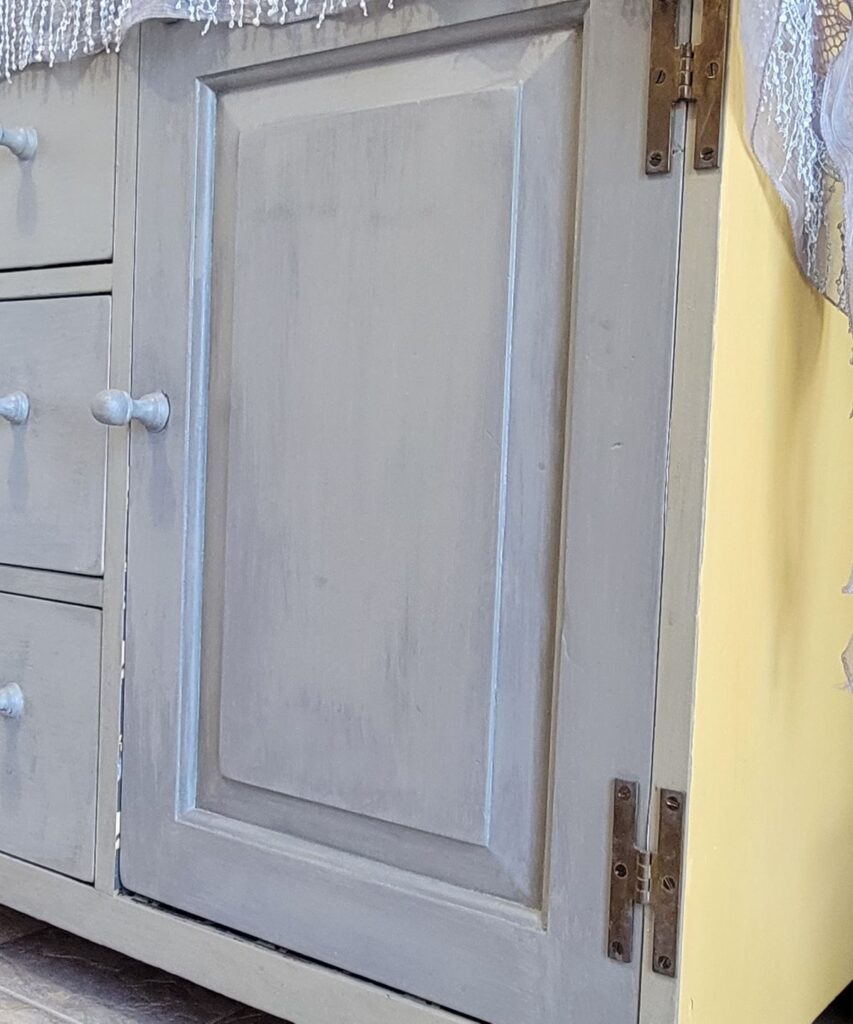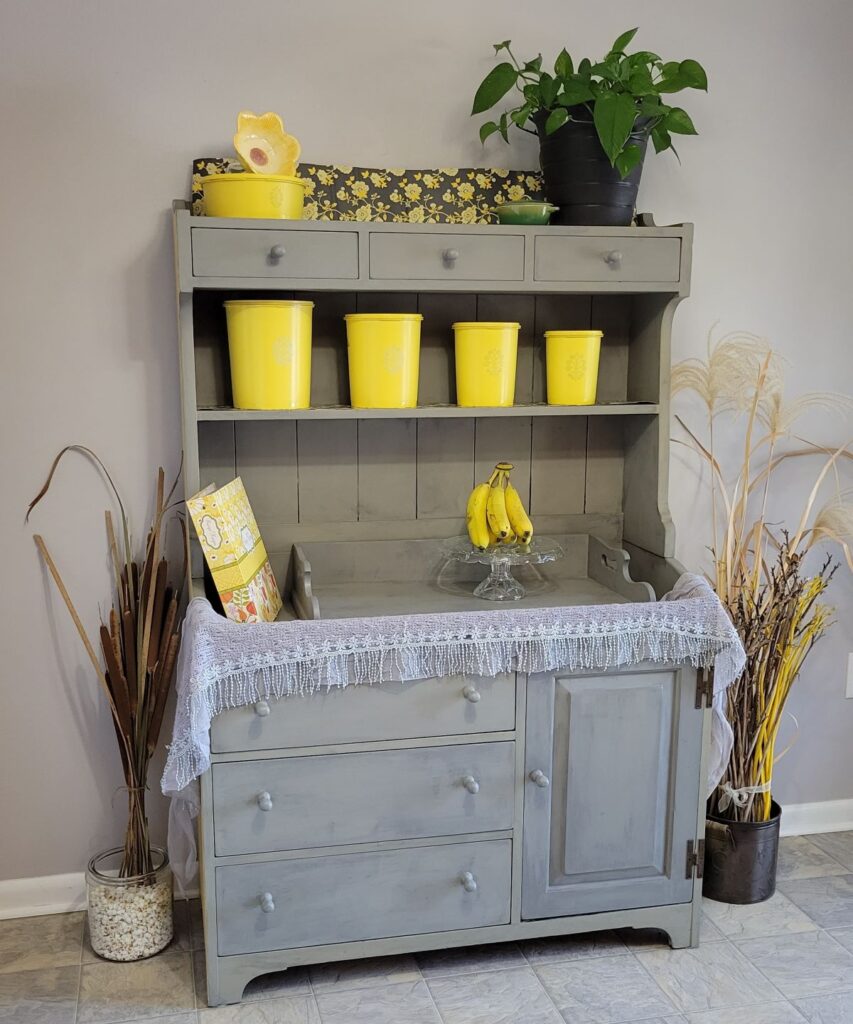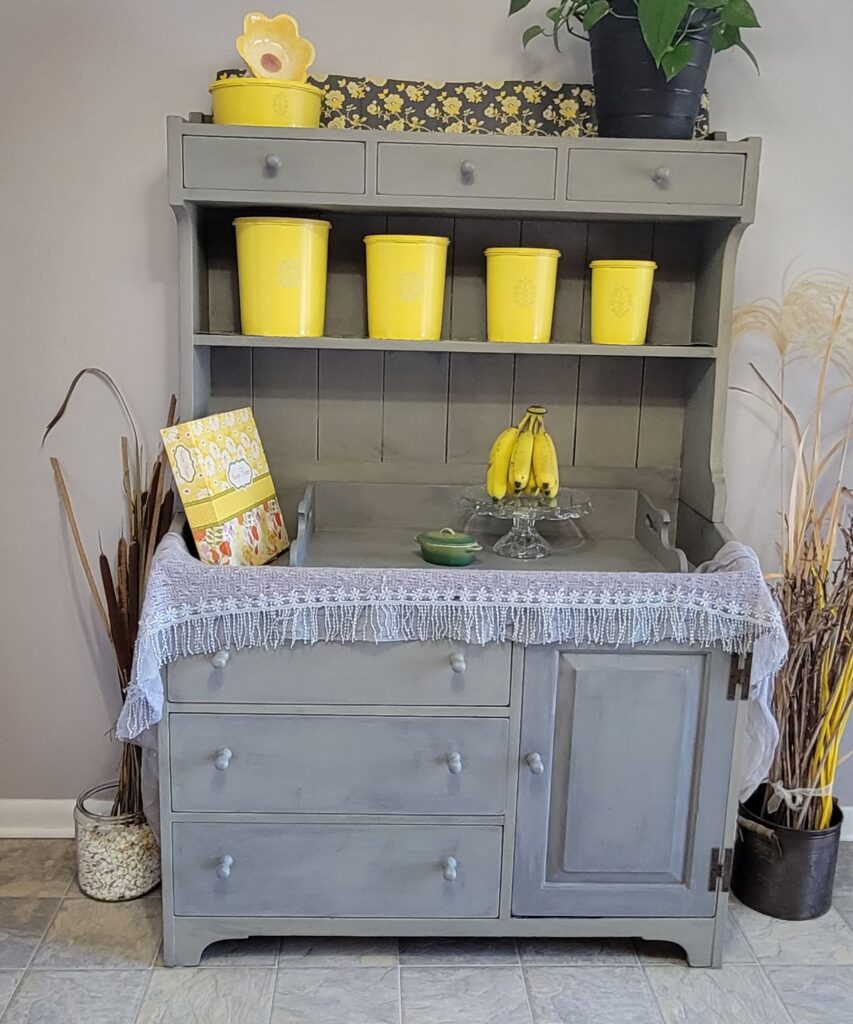 More Details on How to Update an old Hutch with Milk Paint
I am not much of a yellow sort of person, unless they are sunflowers. I like blues, greens, and purples most of the time. But when I found the Laura Ashley gray and yellow floral contact paper mentioned above, I fell in love. It is no longer available, but you can find similar colored contact paper.
I love contact paper, and I used it in several places in my kitchen. So when I was thinking about what color to paint the hutch that I had found, I finally settled on Trophy Gray and Mustard Seed Yellow. I might have used the yellow more, except that I wanted to keep the front a neutral color.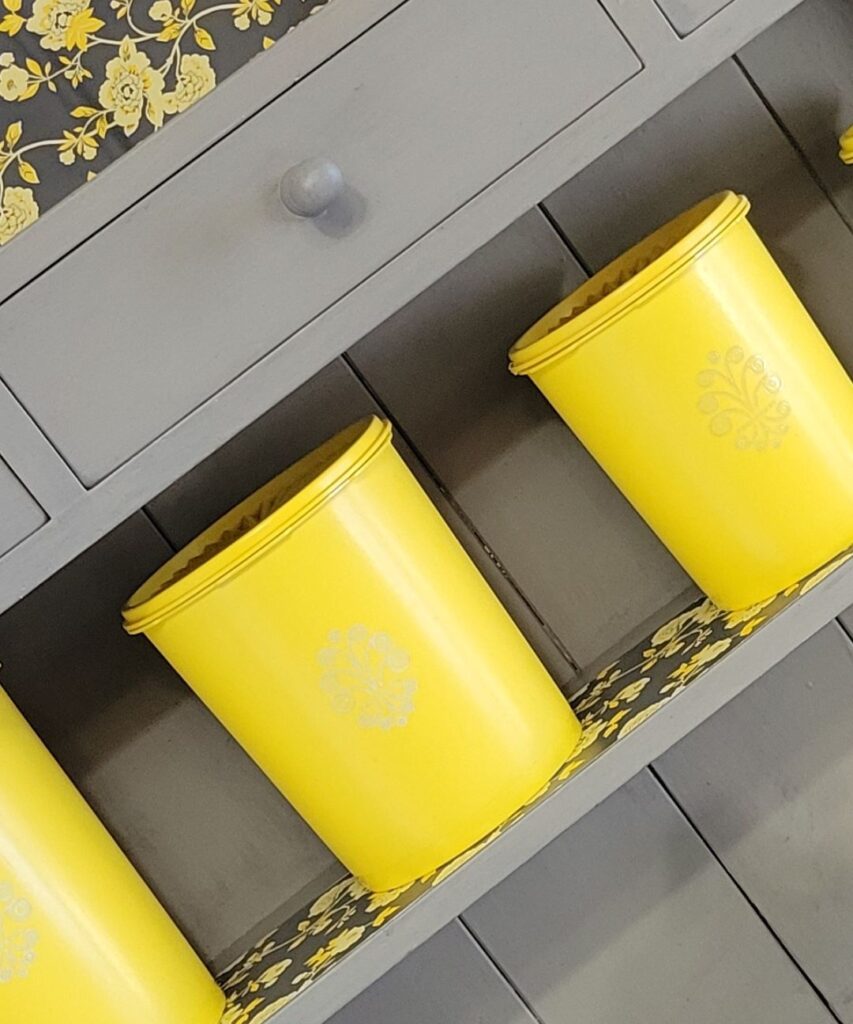 Before I painted it, I had discovered what a gorgeous, easy backdrop it made for my food photos for B4 and Afters, and I didn't want the yellow to clash with, say, Valentine Cookies or Christmas colors. And that is how I came to paint the sides yellow.
If you're still not sure about my color combo choice, check out this Pin.

After the hutch was finished, I realized that…. my current comforter in my room is gray and yellow– and my husband is the one who picked it out!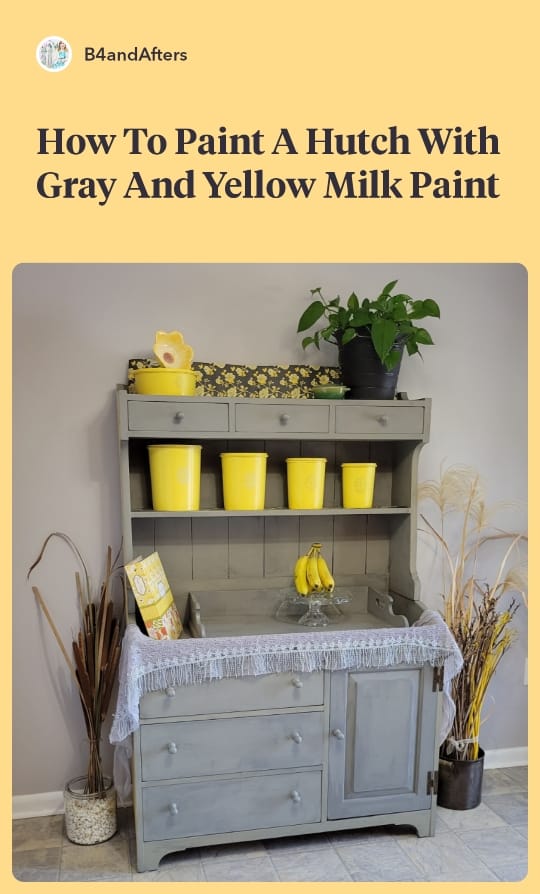 Do you like the vintage yellow Tupperware canisters? I've collected them from various places over just the past few years. I grew up with similar bright yellow Tupperware canisters living on a bright yellow counter, so for most of my life I wanted a different color in my own kitchen. Is it a sign that I am growing older, that now I'm reversing that decision?!
When I was styling this hutch for the "After" photos, the yellow things in my kitchen started asking to be included. : ) I LOVE this spot, and it seems to fit in so seamlessly in my kitchen. Another thing I hadn't realized when I chose Yellow and Gray was how well it went with my floor, which is cream and gray.
I mentioned above that originally I had wanted to use Linen. Miss Mustard Seed has several different shades of white which are just a bit different. I would suggest you try each of them out before deciding which white you like best. That's what I want to do!

I hope that my review of painting a vintage hutch has been helpful to you! I'd love to hear from you in the comments below!
Now for the rest of the projects, below. I think you will enjoy the Zucchini Sisters' project , who is next on the list.
Creating a Customized Pillow Cover With the Cricut
Creations Flowering Tea Cup Centerpiece
Easy and Beautiful Bottle Painting
Wood Art Gift Cards For Mother's Day
Making a Tissue Paper Garland with Tassels
Pottery Barn Inspired Faux Textured Clay Vase DIY