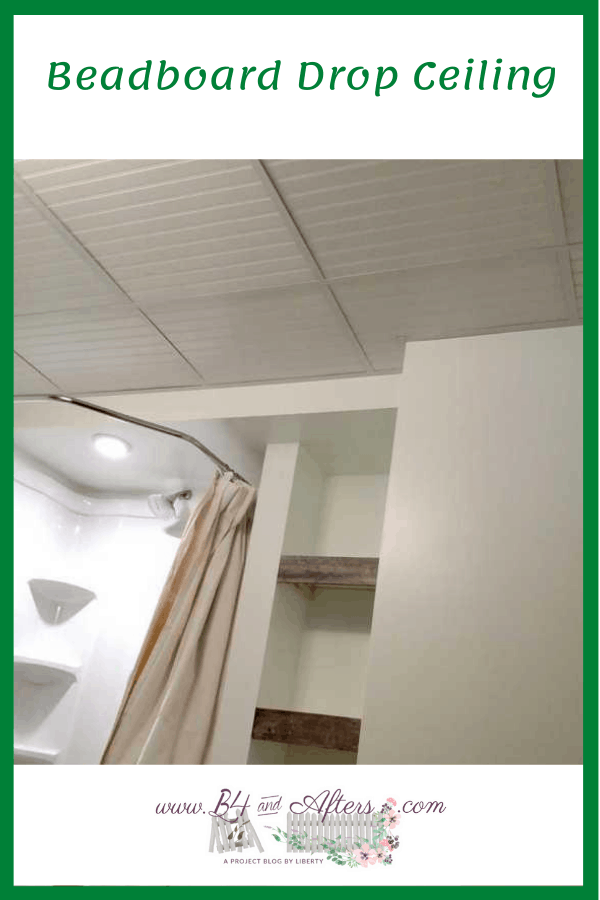 This post is the 7th in a series on the building of our Downstairs Bathroom. You can see the other posts here:
I had seen beadboard ceilings on Pinterest for a long time. I wanted to try it in our Downstairs Bathroom and I'm so glad that we did!
CEILING BEFORE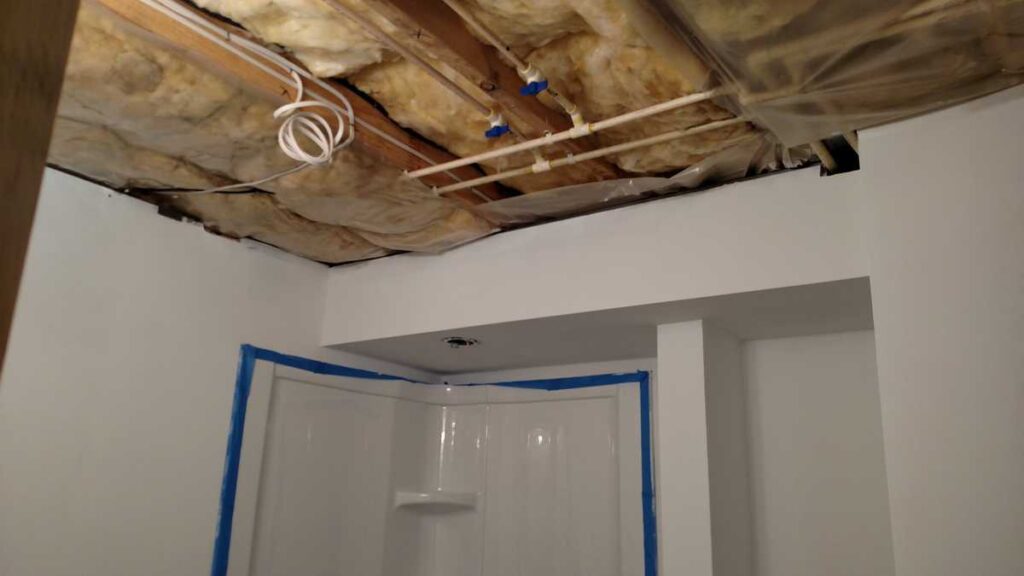 (*This post may contain affiliate links. By purchasing anything from these links, I may receive a small commission at no cost to you. More information is available on my Disclosure page.)
As you might imagine, the bathroom ceiling has all sorts of water pipes (including ones from the upstairs bathroom) and electrical things for the lights and fan that might need to be accessed for any number of reasons. So a drop ceiling was the most reasonable choice. But I have never cared for drop ceilings. They remind me of cold institutions like hospitals and stores with those 2 foot by 4 foot long rectangle shaped boring panels.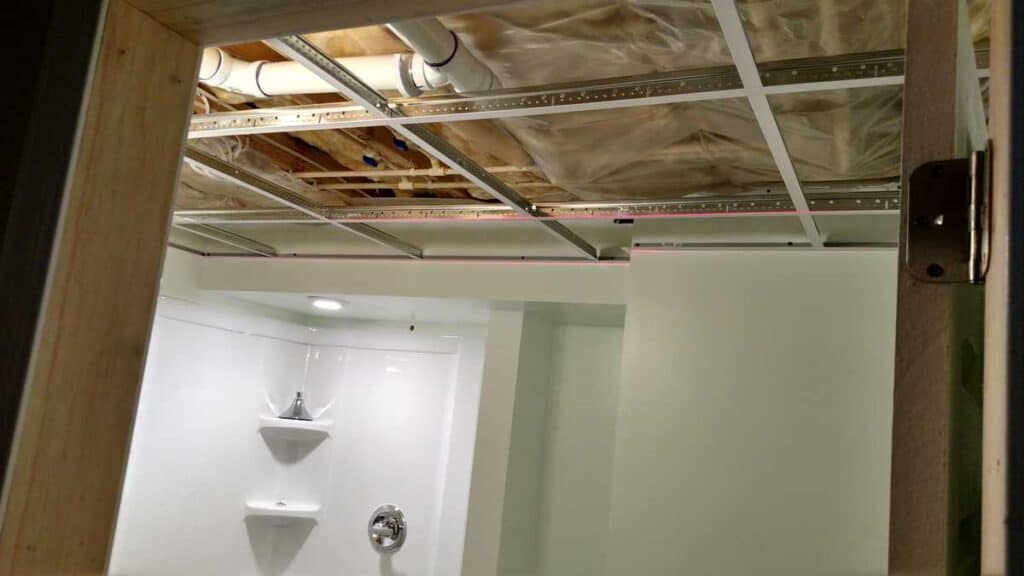 So for our basement bathroom ceiling I decided on 2 ft. by 2 ft. square panels, with bead board. (Is it beadboard or bead board?) The 4 ft. by 8 ft. panels came already primed white. You could paint them if you like for extra durability, but I did not paint ours and after 3 years they are just as new and nice as they were in the beginning. Our contractor cut the panels into 2 x 2 foot squares, lining up the lines in the wainscoting to look continuous across the ceiling.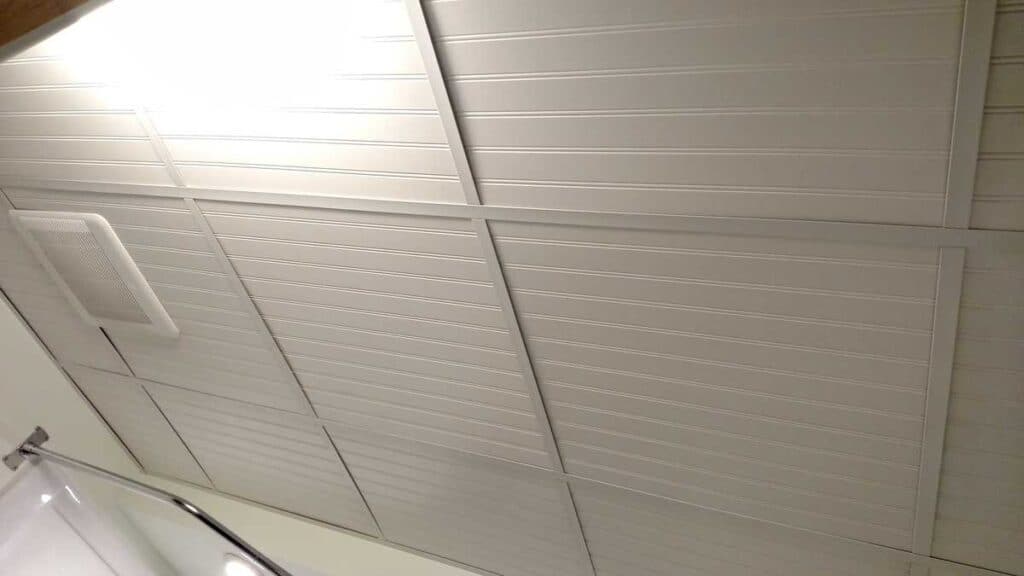 You may support my blog by shopping at any of the stores below. Thank you!
---
---
(In the picture below you can see the built in shelves. They are trimmed with upcycled fence pickets– and coordinate nicely with the matching picket fence framed mirror!)
AFTER!!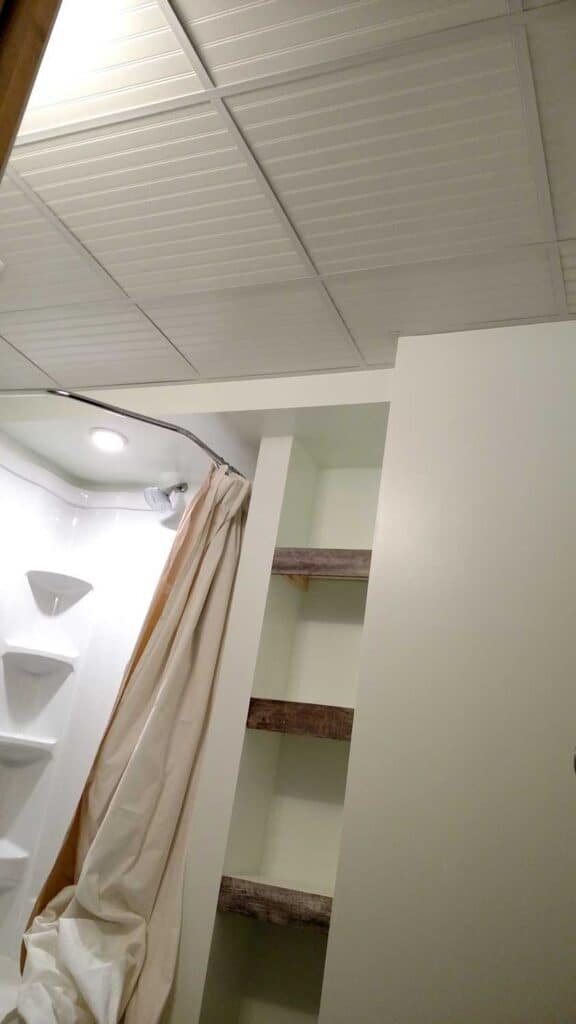 I am so happy with my choice to use beadboard in our basement bathroom as an alternative for drop ceiling tiles! In fact, I like it so much that we are finishing the rest of our basement ceiling with the same beadboard tiles.
SaveSaveSaveSaveSaveSave
SaveSave
SaveSave
SaveSave